Training
Video School. Recent Lessons Hey there, mobile meanderers, This spring tease of warm weather in NYC has awoken a sedentary population.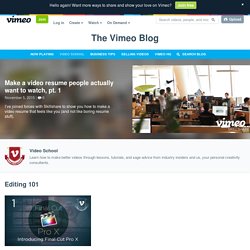 Feet are hitting the pavement with more enthusiasm than in previous months, and it seems like the world is more kinetic than before. Shoot for the Edit. An in-depth tutorial on color correction using Curves inside of After Effects and Photoshop.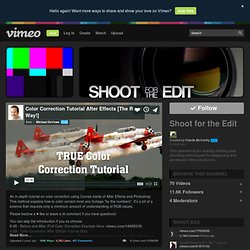 This method explains how to color correct most any footage "by the numbers". It's a bit of a science that requires only a minimum amount of understanding of RGB values. Please bestow a ♥ like or leave a ✉ comment if you have questions! Using Photoshop for color correction is really a lot easier than you may think. In this tutorial, the method is very simple and fast - NO rendering multiple frames, NO importing video files into Photoshop, and easy access to making color changes.
Film School - Filmmaking. About this presentation In world with Vine, Snapchat, and Twitter, how can creatives capture attention to make their voices heard?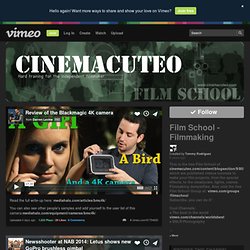 In this 99U talk, best-selling author and founder of VaynerMedia Gary Vaynerchuk breaks down how our work can cut through our current "A.D.D. Culture" — One where we binge-watch entire television seasons in one sitting and prefer texting to phone calls. "We've gotten to a point where everything is on our time," says Vaynerchuk, "So why is everyone storytelling like it's 2007 in a 2014 world?"
---