Social Media
Are you attending your first tech conference this year? Don't forget the first rule of survival: Be prepared! What to bring
How to Prepare for A Tech Conference: A Checklist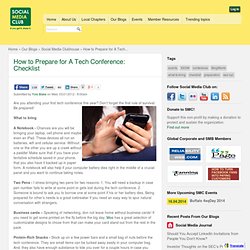 HR and Social Media: Beyond Recruiting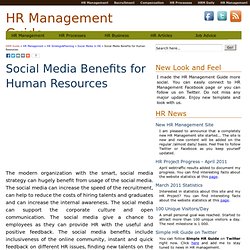 The modern organization with the smart, social media strategy can hugely benefit from usage of the social media. The social media can increase the speed of the recruitment, can help to reduce the costs of hiring talents and graduates and can increase the internal awareness. The social media can support the corporate culture and open communication. The social media give a chance to employees as they can provide HR with the useful and positive feedback. The social media benefits include inclusiveness of the online community, instant and quick feedback on different HR issues, finding new talents on the job market and reducing the communication and marketing costs for Human Resources. Social Media supporting Corporate Culture
Social Media Benefits for Human Resources - HRM Guide
Social Media for Human Resources - Hire, Retain and Leverage Employees
Social Media for HR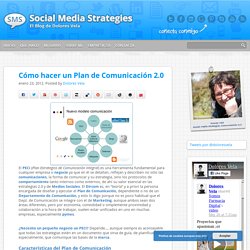 Cómo hacer un Plan de Comunicación 2.0
El ( ) es una herramienta fundamental para cualquier empresa o ya que en él se detallan, reflejan y describen no sólo las , la forma de comunicar y su estrategia, sino los protocolos de tanto internos como externos, de ahí su valor esencial en las estrategias 2.0 y de .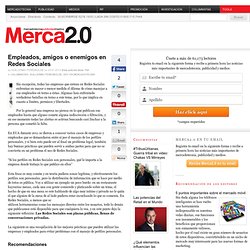 Sin excepción, todas las empresas que entran en Redes Sociales enfrentan en mayor o menor medida el dilema de cómo manejar a sus empleados en torno a éstas. Algunas han enfrentado verdaderas batallas en torno a este tema, por lo que implica en cuanto a límites, permisos y libertades. Por lo general una empresa no piensa en lo que publican sus empleados hasta que alguno comete alguna indiscreción o filtración, y en ese momento todas las alertas se activan buscando casi linchar a la persona que cometió la falta. En EUA durante 2011 se dieron a conocer varios casos de empresas y empleados que se demandaron entre sí por el manejo de los perfiles personales, y si bien esto puede ser al final un problema legal, también hay buenas prácticas que pueden servir a ambas partes para que no se convierta en un problema el uso de Redes Sociales. "Si los perfiles en Redes Sociales son personales, qué le importa a la empresa donde trabajo lo que publico en ellos"
Empleados, amigos o enemigos en Redes Sociales | MERCADOTECNIA PUBLICIDAD | Revista Merca2.0 | Columnistas
Business Agreement Form Pitfalls May 22nd, 2012 When was the last time you looked at your company's standard form documents.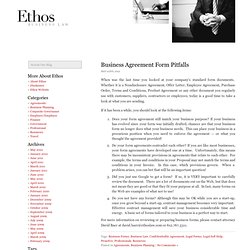 Ethos Business Law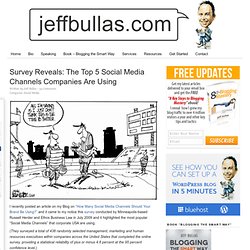 Survey Reveals: The Top 5 Social Media Channels Companies Are Using
I recently posted an article on my Blog on "How Many Social Media Channels Should Your Brand Be Using?" and it came to my notice this survey conducted by Minneapolis-based Russell Herder and Ethos Business Law in July 2009 and it highlighted the most popular "Social Media Channels" that corporate USA are using. (They surveyed a total of 438 randomly selected management, marketing and human resources executives within companies across the United States that completed the online survey, providing a statistical reliability of plus or minus 4.8 percent at the 95 percent confidence level.) So what were some of the findings?
La Agencia EFE prohíbe a sus periodistas comentar noticias en Twitter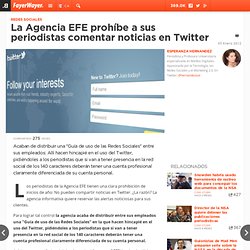 Los periodistas de la Agencia EFE tienen una clara prohibición de inicios de año: No pueden compartir noticias en Twitter. ¿La razón? La agencia informativa quiere reservar las alertas noticiosas para sus clientes. Para lograr tal control la agencia acaba de distribuir entre sus empleados una "Guía de uso de las Redes Sociales" en la que hacen hincapié en el uso del Twitter, pidiéndoles a los periodistas que si van a tener presencia en la red social de los 140 caracteres deberán tener una cuenta profesional claramente diferenciada de su cuenta personal. Así, la cuenta profesional deberá seguir el formato: @EFENombreApellido y allí claramente no compartirán informaciones sobre las pautas que cubren para la agencia, porque la idea es mantener la exclusividad de los contenidos para los que pagan por ellos... Lo explican así en la guía:
Social Media Policy - 5 questions you need to ask | 123 Social Media
¿Social Media Manager o Community Manager?
Hace no muchos años atrás, que el mundo en internet ha ido cambiando muy de a poco, y que cada día avanza más vertiginosamente. Desde hace no mucho tiempo también, oímos constantemente hablar de Social Media Manager o Community Manager sin saber muchas veces realmente de qué estamos hablando cuando nos referimos a estos términos y sin saber cuando debemos utilizar cada uno de ellos. Muchas personas piensan que para ser un Community Manager, solo hace falta tener conocimientos a nivel de usuario de las redes sociales más famosas, lo que es lo mismo que decir que tienen una cuenta en varias redes sociales y la usan habitualmente contando con muchos seguidores.