Pinterest
On the cold, crowded beach that is the Internet, another monster wave has been spotted on the horizon.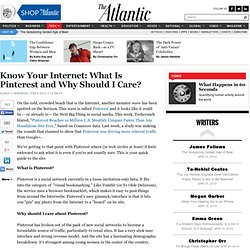 Know Your Internet: What Is Pinterest and Why Should I Care? - Alexis Madrigal - Technology
Just recently, Pinterest hit more than 10 million unique visitors, making it one of the fastest growing websites ever.
6 Compelling Reasons You Should Use Pinterest for Marketing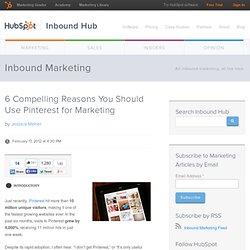 Add Pinterest to Facebook – 2 Easy Steps
How to add Pinterest to you Facebook Page. This is most likely going to be my shortest blog ever.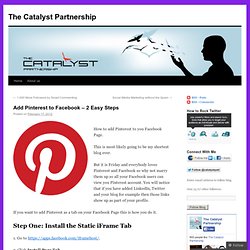 If you've been curious about what sites benefit the most from Pinterest, we now have some insight. RJ Metrics has the inside scoop…and boy does it look yummy. I mean it.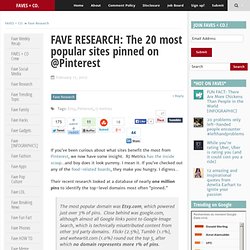 FAVE RESEARCH: The 20 most popular sites pinned on @Pinterest
Is Pinterest Driving More Traffic Than Twitter? [STATS]
OPEN Forum Mobile :: Idea Hub : Article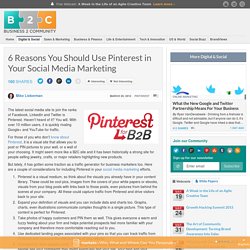 6 Reasons You Should Use Pinterest in Your Social Media Marketing
The latest social media site to join the ranks of Facebook, LinkedIn and Twitter is Pinterest.
Ways to get more from Pinterest | Pin Marketing
Why Every Website Owner Needs to Read This Post About Pinterest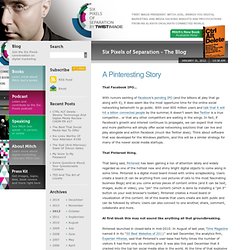 A Pinteresting Story
That Facebook IPO...
As Pinterest enjoys a surge in popularity, MyCustomer takes a look at its value to business – and whether it could prove to be another significant social platform to engage with customers.
Social CRM: Should Pinterest pique your interest?