Pinterest
Know Your Internet: What Is Pinterest and Why Should I Care? - Alexis Madrigal - Technology. On the cold, crowded beach that is the Internet, another monster wave has been spotted on the horizon.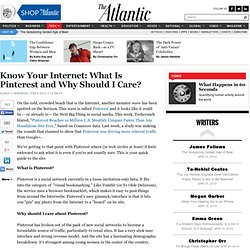 This wave is called Pinterest and it looks like it could be -- or already is -- the Next Big Thing in social media. This week, Techcrunch blared, "Pinterest Reaches 10 Million U.S. Monthly Uniques Faster Than Any Standalone Site Ever," based on Comscore data. Last week, a study was making the rounds that claimed to show that Pinterest was driving more referral traffic than Google+. 6 Compelling Reasons You Should Use Pinterest for Marketing. Just recently, Pinterest hit more than 10 million unique visitors, making it one of the fastest growing websites ever.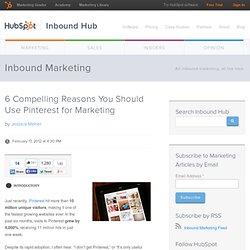 In the past six months, visits to Pinterest grew by 4,000%, receiving 11 million hits in just one week. Despite its rapid adoption, I often hear, "I don't get Pinterest," or "It's only useful when planning a wedding." I hear you, and I felt the same way. Add Pinterest to Facebook – 2 Easy Steps. How to add Pinterest to you Facebook Page.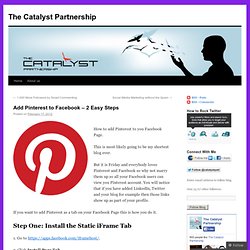 This is most likely going to be my shortest blog ever. But it is Friday and everybody loves Pinterest and Facebook so why not marry them up so all your Facebook users can view you Pinterest account. You will notice that if you have added LinkedIn, Twitter and your blog for example then those links show up as part of your profile. If you want to add Pinterest as a tab on your Facebook Page this is how you do it. Step One: Install the Static iFrame Tab. FAVE RESEARCH: The 20 most popular sites pinned on @Pinterest. If you've been curious about what sites benefit the most from Pinterest, we now have some insight.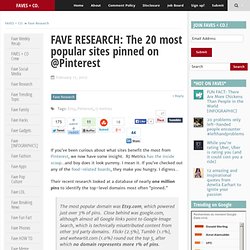 RJ Metrics has the inside scoop…and boy does it look yummy. I mean it. Is Pinterest Driving More Traffic Than Twitter? [STATS] OPEN Forum Mobile :: Idea Hub : Article. 6 Reasons You Should Use Pinterest in Your Social Media Marketing. The latest social media site to join the ranks of Facebook, LinkedIn and Twitter is Pinterest.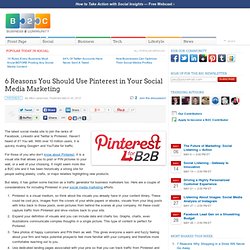 Haven't heard of it? You will. With over 10 million users, it is quickly rivaling Google+ and YouTube for traffic. For those of you who don't know about Pinterest, it is a visual site that allows you to post or PIN pictures to your wall, or a wall of your choosing. Ways to get more from Pinterest | Pin Marketing. 27.4K Flares Twitter 615 Facebook 85 Google+ 56 StumbleUpon 26.3K Pin It Share 114 114 LinkedIn 137 inShare137 Email -- Email to a friend Buffer 24 27.4K Flares × If you are not over on Pinterest now, you need to get there.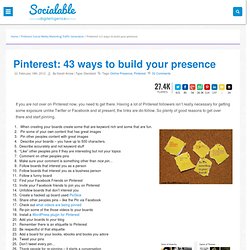 Having a lot of Pinterest followers isn't really necessary for getting some exposure unlike Twitter or Facebook and at present, the links are do-follow. Why Every Website Owner Needs to Read This Post About Pinterest. A Pinteresting Story. That Facebook IPO...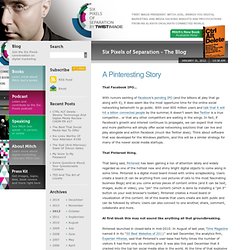 With rumors swirling of Facebook's pending IPO (and the billions at play that go along with it), it does seem like the most opportune time for the online social networking behemoth to go public. With over 800 million users and talk that it will hit a billion connected people by the summer, it doesn't seem like Twitter is a true competitor... or that any other competitors are waiting in the wings. In fact, if Facebook's growth and interest continues to propagate, we can expect that more and more platforms will simply offer social networking solutions that can live and play alongside and within Facebook (much like Twitter does). Think about software that was developed for the Windows platform, and this will be a similar strategy for many of the newer social media startups. Social CRM: Should Pinterest pique your interest? As Pinterest enjoys a surge in popularity, MyCustomer takes a look at its value to business – and whether it could prove to be another significant social platform to engage with customers.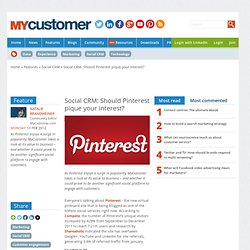 Everyone's talking about Pinterest - the new virtual pinboard site that is being blogged as one of the hottest social services right now. According to Compete, the number of Pinterest's unique visitors increased by 429% from September to December 2011 to reach 7.21m users and research by Shareaholic indicated the site has overtaken Google+, YouTube and LinkedIn for site referrals, generating 3.6% of referred traffic from January. So what is it?
---