English
Site Map / List of Lesbian, Bisexual and FTM Films
WolfeVideo.com - Your LGBT Source for Movies
Description: A Portrait of James Dean: Joshua Tree, 1951 is a fearless, intimate portrait of James Dean on the cusp of becoming both a great actor and an outsider icon. Set in the early 1950s and focusing on Dean's experiences as a rising star in Los Angeles, the film's surreal and dreamlike vignettes blend biographical and fictionalized elements to present pivotal moments in his short yet remarkable life. DVD Part Number: 5093D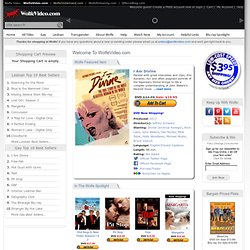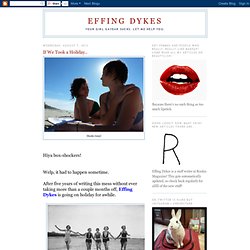 Hiya box-shockers! Welp, it had to happen sometime. After five years of writing this mess without ever taking more than a couple months off, Effing Dykes is going on holiday for awhile.
Effing Dykes
Gay, Lesbian, Bisexual & Transgender News & Free Videos | 365gay.com
Dorothy Surrenders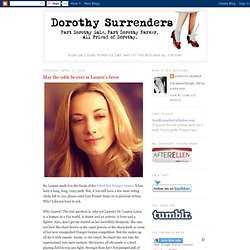 This being the last day of 2103, I thought we should reflect on what was most important last year. Namely, television. Yes, it was truly a spectacular year for the wires and lights in a box. Not only did some great returning favorites continue to impress, but some newcomers became instant classics. So in the spirit of end-of-the-year introspection and for the love of lists, here are my Top 10 favorite shows from 2013. These were, quite simply, the shows I enjoyed watching most this past year.
News, Videos & Reviews on Lesbian & Bisexual Women | After Ellen | Lesbian Celebrities in Entertainment, TV & Movies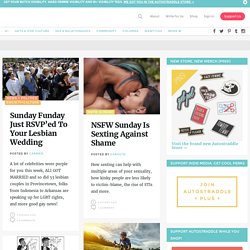 I finally feel safe enough to imagine the big queer family I never had. A home where gender is an option, not an obligation, where parents can apologize to each other as well as to their kids and where long, ongoing conversations about race, power and privilege exist. This week on a show that makes my own therapist worried about me, Ghost is little more than a thin membrane of double standards, Farrah and orders her dessert before her drinks, and Whitney and Sara float blankly in the corner until they talk about hitting each other because they are "passionate". Everyone Is Gay debuts a compilation album of everyone you love: Mal Blum, Ingrid Michaelson, Allison Weiss, Jenny Owen Youngs, and Gregory and the Hawk, for starters.
Autostraddle