3A
Voyage Japon, découvrez Vivre le Japon, Anciennement Voyageurs au Japon. Shoestring Travel Magazine. Shanghai Novice - Culture, Life and Laughs in China. Dépêches de 3A. It's been almost a week since I arrived in Seoul.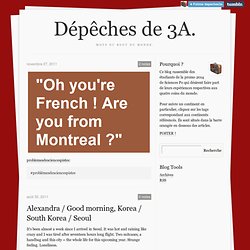 It was hot and raining like crazy and I was tired after seventeen hours long flight. Two suitcases, a handbag and this city = the whole life for this upcoming year. EN TOUT BIEN TOUT HONNEUR. LECASZHOU. En babouche au pays de gandhi. Il rit le peuple. The Delhi Gonzo Post. Namaste ! | FRANCE 2 NEW DELHI. CALENDRIER DES FÊTES ET FESTIVALS EN INDE avec shantitravel. Dans toute l'Inde Fête de la République : 26 janvier 2014 Le plus grand jour férié indien marque la création de la République indienne et l'adoption de sa Constitution en 1950.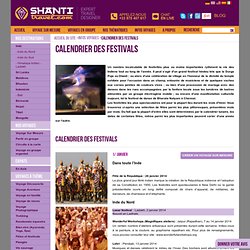 Les festivités sont spectaculaires à New Delhi où la garde présidentielle ouvre un long défilé composé de chars d'apparat, de militaires, de danseurs, de chameaux et d'éléphants. Inde du Nord Losar festival : Ladakh, 2 janvier 2014 Nouvel an Ladhaki. Wonderful Workshops (Magnifiques ateliers) : Jaipur (Rajasthan), 7 au 14 janvier 2014 Un certain nombre d'ateliers artisanaux sont présentés durant cette semaine. Online Journalism Blog. Le blog de Vianney | Barney says you totally should read my blog. True story. Aux couleurs de l'été indien. Garamasala. The Didiest. Accueil | Delhi Accueil.
---