Sql olap
Microsoft OLAP Blog by Hilmar Buchta
In this article we will show how to take typical, everyday MDX and optimize it by simply following advices of MDX Studio Analyzer.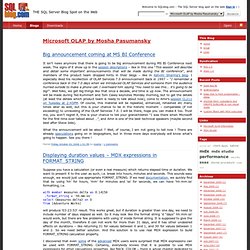 Microsoft OLAP by Mosha Pasumansky
Microsoft Analysis Services
Microsoft SQL Server Analysis Services , SSAS, is an Online Analytical Processing, OLAP , data mining and reporting tool in Microsoft SQL Server . SSAS is used as a tool by organizations to analyze and make sense of information possibly spread out across multiple databases, or in disparate tables. Microsoft has included a number of services in SQL Server related to business intelligence and data warehousing .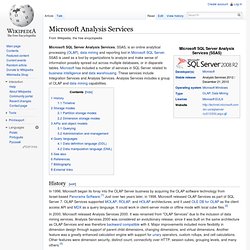 Define attribute relationships as 'Rigid' where appropriate