.net development
iControl isn't just SOAP anymore… No, iControl isn't getting lazy. While taking it easy is an important part of life, I'm talking about the other kind of REST.
Joe Pruitt - PowerShell ABCs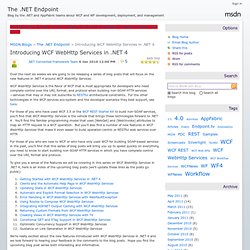 This is a great series and gave me a great jump start on building a WCF REST service. I just wanted to post a few gotchas that I encountered when deploying to IIS 6. These mostly pertain to using routes (no svc file) so if you're using a svc these may not apply. 1. If you use routes you won't have an extension so you need to use a wildcard application map. - IMPORTANT: Make sure you select the 4 version of the aspnet_isapi.dll
Introducing WCF WebHttp Services in .NET 4 - The .NET Endpoint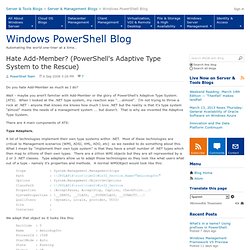 Hate Add-Member? (PowerShell's Adaptive Type System to the Rescue) - Windows PowerShell Blog
Do you hate Add-Member as much as I do? Wait - maybe you aren't familiar with Add-Member or the glory of PowerShell's Adaptive Type System. (ATS). When I looked at the .NET type system, my reaction was "....almost".
Updated: January 2011 Topics in this section describe the purpose of Team Foundation version control commands and provide usage examples.
Tf Command-Line Utility Commands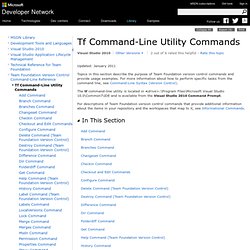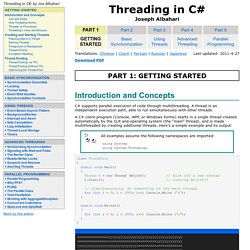 Threading in C# Joseph Albahari Last updated: 2011-4-27 Translations: Chinese | Czech | Persian | Russian | Japanese