Sewing
MADE: TUTORIAL: NO-Sew Flowers. If only your man brought home fresh flowers for you every day?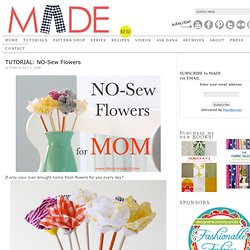 Well, show him a surprise and make your own NO-Sew flower bouquet! I scoured the internet, looking for a simple "fabric flower" tutorial and though some of them were "simple", there were still too many steps! There had to be an easier method. And, here it is.Fabric flowers that you don't even sew. You only need a few supplies: 10 Free Tote Bag Patterns and Tutorials. Totes make great handmade gifts.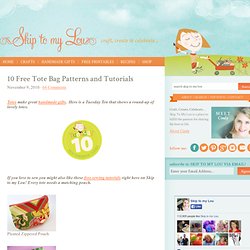 Here is a Tuesday Ten that shows a round-up of lovely totes. If you love to sew you might also like these free sewing tutorials right here on Skip to my Lou! Hip To Piece Squares. Earlier this week I had a request to make one of my patchwork journal covers that I sell in my Etsy shop to fit a standard spiral composition notebook.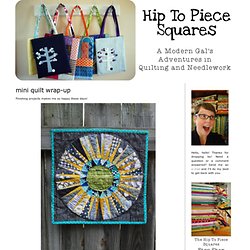 I was excited to get started on a variation of what I normally make, and thought it would be fun to share how I made it with all of you. It should be noted that this isn't a real step by step pattern, but rather more of a loose idea of what I did to make it. If something isn't clear though, leave a comment, and I'll do my best to clarify! What will you need? The Shirt Skirt | Sew Like My Mom. July 28, 2010 I'm so excited to post about this!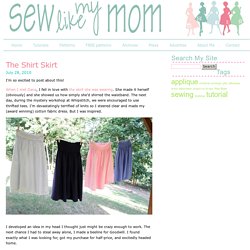 When I met Dana, I fell in love with the skirt she was wearing. Do-it-Yourself DIY String Wedding Lanterns Yarn Chandeliers. Jessica of Wednesday Inc shows us how to make those gorgeous twine chandeliers from the inspiration shoot she shared with us this morning.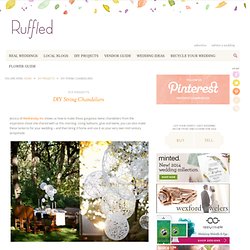 Using balloons, glue and twine, you can also make these lanterns for your wedding – and then bring it home and use it as your very own mid century lampshade. What you will need are: balloons, glue, yarn, tray for glue, corn starch 1/2 cup of Corn starch, 1/4 cup of Warm water, clear fast drying spray paint, hanging lamp cord or fishing line (depending on your desired final product), and a lighting kit if you're looking for a fully functional lantern. Jessica recommends using a sharpie to mark on the inflated balloon how much room you need to leave for the lighting cord. She also recommends coating the balloon with vaseline prior to wrapping the yarn coated with glue so it doesn't stick on the balloon once it's dry. 40+ Free Apron Patterns & Tutorials. [Updated 2012] Whether you're looking for something frilly, fancy or just plain practical, this apron collection has you covered!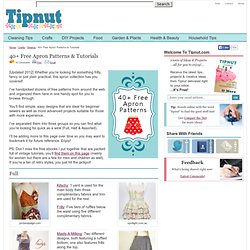 I've handpicked dozens of free patterns from around the web and organized them here in one handy spot for you to browse through. You'll find simple, easy designs that are ideal for beginner sewers as well as more advanced projects suitable for those with more experience. I've separated them into three groups so you can find what you're looking for quick as a wink (Full, Half & Assorted). Stitch & sknitch. How to make fabric storage baskets. Here are 10 terrific ways to make fabric containers, baskets and buckets.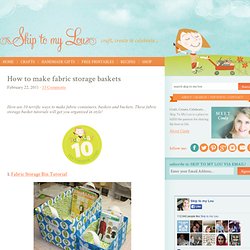 These fabric storage basket tutorials will get you organized in style! 1. Fabric Storage Bin Tutorial 2. Sturdy Fabric Storage Bins. New Green Mama: Reversible Messenger Bag Tutorial. Here's what you will need: Main body -2 pieces of home dec weight fabric or corduroy measuring 14" x 12" (Fabric A) Main body-2 pieces of contrasting home dec weight fabric measuring 14" x 12" (Fabric B)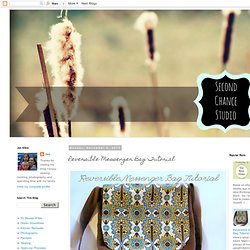 Make your own 6-pocket mini pocketbook and stay organized — insatiable need. I'm sure that many of you, like me, are on an eternal quest for organization.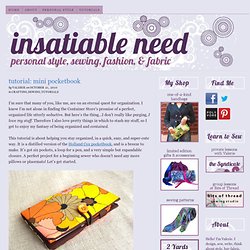 I know I'm not alone in finding the Container Store's promise of a perfect, organized life utterly seductive. But here's the thing…I don't really like purging, I love my stuff. Therefore I also love pretty things in which to stash my stuff, so I get to enjoy my fantasy of being organized and contained. This tutorial is about helping you stay organized, in a quick, easy, and super-cute way. ¡The AntiCraft! Art by Zabet Stewart Letter from the Editrices If anyone is interested in what the hell we're doing, this would be the thing to read.
Technique: Wire Knitting Learn something new. Project Details Click here for definitions of difficulty levels. 45 Awesome Free Bag Making Tutorials | frugalandthriving.com.au. Posted on October 7 by Melissa Goodwin · 51 Comments This post has been updated – broken links have been replaced with new awesome bag making tutorials. You can get even more bag tutorials in the follow-up post here. Just say no to boring cardigans — insatiable need.
The fabric fairy has recently blessed me with an unusual windfall: more ribbon, zippers, trim and other notions than I know what to do with. Included in the stash was bolts and bolts of vintage lace trim…everything from sweet little eyelet lace, to elastic lace for lingerie, to hand crocheted trim probably originally intended for someone's wedding trousseau (the picture above is about one third of the collection). I had an idea to use some of the lace in a t-shirt refashion that would turn one of my many plain, long sleeve t-shirts into something more interesting: a pretty cardigan, perfect for fall days when you need another layer but want something a little special…anything but yet another hoodie.
My vision was simple: lace ruffle, followed by a smaller, chiffon-type print ruffle, and finished off with a velvet ribbon. I wanted an ultra feminine look that was all about varied textures, so I knew I didn't want all three trims to be the same, flat black.
---