Drugs
Benham's Disk
Concentrate on the spinning eye at the center of the disk. Soon, from the black-and-white image, colors will emerge. These colors are not coming from the spinning image (the spinning image stays black-and-white, we promise!) but from within your eyes, your lyin' eyes. As the disk slows, the colors will change positions, tone, and intensity.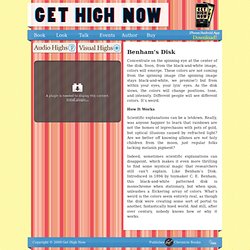 "Near Death Experience" "PCP Poetry" (Uncut) Abilify / Xanax / Ativan (dosage unknown in hospital) 90mg Abilify (after 3 months usage 3x maximum dose) 1 sm Glass of "real" Absinth (not the fake crap)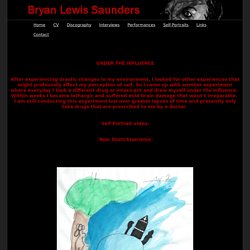 Gateway drug theory
The gateway drug theory (also called my button gateway theory , gateway hypothesis and gateway effect ) is the theory that the use of less deleterious drugs may lead to a future risk of using more dangerous hard drugs and/or crime. [ 1 ] It is often attributed to the use of several drugs, including tobacco , [ 2 ] alcohol , [ 3 ] and cannabis . While some research shows that many hard drug users used cannabis or alcohol before moving on to the harder substances, other research shows that some serious drug abusers have used other drugs before using cannabis or alcohol. [ 4 ] The former is particularly evident in individual drug-abuse histories which tend to show that "hard drug" users do progress from one drug to another. [ 5 ] [ edit ] Variations of the theory Several different hypotheses have been called "gateway" theories in popular discourse.