Conspiracy
Bermuda Triangle - Devil's Sea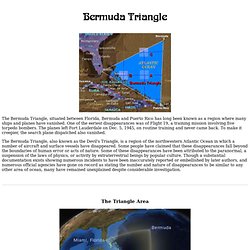 The Bermuda Triangle, also known as the Devil's Triangle, is a region of the northwestern Atlantic Ocean in which a number of aircraft and surface vessels have disappeared. Some people have claimed that these disappearances fall beyond the boundaries of human error or acts of nature. Some of these disappearances have been attributed to the paranormal, a suspension of the laws of physics, or activity by extraterrestrial beings by popular culture. Though a substantial documentation exists showing numerous incidents to have been inaccurately reported or embellished by later authors, and numerous official agencies have gone on record as stating the number and nature of disappearances to be similar to any other area of ocean, many have remained unexplained despite considerable investigation.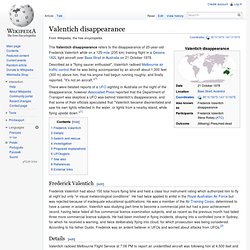 Coordinates : The Valentich disappearance refers to the unexplained disappearance at around 7:12 pm on 21 October 1978 of 20-year-old Frederick Valentich while piloting a Cessna 182 L light aircraft over Bass Strait in Australia . He intended to land at King Island and return to Moorabbin Airport . [ 1 ] During the 127- mile (235 km) flight, Valentich advised Melbourne air traffic control that he was being accompanied by an aircraft about 1,000 feet (300 m) above him. [ 2 ] He described some unusual actions and features of the aircraft, saying that his engine had begun running roughly, and finally reported that the "strange aircraft is hovering on top of me again.
A Flat Earth model depicting Antarctica as an ice wall surrounding a disk-shaped Earth. The Flat Earth Society (also known as the International Flat Earth Society or the International Flat Earth Research Society ) is an organization that seeks to further the myth that the Earth is flat instead of an oblate spheroid . The modern organization was founded by Englishman Samuel Shenton in 1956 [ 1 ] and was later led by Charles K. Johnson , who based the organization in his home in Lancaster , California . The formal society was inactive after Johnson's death in 2001 but was resurrected in 2004 by its new president Daniel Shenton. [ 2 ]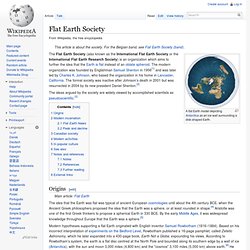 Flat Earth Society
History: Fiction or Science? Chronology volumes 1–7 The New Chronology is a fringe theory regarded by the majority of the scientific community as pseudo-history , which argues that the conventional chronology of Middle Eastern and European history is fundamentally flawed, and that events attributed the civilizations of the Roman Empire , Ancient Greece and Ancient Egypt actually occurred during the Middle Ages , more than a thousand years later. The central concepts of the New Chronology are derived from the ideas of Russian scholar Nikolai Morozov (1854-1946), [ 1 ] although work by French scholar Jean Hardouin (1646-1729) can be viewed as an earlier predecessor. [ 2 ] However, the New Chronology is most commonly associated with Russian mathematician Anatoly Fomenko (b. 1945), although published works on the subject are actually a collaboration between Fomenko and several other mathematicians.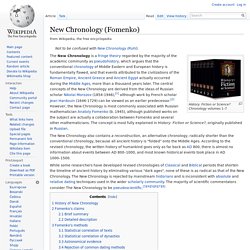 New Chronology (Fomenko)
The truth about John Lennon's murder. By Steve Lightfoot
The Phantom time hypothesis is a conspiracy theory developed in the 1980s and '90s by German historian Heribert Illig (born 1947 in Vohenstrauß , Germany). The hypothesis proposes that periods of history, specifically that of Europe during the Early Middle Ages (AD 614–911), did not exist, and that there has been a systematic effort to cover up that fact. Illig believed that this was achieved through the alteration, misrepresentation and forgery of documentary and physical evidence. [ 1 ] [ 2 ]
Phantom time hypothesis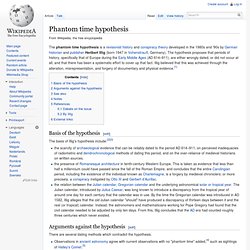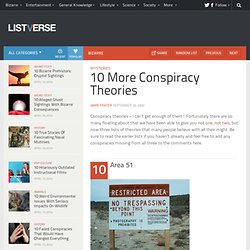 Conspiracy theories – I can't get enough of them! Fortunately there are so many floating about that we have been able to give you not one , not two , but now three lists of theories that many people believe with all their might. Be sure to read the earlier lists if you haven't already and feel free to add any conspiracies missing from all three to the comments here. It makes the list because it appears in almost every alien or UFO conspiracy theory ever devised. The fact is Area 51 is real.
10 More Conspiracy Theories
The memo that 'proves aliens landed at Roswell'... released online by the FBI
By Daily Mail Reporter UPDATED: 07:37 GMT, 11 April 2011 A bizarre memo that appears to prove that aliens did land in New Mexico prior to 1950 has been published by the FBI. The bureau has made thousands of files available in a new online resource called The Vault. Among them is a memo to the director from Guy Hottel, the special agent in charge of the Washington field office in 1950.