Vertical Search
ArXiv.org e-Print archive. EconPapers. The Ultimate Guide to the Invisible Web. Search engines are, in a sense, the heartbeat of the internet; "googling" has become a part of everyday speech and is even recognized by Merriam-Webster as a grammatically correct verb.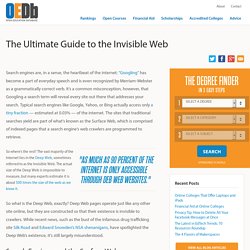 It's a common misconception, however, that googling a search term will reveal every site out there that addresses your search. In fact, typical search engines like Google, Yahoo, or Bing actually access only a tiny fraction – estimated at 0.03% – of the internet. The sites that traditional searches yield are part of what's known as the Surface Web, which is comprised of indexed pages that a search engine's web crawlers are programmed to retrieve. So where's the rest? Patent Searching and Inventing Resources. EServer Reference: About the Reference Collection. A brief description of this website.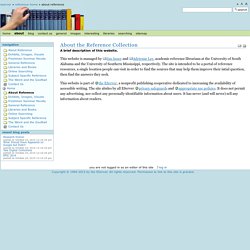 This website is managed by Jan Sauer and Adrienne Lee , academic reference librarians at the University of South Alabama and the University of Southern Mississippi, respectively. The site is intended to be a portal of reference resources, a single location people can visit in order to find the sources that may help them improve their intial question, then find the answers they seek. This website is part of the EServer , a nonprofit publishing cooperative dedicated to increasing the availability of accessible writing. New pearl. Gapminder.org - For a fact based world view.
---