ConvertIcon!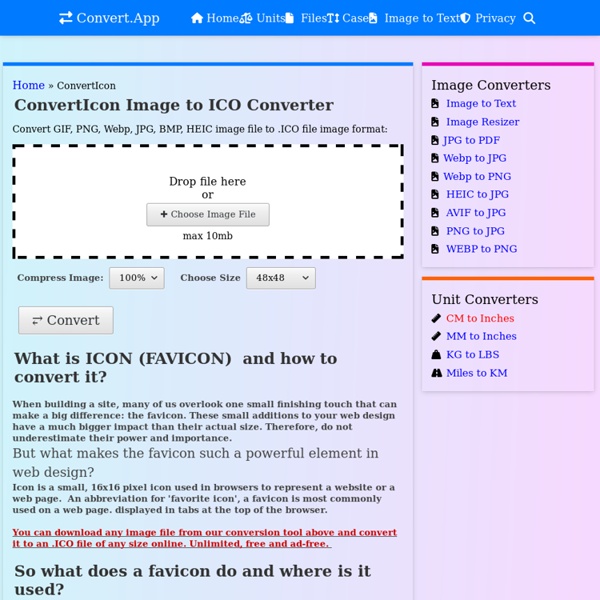 Convertisseur en tout genre • deupa • samohudec • Online Applications • Web-tools
HTML to JavaScript convertor - Transforms blocks of HTML into JavaScript document.write() statements | Developer Tools The HTML to JavaScript convertor takes your markup and converts it to a series of document.write() statements that you can use in a block of JavaScript. When using this tool, it will convert and escape all those troublesome single quote, double quote issues that always throw you curve balls when creating strings in JavaScript. The last option - to build up a string using a variable name - is most likely to be the best use for this tool. But hey, that's your choice. Enjoy. The 20 best tools for data visualization | Design tools It's often said that data is the new world currency, and the web is the exchange bureau through which it's traded. As consumers, we're positively swimming in data; it's everywhere from labels on food packaging design to World Health Organisation reports. As a result, for the designer it's becoming increasingly difficult to present data in a way that stands out from the mass of competing data streams. One of the best ways to get your message across is to use a visualization to quickly draw attention to the key messages, and by presenting data visually it's also possible to uncover surprising patterns and observations that wouldn't be apparent from looking at stats alone.
DooID pixelhub By signing in you accept our privacy & legal notice. Please enter the email address you signed up with. We'll send you an email with further instructions (please also check your spam folder). Tell your friends: s Malwarescanner Channels | Gateway by OneLouder We want you to explore, be entertained—and even caught off guard— so, we don't track and then just feed you more of what's in your usage history. Instead, ChannelCaster allows you to build and share Channels with your friends or the entire community based on what interests you. Discover Get started by browsing our verified and recommended Tier 1 Channels to find favorites. Then, discover the unexpected in new Public Channels that are created and published by the ChannelCaster community every day.
Color converter - HEX to RGB and rgb to hex color converter Color Converter Convert hex color code to RGB and RGB to HEX (Hexadecimal) This free color converter gives you the hexadecimal values of your RGB colors and vice versa (RGB to HEX). Use it to convert your colors and prepare your graphics and HTML web pages. To use the converter, do not use the '#' symbol. Windowsill Sprouting my way through the Winter. My orchids are dark speckled and bruised from the cold. The flowery Lantana shrubs are like coarse twine unraveled in a pile on the ground. The tall ornamental grasses, which I love for their swaying grace, stand in stiff bunches like little scarecrows scattered across the lawn. My herbs…oh, let's not even go there (I think thyme and cilantro are barely holding on). Then there's the pile of dead and crispy Christmas trees strewn around the fire pit.
Zoho wwwsqldesigner - Visual web-based SQL modelling tool WWW SQL Designer allows users to create database designs, which can be saved/loaded and exported to SQL scripts. Various databases and languages are supported. Ability to import existing database design. [YouTube video] Hi and welcome to WWW SQL Designer! A tool that creates server-side statements (PHP, ASP, JSP etc) to write into the web page | Developer Tools Response.Right converts text/HTML to server-side write statements in PHP, ASP (VBScript and JavaScript) and JSP. You can output the results into a named string variable or directly into write/print statements This tool is just a time-saver that I put together while getting frustrated trying to work out where to escape double and single quotes should be in server-side write statements; I hope it saves you time too! Thanks to Nigel Peck and Vinnie Garcia for help with the syntax-checking!
News Reader Are you using AdBlock, Facebook Disconnect, or another browser extension that blocks Facebook Connect? Try disabling it. This is likely the reason, especially if you don't see a "login" button. Remember The Milk: Online to do list and task management Screenr | Instant screencasts: Just click record
naren978 • Online Tools • Favoritos • richardlatu • converter • Entertaining • Online services • Productions • Computers 1 • Curs Web 2.0 • Tools • Design & Free Stuff • Design • Herramientas conversores