DeCS - Descriptores en Ciencias de la Salud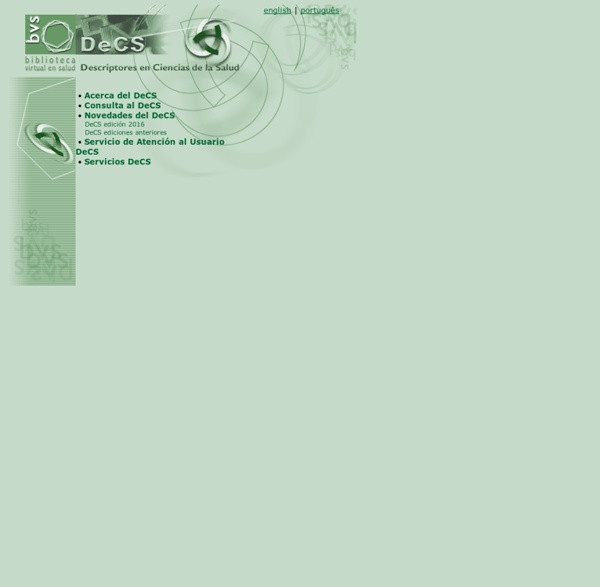 http://decs.bvs.br/E/homepagee.htm
DESCRIPTORES. KEYWORDS • buscadores y recursos • recursos • En línea • buscadores
EMTREE-EMBASE Embase from Elsevier Life Science Solutions is the most comprehensive international biomedical database for biomedical researchers. It enables you to track and retrieve precise information on drugs and diseases from pre-clinical studies to searches on critical toxicological information. Embase's biomedical database has over 25 million indexed records from thousands of peer-reviewed journals, Embase provides the confidence and tools you need to capture the most relevant and up-to-date biomedical research.
aemps/agemed Síguenos: CIMA: Centro de Información online de Medicamentos Entrez cross-database search Sign in to NCBI Tesauro de la UNESCO El Tesauro de la UNESCO es una lista controlada y estructurada de términos para el análisis temático y la búsqueda de documentos y publicaciones en los campos de la educación, cultura, ciencias naturales, ciencias sociales y humanas, comunicación e información. PEDro PEDro is the Physiotherapy Evidence Database. PEDro is a free database of over 26,000 randomised trials, systematic reviews and clinical practice guidelines in physiotherapy. For each trial, review or guideline, PEDro provides the citation details, the abstract and a link to the full text, where possible. Mendeley Mendeley is a free reference manager and academic social network that can help you organize your research, collaborate with others online, and discover the latest research.
Comprehensive Physical Therapy Resource - CyberPT Terms & Conditions Observatorio Estatal de la Discapacidad Zotero Cite perfectly. Acerca del tesauro Propósito del tesauro El tesauro ha sido desarrollado con el propósito de ser utilizado por las organizaciones que se ocupan de la labor de documentación relativa a los refugiados. La utilización de una terminología estándar para indexar información relativa a refugiados, ya sea en un formato impreso, audiovisual o electrónico, facilita la recuperación e intercambio de información.
Descriptores