DeCS-LILACS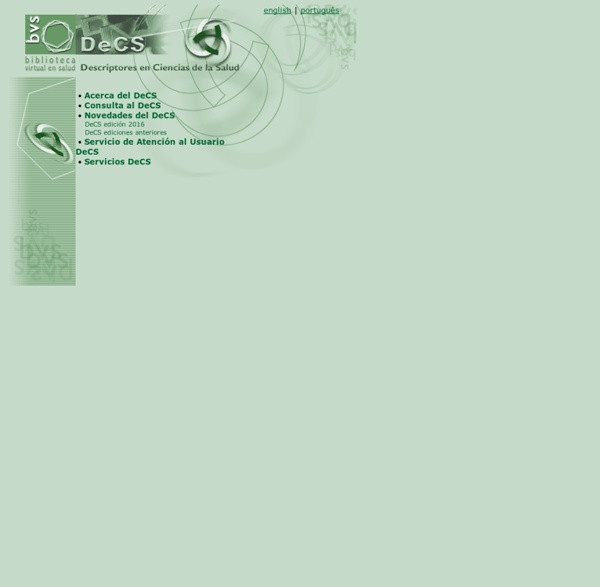 http://decs.bvs.br/E/homepagee.htm
DESCRIPTORES. KEYWORDS • buscadores y recursos • recursos • buscadores
EMTREE-EMBASE Your key resource for biomedical information Embase is the world's most comprehensive international biomedical database, with resources for everything from clinical trials to pharmacovigilance studies. As a key resource for drug and medical device tracking, it enables you to get to market faster and stay current when it comes to safety information and compliance updates. medmerits Although there appears to be an "autoimmune" attack against myelin and myelin-forming cells in the brain and spinal cord, multiple sclerosis cannot be called a true autoimmune disease. No target antigen has been demonstrated reproducibly. The antigen-induced animal model, experimental allergic encephalomyelitis (EAE), does not appear spontaneously in wild mice. HLA types are associated with multiple sclerosis, but the mechanism is unclear. There are surprisingly few links to autoimmune disease, except Crohn disease and possibly thyroid disease. Systemic lupus erythematosus is underrepresented in multiple sclerosis and is linked to opposite responses to type I interferons (Javed and Reder 2006).
Agencia Española de Medicamentos y Productos Sanitarios - AEMPS PEDro Tesauro de la UNESCO El Tesauro de la UNESCO es una lista controlada y estructurada de términos para el análisis temático y la búsqueda de documentos y publicaciones en los campos de la educación, cultura, ciencias naturales, ciencias sociales y humanas, comunicación e información. Continuamente ampliada y actualizada, su terminología multidisciplinaria refleja la evolución de los programas y actividades de la Organización. El Tesauro contiene 7,000 términos en inglés y en ruso, y 8,600 en francés y en español. El Tesauro está disponible también en CD-ROM Lista alfabética Neuroradiology Tabby Kennedy, MD Neuroradiology Clerkship Director Assistant Professor, Department of Neuroradiology The University of Wisconsin, Madison Comprehensive Physical Therapy Resource - CyberPT
GLUCANTIME de SANOFI AVENTIS © Vidal Vademecum Spain | Capitán Haya, 38. 28020 Madrid, España - Tel. 91 579 98 00 - Fax: 91 579 82 29 | Rambla Catalunya N° 2-4 6ª pta. 08007 Barcelona, España - Vademecum.es está reconocido oficialmente por las autoridades sanitarias correspondientes como Soporte Válido para incluir publicidad de medicamentos o especialidades farmacéuticas de prescripción dirigida a los profesionales sanitarios (S.V.nº09/10-W-CM), concedida el 3 de diciembre de 2010. Aviso : La información que figura en esta página web, está dirigida exclusivamente al profesional destinado a prescribir o dispensar medicamentos por lo que requiere una formación especializada para su correcta interpretación.
Zotero Carbonite