Rasmussen Reports™: The Most Comprehensive Public Opinion Data Anywhere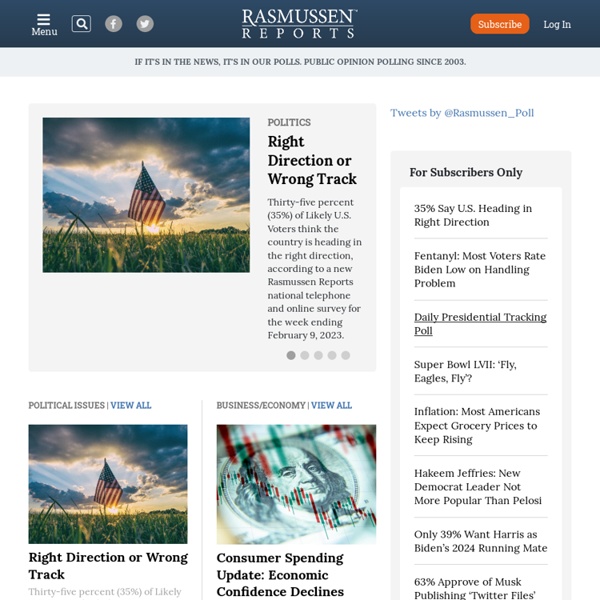 http://www.rasmussenreports.com/
news • The Political Pig Pen • Polls and Stats • Internet News • Politics
Independent Media Center | www.indymedia.org | ((( i ))) - 19 May 2012 A BUILDING IS NOT ENOUGH: Occupying a Skyscraper for Art Hundreds of people are blocking a street in Milano protesting for the eviction of a skyscraper of 32 floors they were occupying. Torre Galfa, near Stazione Centrale, has been taken the 5 of May by Macao , a group of artists, video makers, journalists, immaterial workers to make a new arts center, to strengthen relationships between art and society and protest against abandoned buildings. The tower, quite new, was abandoned since 1996 in a town were many new skyscrapers are built for the Expo 2015 and nobody knows if they will ever be used.
Bill Would Give Justice Department Power to Shutter Piracy Sites Worldwide | Threat Level Lawmakers introduced legislation Monday that would let the Justice Department seek U.S. court orders against piracy websites anywhere in the world, and shut them down through the sites' domain registration. The bipartisan legislation, dubbed the Combating Online Infringement and Counterfeits Act, (.pdf) amounts to the Holy Grail of intellectual-property enforcement. The recording industry and movie studios have been clamoring for such a capability since the George W. Bush administration. FRED More Services Events Information on conferences, seminars, and workshops sponsered by the Research Division. 8th District Economy Find economic data and reports on economic conditions in the Federal Reserve's Eighth District. Careers Job Opportunities offered by the Research Division Page One Economics Includes a newsletter, data "starter set", and other economic resources.
RealClearPolitics - Opinion, News, Analysis, Videos and Polls The Federalist Blog CNN.com - Breaking News, U.S., World, Weather, Entertainment & Video News How To Spot A Whitewash In Army's Death-Squad Inquiry | Danger Room According to Army investigators at Joint Base Lewis-McChord in Washington State, soldiers in the 3rd Platoon, Bravo Company, 2nd Battalion, 1st Infantry Regiment of what's now the 2nd Stryker Brigade hunted and killed Afghan civilians for sport. If this gruesome tale turns out to be true, then it means American soldiers in Afghanistan became something we associate with the worst of all war crimes, something that we'd like to believe simply doesn't exist among our troops: a death squad. A small group of soldiers in the platoon, report the Washington Post and the Army Times before it, hatched a plot to target Afghan civilians for death. Three alleged murders occurred between January and May in Kandahar at the hands of the self-described "Kill Team" headed by a staff sergeant in the platoon who apparently boasted of getting away with abuse in Iraq.
Gallup Ann Coulter - Official Home Page The Nation Right-wing media attack Michelle Obama for fighting childhood obesity Conservative media figures are attacking Michelle Obama over her efforts to encourage healthy eating and reduce childhood obesity, baselessly claiming that Americans "will be reported" or be "jail[ed]" for eating french fries. Fox News figures attack Michelle Obama's efforts to reduce childhood obesity Beck fearmongers that philosophy behind offering children healthy food choices will lead to riots, imprisonment, and global government. TVNewser Conservative news, politics, opinion, breaking news analysis, political cartoons and commentary – Townhall Breaking News and Opinion on The Huffington Post
News