Editor de fotos & Collage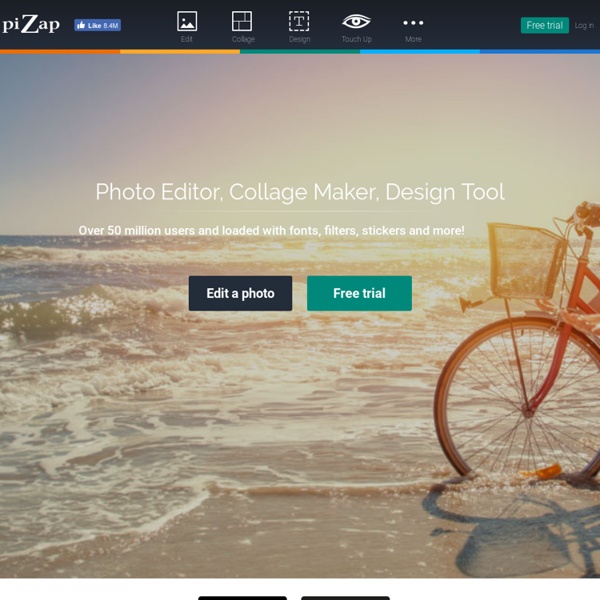 Editor de Imagenes • Photo Taking / Editing • Online Fun Picture Tools • Favoritos 2.0 • Fotobewerking
Herramientas multiple formatos documentos - imagenes Online Sci2ools Sci2ools is a free online document processor and image converter toolbox. Sci2ools offers the following services: The service enables you to load files from your computer or from URL. Cameroid - Use your webcam to take photos online! Food Cheese Burger Props/Addons To Your Photos, Photo Layer Add-Ons Visitor # Users: HOW TO: Click on the photograph (above) near the location for prop to appear (imagine the prop image as a rectangle, the mouse click will represent the top left corner) to fill the X & Y cooridinates for the placement of props. You can also manually change the X & Y values (larger number for X makes prop move further from left edge, larger Y number makes the prop move further down). Rotating is done with values, negative numbers rotate counter-clockwise and positive numbers go clockwise (you will have to readjust X & Y values manually as rotating offsets eveything).
Word Clouds for Kids! ABCya.com word clouds for kids! A word cloud is a graphical representation of word frequency. Type or paste text into the box below and press the arrow button to view the word cloud generated. Photoscape gratis downloaden Met Photoscape heb je een volledig reeks van benodigheden voor fotografisch bewerking, het omvat de omzetting onder de verschillende formaten (het ondersteunt RAW) tot de verwezenlijking van de fotomontage. Het heeft een grafisch beeldscherm en verschillende controles om de helderheid, kleurenverzadiging, contrast en meer te bepalen. Je kunt het lastige rood-oog effect verbeteren en een reeks filters, maskers en effecten toepassen om met je beelden "te experimenteren". Een intereressant kenmerk van deze krachtige fotore editor is de capaciteit om wijzigingen toe te passen over beeldgroepen, welke bijvoorbeeld, het opnieuw benoemen of herafmeten van veelvoudige grafische bestanden zal vergemakkelijken.
Editar imagenes szoter is easy to use, free, online image annotation tool. It makes expressing Your ideas and thoughts easy. It can be used to share Your ideas with friends, highlight important parts of images or even to create readable bug reports. Cartoon.Pho.to - Anima tus retratos con ¡emociones nuevas!
Image Mosaic Generator This exclusive free web application is brand new. Unforunately it is only available from December 2008 to February 2009, so make sure you tell your friends about it now! :) Online Music Notation Software Your music, everywhere. Create music notation right in your browser and be part of the world's best music composition community. More... Make a great photo montage! Terms of Use: Our sites have photo materials that are divided in two categories: 1. Site photos: these are photos managed by us, the site owners. These photos are either purchased under license (e.g., www.featurepics.com), or are in the public domain, or were linked under the Creative Commons license, or the uploaders either own the photo or have written permission from the owner. 2. User provided photos.
Viñetas y Burbujas para fotos Webcam Effects & Live Web Cam Fun. Play Games & Take Pictures Online For Free Free Flash Animation Tool – Vectorian Giotto | Free Flash Animation Software Features We created Giotto for designers, not coders Giotto is the free Flash animation package made for you to design, not to code. With Giotto you can relax and focus your imagination on creative concepts, integrating stunning graphics and music into masterpieces of design. The latest versions of Adobe® Flash® are moving away from designers. Moovly, presentaciones y animaciones en vídeo Moovly es una original herramienta 2.0 para crear animaciones y vídeos. Es sencilla de utilizar y el resultado es muy vistoso. Es una herramienta estupenda para el uso en el aula ya que va a ayudar a desarrollar la creatividad de los alumnos a la hora de presentar sus trabajos de clase. Las animaciones creadas con Moovly se comparten en la red en formato vídeo exportándolas a Youtube y Facebook. La aplicación ofrece servicio gratuito y también de pago que debemos valorar en función de uso que vayamos a dar a esta herramienta.
Photomontage • photo editing • J'apprends à créer • Photobricole • fotografia e intenvención de imágen • Reference/Sites for Free movies,tv,ect. • wilfredocolon2 • Photos • PhotoFun • FOTO • Web 2.0 • rosalindadoudou • Je crée avec l'informatique • images • Jeux d'Art • jeu • Editar • web • damiendeluca73 • transversale