Language Learning with Livemocha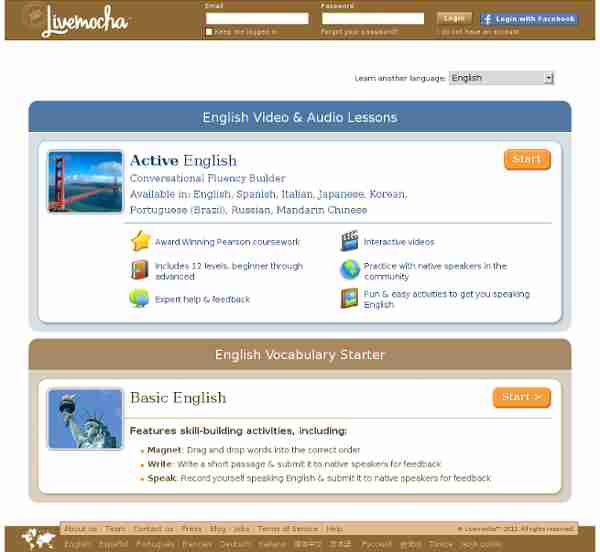 http://www.livemocha.com/subscriptions
Language Lessons (Free) • French Training • Lenguages, Translation & Semiotics • Learning Languages • international
Swedish Language Course Introduction Contents of the Course Swedish Cultural Links Over 350,000 Hits! One of the 1003 Best Free Things on the Web, according to the 3/97 issue of Net Guide Magazine! Des outils web 2.0 pour l'enseignement... - Emob Formation, Parmi le flot incessant de nouveaux sites estampillés qui sortent quotidiennement et que nous rapportent des sites comme Techcrunch , BuzzShout ou Ehub , l'enseignement n'est pas en reste, avec un certain nombre d'applications ... Nous avions déjà évoqué ça et là les plateformes d'apprentissage ( ) Nuvvo et Chalksite , ou Teacherly qui permet aux professeurs d'enregistrer des relevés de notes en ligne, ou encore Schoopy , Gradebookwizard , Engrade et Schooltool , outils d'administration pour les enseignants. La liste s'est allongée depuis, avec notamment l'apparition des sites suivants : BeanArena : il s'agit d'un LMS ( ) pour les enseignants des écoles américaines. Il permet notamment de concevoir et publier des cours en ligne.
Learn Chinese Online | Learnalanguage.com Chinese Words Learn Chinese words from many different topics such as animals, furniture, and travel. Chinese Dictionary Use our Chinese dictionary for any English - Chinese or Chinese - English translations. Chinese Verbs How to speak Korean for free Learning to speak Korean is fun and very easy. Korean Alphabet: It looks funky, but the Talking Korean Alphabet is actually easier than English. Just set aside a couple of hours for the Korean Alphabet games 1 and 2. NEW: Korean Alphabet Hangul Rap Video As with any language, before the alphabet, it's best to learn some useful words and phrases.
Getting started learning the Russian language The key to learning any language is to immerse yourself in the language. Try to study a little each day if possible. Even if you only review one or two words a day. If you are keen to get started you can go straight to Lesson 1. On this page you will find some tips that will help you to learn Russian. About The Russian Language
French I Tutorial: Basic Phrases, Vocabulary and Grammar • Learn French Online • Free French Lessons If you'd like to download the mp3s, use the DownThemAll add-on for Firefox to download all the mp3s at once instead of right-clicking on each link. Visit the French mp3s page for the list of all mp3s that accompany the French tutorials. All flashcards and exercises will open in a new window. Spanish direct & indirect object pronouns Now that you've learned about direct and indirect object pronouns, what happens if you want to use them together? The sentences that follow are examples of both object pronouns being used together. The direct object is in bold, while the indirect object is underlined. • Does Hector give them to you?
Learn 40 Languages for Free: Spanish, English, Chinese & More How to learn languages for free? This collection features lessons in 40 languages, including Spanish, French, English, Mandarin, Italian, Russian and more. Download audio lessons to your computer or mp3 player and you're good to go. Arabic Arabic for Global Exchange – Web siteFrom Carnegie Mellon, a mini-course for individuals with no proficiency or extremely limited knowledge of Arabic language and culture who are about to begin study or work in an Arabic-speaking context.Arabic Language Lessons - iTunes FreeThe US Peace Corps serves up 10 free lessons that will teach you the Arabic spoken in Jordan. The web site includes a useful transcript.Arabic for Beginners 1 – YouTube FreeA series of video lessons from Dalarna University in Sweden.ArabicPod - iTunes FreeIncludes mp3s and PDF transcripts.Foreign Service Institute Basic Amharic - Web siteLessons in dialogues, drills, exercises, and narratives.
French Language Course Pages Created by Jacques Léon Page design by Roberth Andersson Presentation... My name is Jacques Léon and I will be your instructor of basic French for this Web course. Though I am presently living in Paris, France. I have been impressed by the Spanish and the Italian Web courses and wondered why The French language was absent. So, I have decided to remedy this situation by adding this course to the Human Language page.
Direct and Indirect Object Pronouns Used Together Home / Grammar / Topic Notes: The written lesson is below.Links to quizzes, tests, etc. are to the left. Here are the direct object pronouns and the indirect object pronouns side by side: Learn Thai Podcast | Learn Thai Language Course. Online and on the go! carte du site NEW!!Ask & discuss on facebook support Fi Français interactif One Minute French One Minute French on the iBookstore We're delighted to announce that our One Minute French course is now available on the iBookstore. iBooks can be viewed on all iOS devices including iPod Touch, iPhone and iPad. You need to have the iBooks app on your device, and the title is purchased directly through iTunes. This iBook provides all ten lessons of the course in video format, along with notes and further explanations, and includes the same content covered in the traditional "podcasts + pdf lesson guide" version of the course. You can purchase this iBook directly from the iBookstore in the iBooks application.
speakdutch.nl | Speak Dutch | KLM Royal Dutch Airline | Dutch Miller Chevrolet | The Netherlands