SparkChess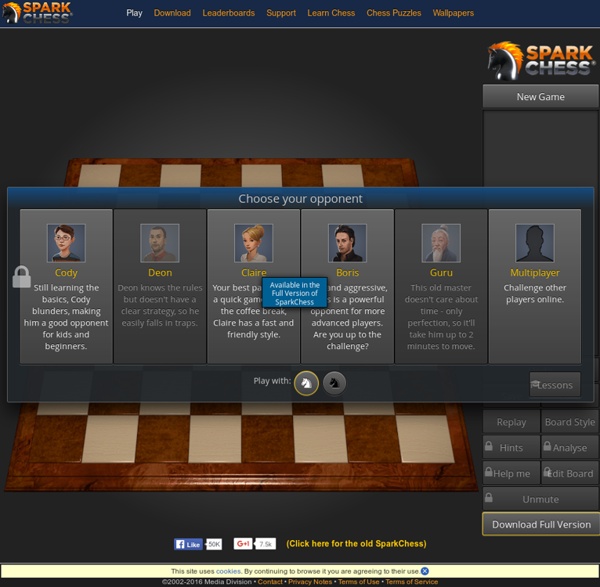 Chess Online • Divers • Chess websites • Online games • Puzzle
lichess Free online Chess game. Play Chess now in a clean interface. No registration, no ads, no plugin required. Play Chess with the computer, friends or random opponents. Philosophie, religion, science et conscience - Dieu, Platon, Darwin et l'avenir Sens et but de l'évolution humaine L'évolution de l'homme Les choses humaines semblent suivre un cours déraisonnable mais sont conformes à un plan déterminé de la nature. Kant. Nous étions des « primates naturels ». Nous sommes des « hommes constructeurs ».
GameKnot Play a friendly chess game online, or compete against other chess players — all you need is 10 minutes to enjoy playing chess online every day. You choose when to move or how often — no need to finish your chess games in one sitting, check back whenever you have time to play online. Play several chess games online simultaneously, try different chess strategies and chess openings. Cursed Treasure: Level Pack! What name do you wat to represent you here? To protect your privacy, do not include your real name in your username. Your username must be at least 3 characters. Chess If the keyboard stops working, try clicking on the game. If the game doesn't appear, try minimising and un-minimising your browser. If the game still doesn't appear, click here. Copyright © 2008 - 2011 Jagex Ltd. Jagex and FunOrb are registered trademarks of Jagex Limited in the United Kingdom and trademarks used in other countries of the world.
ChessFriends Experience VirtualWorld of Chess ChessFriends.com provides you with an amazing chess application, giving you an opportunity to explore the world of online chess. Play online against human or computer opponents Games archive Watch live games Analysis by a powerful chess engine Tournament broadcasts User-friendly interface Detailed profiles and statistics Realistic sound, in-game chat and many other features Correspondence chess Play online tournaments ChessFriends Mobile Application
Convertisseur MP3 Youtube Notre service est la vidéo la plus fiable to MP3 Converter sur Internet. Nous avons consacré serveurs fonctionnant 24 heures par jour pour vous le convertisseur mp3 le plus rapide jamais porter! Nous n'avons pas besoin de vous inscrire ou de vous identifier pour utiliser ce service. Chess Diagram Setup Use the board on the left to set up the diagram image on the right. Either drag and drop pieces or click to select then click again to put a piece. To see the result, click the "Update Diagram" button. When you are done, copy the image URL at the top of the page and paste it into an image tag, or wherever you need. The format for specifying colors is the ImageMagick color format (#RRGGBB works). For questions and requests, such as integrating the composer with your chess forum, email me at msasha@gmail.com.
Chess.com Available languages: Schach - Deutsch Шахматы - Русский Шахи - Українська Chess - English Ajedrez - Español Échecs - Français Scacchi - Italiano Sakk - Magyar Schaken - Nederlands Szachy - Polski Help us finish translating: My language is not listed We are working hard to make Chess.com available in over 70 languages. Check back over the year as we develop the technology to add more, and we will try our best to notify you when your language is ready for translating!
La citation du jour La citation du jour Chaque jour de l'année, la rédaction d'Evene vous propose sa citation du jour ! Une pensée choisie qui vous fera rire, sourire ou réfléchir... et que vous pouvez recevoir par e-mail chaque matin. La citation du jour [05.04.2014] « Rien n'est impossible. Il faut seulement un peu de courage. » The Best Online Sources To Play & Learn Chess I love playing chess and collecting chessboards and like everything else, my enjoyment of the game has moved online. As well as playing installed software chess games, I also have some favourite chess websites where I like to meet other players from around the world for a game or two. After all, it gets boring eventually playing against a computer.
khalidhasn • Chess • Chess • Des jeux pour apprendre! • Echecs • Games • Games