Photo Collage Maker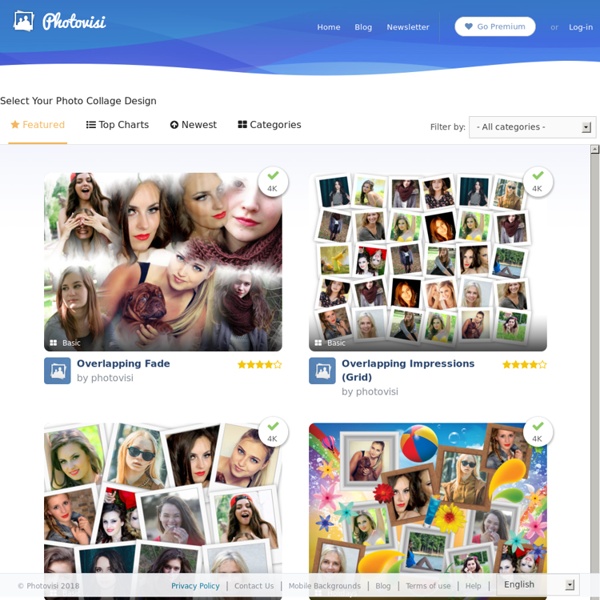 http://www.photovisi.com/collage/choose_template/wallpapers
Online Fun Picture Tools • Risorse grafiche varie • gila • ARTS VISUELS maternelle • תוכנות שימושיות
Image Mosaic Generator This exclusive free web application is brand new. Unforunately it is only available from December 2008 to February 2009, so make sure you tell your friends about it now! :) All images used in the construction of images mosaics are fetched from Flickr and copyright of their respective owners. The Image Mosaic Generator was created by Peter, you can contact the author by sending an email. If you think this web app is cool, then please tell your friends about it. :) Designer Toolbox | My Design Deals LogoZilla Logo Creation Kit Free Sample User Interface Goodies OrnamentZilla Sampler: Brushes and Vectors Classy, Digital Christmas Gift Name Tag Template PixelKit Vintage iOS Interface
WMV online video converter Online video converter Create Microsoft WMV videos in high quality with this online WMV converter. Upload your video or provide a URL to a file to start the free WMV conversion. Easily convert AVI to WMV with this free converter. Flower Mandalas by Kathy Klein Email Email Arizona-based artist Kathy Klein creates gorgeous flower circles which she calls "danmalas" and then leaves them where they were created as a gift to whoever discovers them. Her work reminds me of the Exploded Flowers by Fong Qi Wei that we featured last year. "She creates the danmalas ("the giver of flower garlands" in vedic Sanskrit) by first centering herself in a meditative devotional space. Next she gathers flowers and natural objects while her mind is kept in mantra, resting in the immaterial. Then, through an act of grace and giving to all, she allows the materials to fall to the will of creation patterns.
Many Eyes Try out the newest version of IBM Many Eyes! New site design and layout Find visualization by category and industry New visualization expertise and thought leadership section Expertise on the Expert Eyes blog Learn best practices to create beautiful, effective visualizations New, innovative visualizations from the visualizations experts of IBM Research New visualization options
Free Flash Animation Tool – Vectorian Giotto | Free Flash Animation Software Features We created Giotto for designers, not coders Giotto is the free Flash animation package made for you to design, not to code. With Giotto you can relax and focus your imagination on creative concepts, integrating stunning graphics and music into masterpieces of design. Free All-in-One Graphic Design Starter Kit Graphic design has an amazing community. Comprised of both the vets from the pre-computer era to the newbies who were raised on the internet and computer-editing applications, there is a huge gamut of people sharing their work and expertise online. I know when I was starting out in design, I found tons of inspiration and information from sites like JustCreativeDesign, DesignNewz, and more. If there's one issue, however, it's that there's almost too much great information out there. I know – good problem to have, right? But for those designers just starting out, or for those designers who are considering getting into design, the amount of information can be a little overwhelming.
TrackStar : Home TrackStar is your starting point for online lessons and activities. Simply collect Web sites, enter them into TrackStar, add annotations for your students, and you have an interactive, online lesson called a Track. Create your own Track or use one of the hundreds of thousands already made by other educators. marbleizing Begin with some shaving cream in a tray or directly on your tables These liquid watercolors are one of my most favorite thing in the art room! Choose your color scheme and drip onto shaving cream. Use the end of the brush upright, touching the bottom of the tray, and swirl around! Lay the paper down on the shaving cream, rub it gently, and peel off 'Fakebook'! Create a Fake Facebook Profile Wall using this generator "Fakebook" allows teachers and students to create imaginary profile pages for study purposes. Use "Fakebook" to chart the plot of a book, the development of a character, a series of historical events, the debates and relationships between people, and so on! Get started by entering a name at the top of the page. Then proceed to add friends, posts, comments and profile information. You can save your work and edit it again later.
Food Cheese Burger Props/Addons To Your Photos, Photo Layer Add-Ons Visitor # Users: HOW TO: Click on the photograph (above) near the location for prop to appear (imagine the prop image as a rectangle, the mouse click will represent the top left corner) to fill the X & Y cooridinates for the placement of props. You can also manually change the X & Y values (larger number for X makes prop move further from left edge, larger Y number makes the prop move further down).
images • icekitty101 • Online Tools • 0dd0wl • murales y collages con fotos • Photobricole • Arts • wilfredocolon2