Digart.pl - digital art community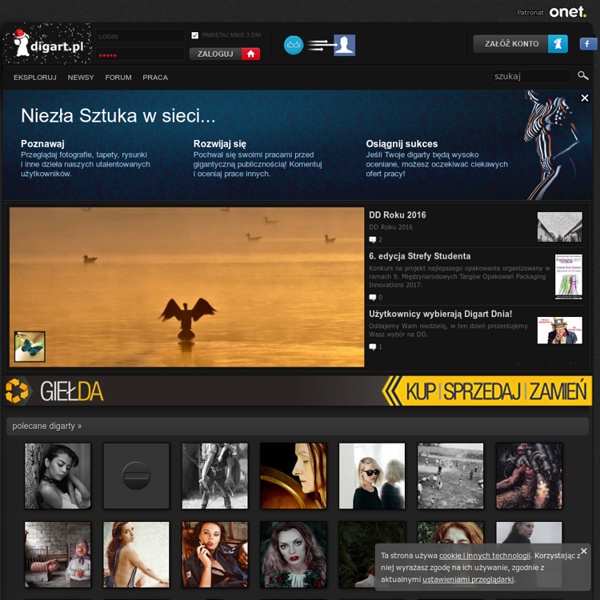 PhotoSites • Bilddatenbank / Fotocommunity • wallpaper • images & art • Art
nude Photography Discover spectacular photography on Flickr. Home Newly Lurved Photos Recommendations Photos You Lurve Wuts goin on in hur? The Digital Art Community - GFXartist.com - Served over 20,000,000 artworks Dear GFXartist friends and family, For over a decate GFXartist has been a home for many of us, we made friends, shared good and bad, but most of all we learned from eachother. All good things come to an end and that end is here for GFXartist. We would like to thank everyone for being a part of GFXartist and hope you will continue to connect with your GFXartist family and friends around the web.
blaberize | blaberize wallpapers - wallpaper.blaberize.com Flash and Usability by Anders July 04, 2007 The following is a list of shortcut keys that I find most used in Flash. max3d.pl Modelowanie postaci w ZBrush 4R6 Dodał(a) adek 2014-04-11 19:09:23 Obszerny wideotutorial (bez cięć) nagrany przez Bena Douglasa specjalizującego się w modelowaniu postaci. Zobacz: Hard surface modeling in ZBrush PAS UN AUTRE :::::: ARTS + CULTURE Julian Meagher @ Merry Karnowsky Gallery Julian Meagher's most recent collection of paintings emerged from a chance encounter with a scuba diver hunting for discarded longnecks that litter the seabeds of Sydney Harbor. Ghostly glass artifacts of past foreshore carousing,these salvaged vessels prompted the artist to explore the binary nature of modern masculinity through the tinted glass of inherited history. Pairing still lifes of reclaimed bottles with intergenerational male figure studies, Meagher examines the subtle shades of masculine strength and fragility that underlie the peculiar compulsion of Australian drinking culture. The Sky Still Breaks will be on view from April 5 to May 5 at Merry Kanowsky Gallery, 170 S. La Brea Avenue, Los Angeles, California.
TRENDLAND: FASHION & TREND BLOG * ART * DESIGN * PHOTOGRAPHY * CULTURE fotouristen.de - fotouristen.de Salut ! Die neuesten Fotos Willkommen bei fotouristen.de fotourist sein ist kostenlos! Jeden Monat kannst du hier auf's Neue 40 MB Fotos hochladen, ohne absolute Speichergrenze oder automatische Löschung! Ezuca Gilmar Jimeno For those who have been recently charged with a DUI, it is no lightweight charge you can just dismiss on your own. DUI charges are extremely serious charges - they can result in jail time. DUIs are frequently given for those under the influence of alcohol, but this is a misconception.
my digart.pl Dziękuję za stylowy komentarz, prawdę mówiąc miałem już prawie na myśli Last Train to Trancentral... ale przekonany jestem że wszystko jest jeszcze przedemną, sam nie wiem co mi jeszcze spadnie na głowie. Wiem tylko że dobrze zrobiłem przestając wypłakiwać swój mrok w wierszach, bo mi tylko szkodziło opisywanie czegoś co miałem nadzieję niedługo spotkać z przestrachem... _______Mikroskop serca w dualnym procesie podstępów i prób. Fragmenty wojaży, a niech się coś zdarzy. Kama Karst | Kamila Karst – galeria prac i sklep z jedwabiami. Kamila Karst was born in Świdnica, she studied at Wrocław Academy of Art and Design. She graduated with honours in Artistic Graphics under the supervision of Prof. Artur Basaj and Assistant Professor Paweł Frąckiewicz and in Graphic Design under the supervision of Prof. Jan Jaromir Aleksiun. She has been a member of the Association of Polish Artists Branch in Wrocław. Her main interests include lithography, intaglio techniques, painting, drawing, spatial forms, applied graphics.
Feaverish Photography
Communitys • poland • looker • design • Social Networks and Blogs • phtg • gallery