My.monash, the Monash University portal: Login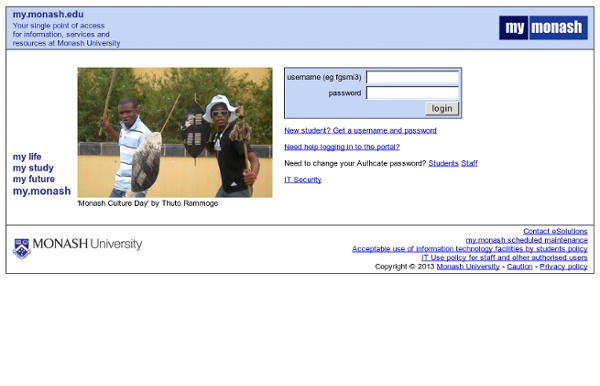 English • MY.MONASH • University stuff
REL Values - home Books and learning activities for younger (years 2–4) and older (years 5–8) readers Values home About REL Values REL Collections Younger readers (years 2–4) Allocate+ (Monash University) Real Photoshop Pencil Brush Tool Presets | Frenden Note: These Tool Presets are only compatible with Photoshop CS5 & CS6. How these brushes are different Most pencil brushes use opacity and flow to determine the strength of their mark making and density. Texture is often an afterthought and feels tacked on. Elementary: Find the Synonym Sorry, this is a flash-based game that requires Adobe Flash Player. Many of these games will run on mobile devices with VocabularySpellingCity apps. For Apple devices Available for Android Learn More about www.VocabularySpellingCity.com! Teaching spelling and vocabulary is easy with VocabularySpellingCity!
Reading Enriches Learning - REL home The Reading Enriches Learning website aims to stimulate and motivate all students to become confident readers. Each themed collection highlights a topical issue (i.e. Values, History, Sustainability) that is critical to Australian schooling today. These themes act as a springboard for learning as students actively make connections between literature and the world in which they live.
Reading Comprehension - 4th Grade Worksheets Students read the passages and answer the questions that follow to check reading comprehension. Passages are a mixture of fiction, non-fiction, and biography. Worksheets designed for students at a fourth grade reading level. Most of our reading comprehension lessons align to the Common Core Standards Initiative. Explore, Play, Discover: Websites & Activities Explore, Play, Discover: Websites, Activities & More Explore, Play, Discover: Websites, Activities & More Microscope Imaging Station What do stem cells, fruit flies, and zebrafish look like under a microscope?
Readers' Theatre - Independent follow-up activities Readers' Theatre offers your students all the enrichment of traditional theatre productions without the hassles of set building, staging, costume and production. Students can focus on developing a strong dramatic performance by directly reading from the scripts provided in these books. In doing so, they learn about famous people, places, history and more. Cool Math Games 4 Kids -   The Number Monster (online subtraction practice game for basic subtraction facts) The Number Monster for Subtraction: basic subtraction, 2 & 3 digit subtraction Want to race against the clock? Check out The Timernator! The Number Monster is a cool math practice game for subtraction. Number Monster Instructions: First, pick what you want to do: basics or 2 & 3 digit numbers.
Computation and Children's Literature This is a sample chapter from Picture Book Math an eBook by Carol Otis Hurst and Rebecca Otis (More Information at Current research seems to show that solid computation skills come, not so much from repeated drills of methods taught by the teacher, but from the students' ability to create their own methods of computation. This creates a deeper understanding of the process of computation itself. Flexibility and the ability to recognize more than one way of completing the task actually creates a stronger math sense and stronger skill in manipulating numbers. In this chapter on computation, we are also including estimation because it is so closely intertwined with computation.
Beautiful Word Clouds