My.monash, the Monash University portal: Login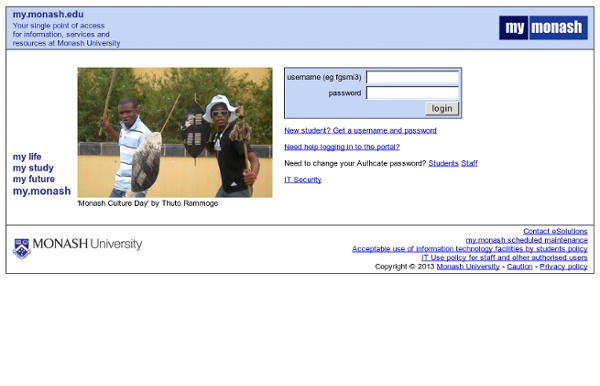 English • MY.MONASH • jenghwan • Uni • Favourites
REL Values - home Books and learning activities for younger (years 2–4) and older (years 5–8) readers Values home About REL Values REL Collections Younger readers (years 2–4) Allocate+ (Monash University) Powered by Invision Power Board) Board Guidelines Help Search Beautiful Word Clouds Wordle is a toy for generating "word clouds" from text that you provide. The clouds give greater prominence to words that appear more frequently in the source text. You can tweak your clouds with different fonts, layouts, and color schemes. The images you create with Wordle are yours to use however you like. You can print them out, or save them to the Wordle gallery to share with your friends. Create your own.
How To Fail Your OSCE In Style « Deja Vu Courtesy of MUMUS varicocele 2010 quarter 2 Try these tips to ensure at least you can walk away knowing that you screwed up your OSCE on purpose 1. Take fake notes on your hand and refer to them when the examiner asks you questions (10 points) Reading Enriches Learning - REL home The Reading Enriches Learning website aims to stimulate and motivate all students to become confident readers. Each themed collection highlights a topical issue (i.e. Values, History, Sustainability) that is critical to Australian schooling today. These themes act as a springboard for learning as students actively make connections between literature and the world in which they live.
Skillswise - Homepage Reading Comprehension - 4th Grade Worksheets Students read the passages and answer the questions that follow to check reading comprehension. Passages are a mixture of fiction, non-fiction, and biography. Worksheets designed for students at a fourth grade reading level. Most of our reading comprehension lessons align to the Common Core Standards Initiative.
Collaborative storytelling Starfall's Learn to Read with phonics Starfall.com opened in September of 2002 as a free public service to teach children to read with phonics. Our systematic phonics approach, in conjunction with phonemic awareness practice, is perfect for preschool, kindergarten, first grade, second grade, special education, homeschool, and English language development (ELD, ELL, ESL). Starfall is an educational alternative to other entertainment choices for children. In May of 2009, we released the Starfall Kindergarten Reading and Language Arts Curriculum. Our method of instruction motivates children in an atmosphere of imagination and enthusiasm, provides opportunities for child-directed instruction, and supports English language learners and struggling readers learning alongside their peers. Please visit The Starfall Store for other low-cost phonics journals and books paralleling this website.
Explore, Play, Discover: Websites & Activities Explore, Play, Discover: Websites, Activities & More
University stuff