V3 - "Sunrise" - 2013 (Brand new version)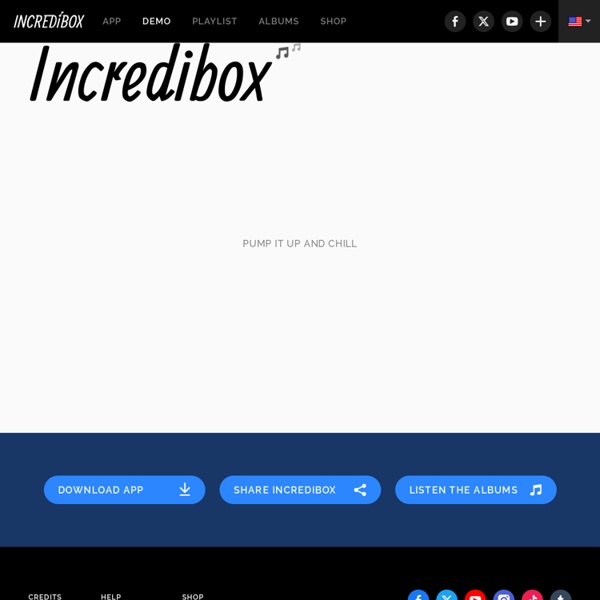 http://www.incredibox.com/v3/#
vjproduction • Sites marrants • Sonido • rigaas • à voir
Canvas Pinball B2world sez: Hi this is a b2 object!We're running!DebugLog v1.0 Sponsored by border-radius Canvas Pinball (Draft) What are Playlists? How do I make them? Playlists are sets or "albums" that you can create with your own sounds or other people's sounds on SoundCloud. To curate a playlist, click on 'Add to playlist' below any sound- your own or someone else's- to place it into a playlist. To create a new playlist, click the 'Create New' playlist tab. When listening to a playlist, you can navigate through it by clicking on each sound's waveform. You can arrange the sounds within a playlist at any time, by going to the playlist's page and clicking 'Edit Tracks'. You can also click on the 'Edit' button to do this.
30 Bizarre and Creative Packaging Design Examples Inspiration November 1, 2010 One of the things that identifies the image of a product is its packaging. Few elements like striking graphics, attractive colors, and unusual shapes are carefully thought of to come up with packaging design that catches the attention of the consumers. A packaging design is a critical component in marketing because it is the packaging that makes it stand from the rest when consumers choose a product from the shelf. We usually see the packaging first instead of an innovative product. This post presents the clever and innovative ideas of some of the company manufacturers around the world.
WEBSÉRIE • Les supercheries financières en vidéo, épisode 7 Les plus grandes arnaques financières de l'histoire racontées en 1'30 en animation. Septième épisode : 1975 - Bonassoli et de Villegas sont dans un avion. Courrier international 30 avril 2014 | Partager : En 1975, un aristocrate et un Italien réparateur de télés prétendent avoir réussi l'invention du siècle : un appareil capable de détecter les gisements de pétrole. Play Crush the Castle 1,2,3,4,5,6 @ Crush the Castle 123 My Cloud Player | powered by SoundCloud Create playlists from SoundCloud tracks, shuffle tracks in playlist, share playlists & tracks on Facebook, Twitter,... and much more. Using My Cloud Player is as simple as using a Desktop Music Player. Disclaimer: My Cloud Player does not own the tracks, it just uses SoundCloud API for retrieving and playing. To learn more about SoundCloud Copyright information click here.
Psychology of Color: Infographic on the impact of color | WebpageFX Blog While color can be appealing to us visually, a lot more is going on behind the scenes than just an aesthetic. Powerful psychological cues are triggered when we view different colors. Colors evoke emotions, moods and feelings. Whether you are a designer or a consumer, knowing the power of color psychology can help you make better decisions.
Clipharnessline en France - Windsurf Journal - 23/02/2012 Mondial du Vent : Le live est ON pour suivre la 2ère journée de compétition à Leucate-La Franqui ! - Mondial du Vent : Un résumé en images de la journée de samedi à Leucate-La Franqui - Una radio en el aula con Spreaker El objetivo de Spreaker es llevar la radio a todos. Lo cumplen con su facilidad de manejo a la hora de escuchar y de transmitir los programas. Es una radio para emitir por internet o través de los smartphone. Podemos hacer que nuestros alumnos creen y emitan sus programas o podcast en diferido o en vivo.
current • 4 • johnlabarthe • Jocs infantils • Musique en ligne • Ocio • ENTRETENIMIENTO • prajwal202 • Ocio