Hellotipi : Créez votre site de famille, un espace privé, illimi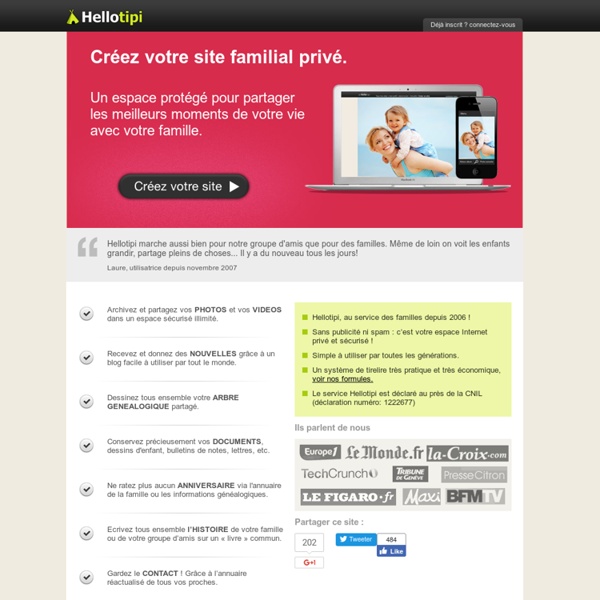 Hellotipi marche aussi bien pour notre groupe d'amis que pour des familles. Même de loin on voit les enfants grandir, partage pleins de choses... Il y a du nouveau tous les jours! Laure, utilisatrice depuis novembre 2007 Archivez et partagez vos PHOTOS et vos VIDEOS dans un espace sécurisé illimité. Recevez et donnez des NOUVELLES grâce à un blog facile à utiliser par tout le monde.
reseaux sociaux • Social-media • rodolphe • Tutoriels • Famille, Amis, Collègues
Facebook Marketing Statistics, Demographics, Reports, and News – Socialbakers Analytics - Power Your Social Media Performance Facebook Overview Statistics page shows a simple overview of the top performing Facebook brands and Facebook users. It serves as a clean guidepost to more detailed information and statistics that can be found in the respective section on our website www.socialbakers.com. United States
ChangeThis :: ChangeThis The HUMAN Brand: How We Relate to People, Products and Companies By Chris Malone Published Dec. 20, 2013 8:30 a.m. - "Warmth and competence are the universal foundation for all human behavior and relationships. If you truly grasp the importance of these and take the appropriate actions, social science suggests you've done more than 80 percent of the job in winning the trust and loyalty of your fellow human beings." More Le tout premier salon de recrutement sur iPhone La pub nous avait prévenus, il existe une application pour presque tout ! Celle de Job2Day vous permettra de participer à un salon virtuel et de rentrer en contact avec des employeurs. Alors, le recrutement, simple comme un coup de fil ? Le 27 septembre prochain débutera le premier salon de recrutement sur iPhone. Il s'agira d'un salon monomarque puisque c'est un opérateur téléphonique, Orange selon nos informations, qui inaugurera cette nouvelle solution.
Formations Vous cherchez à vous former ou à actualiser vos connaissances et compétences pour accompagner le développement des pratiques numériques. Ce moteur de recherche (widget : <iframe src="http://www.netpublic.fr/widget" width="160" height="120" frameborder="0" scrolling="no"></iframe>) vous guidera pour choisir votre formation diplômante et vous aidera à trouver facilement l'offre de formation correspondant à vos besoins et à vos contraintes parmi plus de 100 modules de formation en ligne. Sélectionnez une thématique et /ou indiquez vos mots clés (en testant plusieurs orthographes possibles) et cliquez sur OK !
Arbre généalogique gratuit - Bienvenue dans la famille ! - Kindo A family tree is no longer something you only find on the wall in your grandparents' house. Kindo lets you build your own free family tree online, share it with the rest of your family and learn more about who you are, your ancestors and family history. Kindo has lots of fun features for families and genealogist that makes the networking site the meeting place for generations. Kindo is where families get together, build their family tree and grow. tKaap, la 1ère communauté dédiée aux défis - Défi, Battle, Flash Brands can now create their own 2048 puzzle game! Did you heard about 2048 ? It's hard not to… This game created in March by Gabriele Cirulli, a young developer of 19 years old, has generated a buzz in only a few days and is about to beat Candy Crush. The 2048 Game How does it work?
How To Be Creative <A HREF="http://ws.amazon.com/widgets/q?ServiceVersion=20070822&MarketPlace=US&ID=V20070822%2FUS%2Fchang0d-20%2F8005%2Fbc708cfe-fda3-4541-b199-62b852156074&Operation=NoScript">Amazon.com Widgets</A> Issue 6 | How To Be Creative By Hugh MacLeodPublished Oct. 19, 2004 6:00 p.m. MacLeod, an advertising executive and popular blogger with a flair for the creative, gives his 26 tried-and-true tips for being truly creative.
Tutoriels – Mode d'emploi « EPN des Rancy – Espace Public Numérique Ce sont des mini-guides décrivant un logiciel, une méthode qui vous permettra de simplifier votre vie numérique. Tous les logiciels utilisés sont des logiciels LIBRES ou GRATUITS Tous les tutoriels vont être présentés de cette manière (attention, comme l'EPN des Rancy n'utilise pas le système d'exploitation MAC, nous ne sommes pas en capacité d'assurer la comptabilité sur Mac).
Recherche des collègues, copains, copines et amis d'école, travail, armée, clubs ou associations Retrouvez gratuitement vos anciens collègues, copains, copines et amis ! Collegues.fr est un site GRATUIT de recherche des actuels et anciens collègues d'école, de travail, d'armée de clubs ou associations. Son principe est simple: pour pouvoir faire la recherche d'une personne dans la base de données du site, il suffit de s'inscrire GRATUITEMENT. La confidentialité est assurée car le site collegues.fr sert d'intermédiaire en cas de demande de contact.
Update all of your social networks at once! Seesmic has been acquired by HootSuite and as of March 2013, the Seesmic website is no longer supported. But HootSuite welcomes all Seesmic users into our nest! Here's how you can start using HootSuite today. Social Bookmarking in Plain English - Common Craft - Our Product It's just too much. Did you know that there are over 15 billion web pages? To make sense of it all, we need to pluck out the best pages and save them for later. We have choices. We could bookmark or add to favorites in our web browser.
Où trouver des tutoriaux ? daria a dit… Merci pour le lien ; ): ) 11 juin, 2007 19:18 Créer un compte foursquare Foursquare I'm looking for... What's happening in Montreal?
via:packrati.us 19 • Development • delicious import • Sites Web Divers intéressants • dna • hellotipi • Familly • service • search • sharing