Tor: Documentation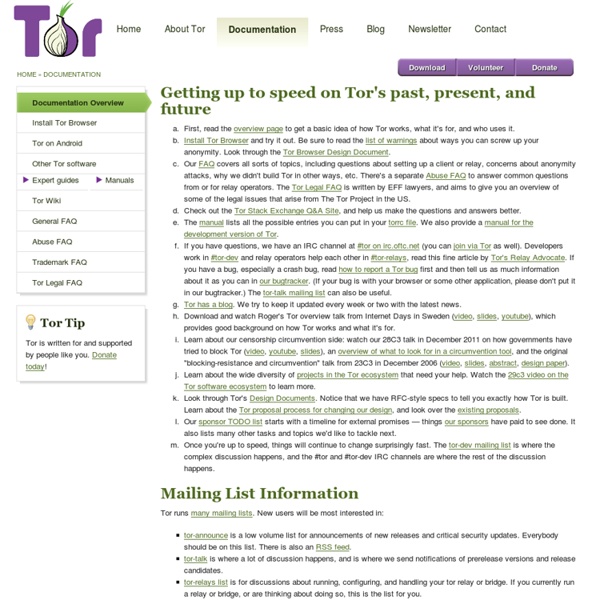 https://www.torproject.org/docs/documentation.html.en
réseaux anonymes / anonymous networks • Tor • Tor • Tools • TOR
Tor Bug Tracker & Wiki Welcome to Tor's combined bug tracker and wiki website. Choose New Ticket to create a new bug report or feature request. Most of the content here is written by volunteers from around the world. Anonymity Online Family & Friends People like you and your family use Tor to protect themselves, their children, and their dignity while using the Internet. Businesses Businesses use Tor to research competition, keep business strategies confidential, and facilitate internal accountability.
torchat - Project Hosting on Google Code To avoid any potential confusion: This product is produced independently from the Tor® anonymity software, I am not related with or sponsored by torproject.org. TorChat is making use of the Tor® client software and the Windows version comes bundled with original Tor binaries but TorChat itself is a completely separate project developed by different people. TorChat is released as Free Software (GPL). +++ Feb-05, 2012: This project has been moved to github https://github.com/prof7bit/TorChat +++ There are new files in the download section at github: https://github.com/prof7bit/TorChat/downloads
doc/SupportPrograms – Tor Bug Tracker & Wiki This is just a list. Projects Overview Vidalia is a cross-platform graphical controller for the Tor software, built using the Qt framework. Vidalia runs on most platforms supported by Qt 4.3 or later, including Microsoft Windows, Apple OS X, and Linux or other Unix variants using the X11 window system. It was originally written by Matt Edman, and is currently maintained by Tomás Touceda. Vidalia lets you start and stop Tor, see how much bandwidth you are consuming, see how many circuits you currently have active, see where these circuits are connected on a global map, view messages from Tor about its progress and current state, and let you configure your Tor client, bridge, or relay with a simple interface. Included in Vidalia is an extensive help system which helps you understand all of the options available to you.
Orbot: Mobile Anonymity + Circumvention | The Guardian Project Orbot is a free proxy app that empowers other apps to use the internet more securely. Orbot uses Tor to encrypt your Internet traffic and then hides it by bouncing through a series of computers around the world. Tor is free software and an open network that helps you defend against a form of network surveillance that threatens personal freedom and privacy, confidential business activities and relationships, and state security known as traffic analysis. Orbot is the only app that creates a truly private internet connection. As the New York Times writes, "when a communication arrives from Tor, you can never know where or whom it's from."
Projects Overview The Tor community of software and services aims to make your Internet experience safer and better. The Tor Browser Bundle contains everything you need to safely browse the Internet. This package requires no installation. Just extract it and run. Tor Project: Relay Configuration Instructions The Tor network relies on volunteers to donate bandwidth. The more people who run relays, the faster the Tor network will be. If you have at least 50 kilobytes/s each way, please help out Tor by configuring your Tor to be a relay too. You can run a Tor relay on pretty much any operating system. Tor relays work best on Linux, OS X Tiger or later, FreeBSD 5.x+, NetBSD 5.x+, and Windows Server 2003 or later. If you're comfortable editing text files, skip this page and go to our dedicated Relay Configuration Instructions on Debian/Ubuntu page.
doc/TorifyHOWTO – Tor Bug Tracker & Wiki This document explains how to configure a particular application for use with Tor and thus the Tor network. As Tor constantly evolves, the knowledge and understanding about anonymity online also evolves. Implementations and other aspects of online anonymity become more and more complex. L'anonymat sur Internet grâce à la technique du routage en oignon. Divers usages à l'anonymat Pour des rai­sons évidentes, des jour­na­lis­tes, des ONG, des blo­gueurs ou des grou­pes comme Rebellyon (au hasard, hein !) ont sou­vent besoin de com­mu­ni­quer de manière ano­nyme. Utiliser Tor comme proxy [Tuto] - Logiciels Je tiens à rajouter pour faire mon gros chieur, que si jamais vous avez juste besoin de naviguer un petit coup de temps en temps de façon occasionnelle, vous pouvez télécharger le Tor Browser Bundle, qui contient tout dans un petit dossier : Tor, et un navigateur Firefox pré-configuré pour tourner avec.
aurealis