Login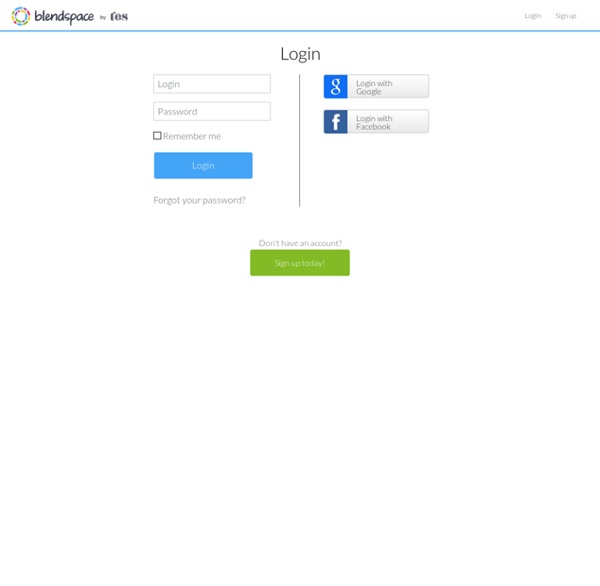 https://www.blendspace.com/login
Applications • Training and Learning Tools • Education Technology • teacher take control • Tools
Lerntrix, Eine Werkstatt für Schlauberger Inhaltsverzeichnis Geografie - Quiz Versenden How To Find Openly Licensed Educational Resources You Can Use Most of us turn to the internet when we are looking for resources to use for a presentation, report or article. The internet holds the key to so many robust resources. Yet how many of these resources can you legally use for free? How many of them can you adapt? 10 Excellent Resources to Help you Align your Teaching with Common Core Standards There is now a heated discussion going on in the States about the Common Core Standards. Everything has been reshaped to meet the requirements of Common Core Standards including technology integration at least in the 46 states that have already adopted it. To help you better align your teaching practices with the CCS, Educational Technology and Mobile Learning pooled several resources to curate for you the list below.But before you start exploring these links , let me briefly wrap up what CCS is all about : The Common Core State Standards provide a consistent, clear understanding of what students are expected to learn, so teachers and parents know what they need to do to help them. The standards are designed to be robust and relevant to the real world, reflecting the knowledge and skills that our young people need for success in college and careers.
Tour Dropbox is a home for all your photos, docs, videos, and files. Anything you add to Dropbox will automatically show up on all your computers, phones and even the Dropbox website — so you can access your stuff from anywhere. Dropbox also makes it super easy to share with others, whether you're a student or professional, parent or grandparent. Even if you accidentally spill a latte on your laptop, have no fear! MaKey MaKey: An Invention Kit for Everyone (Official Site) Sachunterricht: Die Himmelsrichtungen und unsere Bundesländer | LaBlog, die Idéenfabrik von Labbé Wir gucken regelmäßig, die wie ich finde, fantastischen Logo-Nachrichten. Wie sich das für Nachrichten so gehört, wird natürlich auch von den einzelnen Bundesländern gesprochen. Da einige Kids der M10 im Glauben waren, Bayern sei schon im Ausland, haben wir dies zum Anlass genommen, eine Reihe zu den Bundesländern und Himmelsrichtungen zu starten. Die Deutschlandkarte wurde genau betrachtet, vor allem aber die Formen der einzelnen Bundesländer.
YouTube View full lesson: Classical music mastermind Benjamin Zander concluded his 2008 TED Talk by recounting the heartrending story of an Auschwitz survivor and her brother. This short animated piece highlights that story, reminding us that the words we speak to one another are incredibly powerful tools that we shouldn't take for granted. Lesson by Benjamin Zander, animation by Seesaw Studios. Show less CSMP - California International Studies Project The California International Studies Project (CISP) is a statewide network that connects universities, schools, and districts in collaborative efforts to increase K-12 teacher competence in history and international studies. It is the mission of the California International Studies Project to prepare students to work, live and be informed, active citizens in a world where conditions, peoples, and distant events may have a critical impact on their lives and those of others. Through teacher development and K-12 student experience, the project seeks to improve historical and contemporary knowledge of 21st Century realities that are fundamentally altering the international landscape and domestic affairs.
Article Profile - iPads in Medical School: The Student Perspective Over a year has passed since incoming medical students at UC Irvine were each given a white coat and an iPad. In that time, students have integrated the iPad as their primary device in the lecture hall, hospital wards, and sometimes even for a bit of fun. The iPad had only been launched by Apple six months earlier, and UCI were one of the first to use it in medical education. In this presentation, the students will share how they use the iPad as a learning tool, and how it has changed the way they study medicine.
Screenbird Rubis Le site scenari-platform.org est édité et hébergé par l'Université de Technologie de Compiègne (UTC), Centre Pierre Guillaumat, BP 60319, Rue du Docteur Schweitzer, 60203 Compiègne Cedex, France. Licence des contenus Sauf mention contraire, les contenus éditoriaux du site, réalisés par les membres de la communauté scenari-platform.org, sont publiés sous licence Creative Commons Paternité : ils sont librement réutilisables, pour autant que leur source soit citée. Accès aux données nominatives Conformément à la Loi « Informatique et Libertés » n° 78-17 du 6 janvier 1978, les adresses mails et coordonnées vous concernant sont destinées à l'Université de Technologie de Compiègne, responsable du traitement. Vous disposez d'un droit d'accès, de rectification et de suppression des données qui vous concernent.
Herramientas 2015 • Andragogy