Online Learning Games from Fisher-Price – For Infants, Toddlers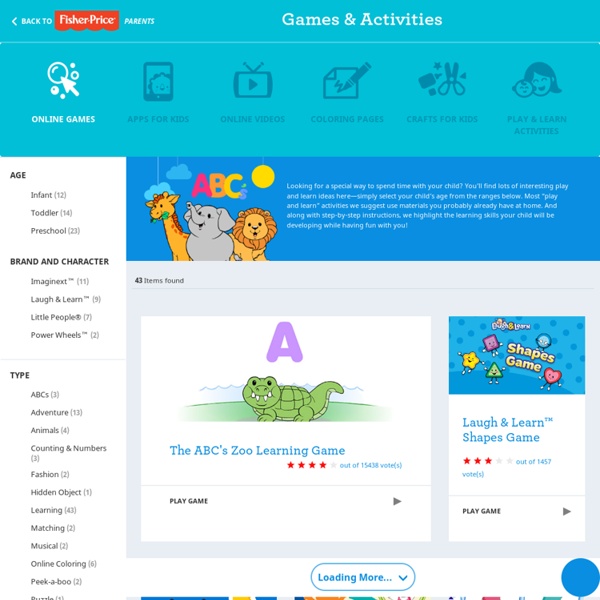 Imaginext® Apptivity™ Fortress Laugh & Learn™ Apptivity™ Monkey Power Wheels® Corvette® Little People® Happy Sounds Home Little People® Fun Sounds Farm Little People® Disney Princess Klip Klop Stable
http://www.fisher-price.com/en_US/gamesandactivities/onlinegames/index.html
Education • Early Childhood • School
10 Environmental Games That Teach Kids About Earth, Ecology & Conservation With the right eco-education, we can hope they will hit the ground running. A lot of schools and educational institutions are doing their bit by including the environment as part of the curriculum. Words like "˜carbon footprint' and global warming' comes to them as easily as the name of any present-day rock star. That's cool. But who said that ecological or environmental education needs to be bookish or donnish? Thanks to online games, it can be brought out from textbooks into the fun world.
PBS KIDS: Educational Games, Videos and Activities For Kids! Play Fun & Educational Free Baby Games, Toddler Games, Preschool Games BabyFirst's top child development experts have invented a way for babies and toddlers to use the computer by themselves. With just the SPACE and ENTER keys, your child can explore the entire website in a safe and appropriate environment. Give it a shot right now… They'll get the hang of it in no time! Welcome to the BabyFirst Nursery… the best place for the smallest of fingers! Info and Resources - Parents Page Practical Tools for Parents The digital age has sparked an explosion of information and resources around the globe -- sometimes making it difficult to spot the proverbial forest for the trees. Whether you're new to the world of high potential young people or have years of experience with gifted children, NAGC is here to help! We have collected the practical resources you need and the high-quality information you have come to trust in one easily accessible, organized location.
Chateau Meddybemps 5 geniales herramientas para crear presentaciones online Power Point es a las presentaciones casi lo que es Google a las búsquedas, salvo por la simplicidad y rapidez. La legendaria herramienta de Microsoft Office es uno de los programas más poderosos que hay a la hora de crear un buen pase de diapositivas, pero precisamente por esa misma razón tiene una curva de aprendizaje elevada si se quiere dominar muy bien y sacarsele el mayor provecho. Además necesitas tener un ordenador con Windows, o en su defecto Mac, y tener el suite de ofimática instalado. Por suerte para quienes no quieren ser victimas del yugo de Power Point y su casi exclusivo dominio de más de una década, cada vez contamos con más alternativas. Herramientas más sencillas, más fáciles de usar, en linea, y gratuitas, que le permiten al más inexperto crear una presentación profesional en pocos pasos y solo con un poco de creatividad.
Home Welcome to fsi-language-courses.org - the home for language courses developed by the Foreign Service Institute. This site is dedicated to making these language courses freely available in an electronic format. ; it is an independent, non-profit effort to foster the learning of worldwide languages. Courses here are made available through the private efforts of individuals who are donating their time and resources to provide quality materials for language learning. Catching Up January 16, 2011 The following texts have been posted over the months since this page's last update: 1000s FREE Primary Teaching Resources & Printables - EYFS, KS1 and KS2 - SparkleBox
Spelling Bee What are the different ways to play the Visual Thesaurus Spelling Bee? There are two different ways to play. In the Tournament Spelling Bee, you'll be challenged by a series of words, with the spelling difficulty adapted to your skill level. The more words you get right, the higher your score will go, on a scale from 200 to 800. You can compete against other spellers, since we keep track of high scores (with streaks of correct answers serving as tiebreakers). CBeebies - Story Time: Stories and fairy tales for kids 10 Ways to Enhance Brain Fitness Online As the New York Times reported recently, surfing the internet boosts brain activity. Scientists from the UCLA specifically studied the effect of internet surfing on the brains of people between the ages of 55 and 76. From their results, they concluded that "emerging computerized technologies may have physiological effects and potential benefits for middle-aged and older adults." But anyone can do something for their brain's fitness. Here's a small selection of things you can do online: 1.