KHAN ACADEMY POLSKA - KHAN ACADEMY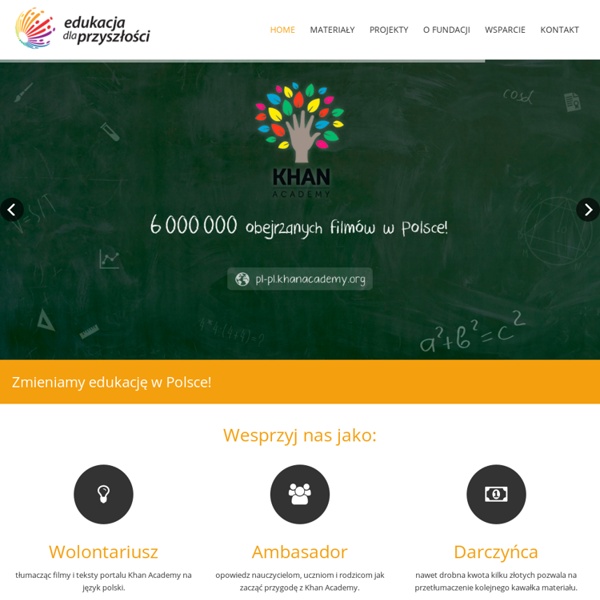 http://www.edukacjaprzyszlosci.pl/
Matematyka • Nowoczesne narzędzia dla nauczycieli • Nauka 2.0 • Web 2.0
FreeMat Q. What is FreeMat? FreeMat is an environment for rapid engineering and scientific processing. It is similar to commercial systems such as MATLAB from Mathworks and IDL from Research Systems, but is Open Source. It is free as in speech and free as in beer. Jak wykorzystywać blog w edukacji? Publikacja, przygotowana w ramach projektu Medialab Gdańsk - pracownia edukacji i kultury, opisuje jak wykorzystać blogi w edukacji, jak łatwo można założyć bloga i wykorzystać go jako platformę komunikacji rówieśniczej, czy w kontaktach nauczyciela z uczniami i rodzicami. "(Nie)bój się bloga" to również źródło inspiracji przedstawiające szereg dobrych praktyk z już istniejących blogów edukacyjnych. Dzięki tej publikacji chcemy pokazać, że blog można założyć bardzo łatwo i wykorzystywać go jako istotną platformę zarówno w komunikacji rówieśniczej, jak i kontaktach nauczycieli z uczniami i rodzicami.
Pierre Levy - Drugi Potop Tekst pochodzi z serwisu CyberForum.edu.pl \u2013 //magazynsztuki.home.pl/n_technologia/drugi%20potop.htm Pierre Delvy- Drugi Potop Tekst jest obszernym wyborem z opracowania "Deuxieme Deluqe" [Drugi Potop] przygotowanego na Kurs: eLearning 1x1 Digitale Kompetenzen sind im 21. Jahrhundert unverzichtbar. Und selbstverständlich hat das auch Auswirkungen auf die von Lehrpersonen bereits nach der Erstausbildung zu erwartenden Kompetenzen. Genau so selbstverständlich wie der Umgang mit Tafel, Kreide, Schulbuch und Heft gehören digitale Werkzeuge und Medien – (fach-)didaktisch sinnvoll und pädagogisch reflektiert – im 21. Jahrhundert dazu.
Narzędzia matematyczne dla ucznia: Graphmatica « Młody Technik Poza Microsoft Math, który to znakomity bezpłatny program matematyczny omawiałem tu od kilku miesięcy, istnieje oczywiście wiele innych, spełniających podobne funkcje – wszystkie, lub tylko niektóre. Jednym z moich ulubionych jest dość już stary program Keitha Hertzera Graphmatica (aktualna wersja 2.09g dla Windows pochodzi z roku 2009, została uaktualniona w styczniu roku 2010 i pobierzesz ja pod adresem przeznaczony głównie do badania zmienności funkcji jednej zmiennej rzeczywistej oraz do graficznego rozwiązywania nierówności, znajdowania stycznych, obliczania pochodnych i całek. Jest to program o zdumiewająco małych rozmiarach jak na bogactwo swoich funkcji (pakiet instalacyjny ma ledwo 376 KB) i – oczywiście – w związku z tym piekielnie szybki w działaniu.
8 Must See TED Talks for Teachers I love TED talks and I always look forward for their new releases. You can learn as deep and profound insights from these talks as when reading a non-fiction book. I know we all have our time constraints that would not allow us to sit in front of an iPad or computer for 20 minutes watching a talk but there is always snatches of time to do it particularly in the weekends. Create a list of what to watch , as I do, and bookmark the talks that interest you and watch them later when you have time. Today I have selected for you some very inspiring and informative TED talks which I am pretty sure you will enjoy watching.
100 Diagrams That Changed the World by Maria Popova A visual history of human sensemaking, from cave paintings to the world wide web. Since the dawn of recorded history, we've been using visual depictions to map the Earth, order the heavens, make sense of time, dissect the human body, organize the natural world, perform music, and even concretize abstract concepts like consciousness and love. 100 Diagrams That Changed the World (UK; public library) by investigative journalist and documentarian Scott Christianson chronicles the history of our evolving understanding of the world through humanity's most groundbreaking sketches, illustrations, and drawings, ranging from cave paintings to The Rosetta Stone to Moses Harris's color wheel to Tim Berners-Lee's flowchart for a "mesh" information management system, the original blueprint for the world wide web.
Hattie-Studie: Ich bin superwichtig! Kleine Klassen bringen nichts, offener Unterricht auch nicht. Entscheidend ist: Der Lehrer, die Lehrerin. Das sagt John Hattie. Noch nie von ihm gehört? Narzędzia matematyczne dla ucznia: GeoGebra (1) « Młody Technik Mam jeszcze w oczach dyżurnego, który przed lekcją geometrii (mieliśmy oddzielne lekcje geometrii, algebry i trygonometrii ? w sumie było tego ?za moich czasów? pięć godzin matematyki tygodniowo, dziś chyba rzecz niewyobrażalna?) przynosił z pokoju nauczycielskiego ogromny cyrkiel i takiż liniał, wszystko paskudnie upaćkane kredą.
Polimaty.TV Creating the true citizen scientist | Beyond The Lab Citizen science is a powerful concept. Surely there's no better way to engage the public in science than to include them in actual research. And already there are hundreds of projects all over the world, including conservation projects that depend on enthusiasts to count local wildlife populations, and internet-based projects, such as Galaxy Zoo, which make use of the human mind's advantage over computers for recognising patterns in space images. But is this the furthest citizen science can go? While such initiatives help engage people in scientific activities and make valid contributions to various fields, the citizen's contribution to the research seems to be limited to repetitive data collection, or offering up their brain's cognitive functions.
Printable dice with text and images | free online dice maker, dice generator, worksheets and dice to print Tools for Educators offers free printable worksheets, printables classroom materials, lesson plan resources, and a host of programs for teachers to use in their classes. The is a worksheet wizard that allows you to create dice with pictures, dice with text or printable dice with both images and text. Currently available sets: