18 Amazing Things You Most Likely Never Get To See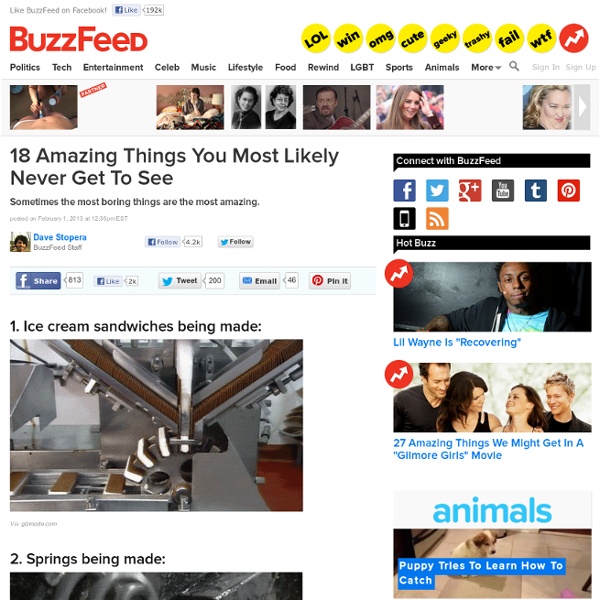 http://www.buzzfeed.com/daves4/amazing-things-you-never-get-to-see
Cosas • entertainment • Pointer • Technologie • d_deeh
The Portal Two (Portal 2 Cocktails) Ingredients:... | The Drunken Moogle The Portal Two (Portal 2 cocktails) Ingredients:Blue CuracaoVodkaLemonade CointreauRum Orangina Small tumblers Directions: "This drink is, of course, designed to resemble the two coloured portals from the excellent sci-fi puzzle game. For the blue version, get a small tumbler and pour in 10ml of Blue Curacao, 10ml of vodka and top up with lemonade. For orange you'll need another tumbler, this time filled with 10ml of Cointreau, 10ml of rum and Orangina. Your Guide to Never Feeling Tired Again Why do I need to register or sign in for WebMD to save? We will provide you with a dropdown of all your saved articles when you are registered and signed in. WebMD Feature from "Redbook" Magazine By Nancy Rones 22 ways to tackle life's biggest energy zappers. Every day, 2.2 million Americans complain of being tired.
Curiosities: Rare Historical Photos A boxing match on board the USS Oregon in 1897. Albert Einstein looking fabulous. Here's his report card! Samurai taken between 1860 and 1880. The Most Futuristic Predictions That Came True in 2012 1. Did not know that. Very impressive. Hopefully the unfair advantage argument won't turn violent.
The 30 Best Films of the Decade We're all in that humanistic mode of evaluating our lives – coming up on the end of the year and the last time a zero will be the third digit on our calendars. We're all (from Variety to Cat Fancy) also waxing expert on what films were the best of the best of the best of the past ten years. Which is why there is an unnavigable sea of opinion polluting the internet right now. Neil and I thought, 'If everyone else is doing it, why can't we? Watch Movies with no limits Welcome on EzyWatch.com place where you can watch videos as long as you want. We support bypass solutions for most popular video hosting websites and Megavideo alternatives. Currently you can use video links from putlocker.com, novamov.com, sockshare.com, videoweed.com, veoh.com, divxstage, filebox, filenuke, movreel, movshare, nosvideo, nowdownload, nowvideo, sharerepo, sharesix, vidbux, videobam, videoslasher, vidhog, maxvideo, youtube and vidxden !
30 Day Drawing Challenge Last week I saw this pin on Pinterest and I instantly loved the idea. Starting May 1st, I'll be taking the challenge and posting a drawing per day here on my blog each afternoon. If you'd like to do it on your own, please please do! If you'd like to share your drawing on my blog, just email it to me by 12pm EST the day of. It doesn't matter if you start now and submit them later or sketch them throughout May. It's just a great way to encourage myself to sketch daily and maybe you need that encouragement too! Les accessoires «anti-ondes» prospèrent | Produits électroniques Du slip renforcé de fils d'argent à la puce collée derrière le mobile, voire le lit à baldaquin isolant, la peur des ondes électromagnétiques, liée à la prolifération des téléphones intelligents et du wifi, fait naître un marché florissant d'accessoires censés protéger le corps humain. «Au mieux, ces produits sont sans effet, et au pire ils aggravent la situation», estime cependant Jean-Philippe Desreumaux, directeur fréquences et protection de Bouygues Telecom. Dans le cas du téléphone mobile, il indique à l'AFP que «si on modifie la réception, en masquant par exemple l'antenne avec un étui, l'appareil reçoit moins bien voire plus du tout le signal, et il va donc émettre encore plus fort car il n'arrive plus à joindre l'antenne relais». «On n'a aucune garantie que ces systèmes soient protecteurs comme leurs concepteurs l'affirment», juge également Joe Wiart, responsable du laboratoire de dosimétrie d'Orange, qui parle de «gris-gris».
The Top 75 Pictures of the Year for 2013 Update: if you liked this post, you'll adore our latest post on the 38 Most Haunting Abandoned Places on Earth HERE. Following on from our very successful blog "100 of the Best Street Art Images of 2013″ (see HERE), we've widened the net and thanks to the guys over at Sifter, we bring you the Top 75 Pictures of 2013. All credit goes to the individual photographers and their inspiring visions of our beautiful planet. Lateral Thinking Puzzles - Preconceptions Lateral thinking puzzles that challenge your preconceptions. 1. You are driving down the road in your car on a wild, stormy night, when you pass by a bus stop and you see three people waiting for the bus: 1. 'Where's my wife?' Electronic SMS tracker notifies Saudi husbands Denied the right to travel without consent from their male guardians and banned from driving, women in Saudi Arabia are now monitored by an electronic system that tracks any cross-border movements. Since last week, Saudi women's male guardians began receiving text messages on their phones informing them when women under their custody leave the country, even if they are travelling together. Manal al-Sherif, who became the symbol of a campaign launched last year urging Saudi women to defy a driving ban, began spreading the information on Twitter, after she was alerted by a couple. The husband, who was travelling with his wife, received a text message from the immigration authorities informing him that his wife had left the international airport in Riyadh. "The authorities are using technology to monitor women," said columnist Badriya al-Bishr, who criticised the "state of slavery under which women are held" in the ultra-conservative kingdom.
25 Mysteries That Have Scared The Creeps Out of Everyone 1. The Taos Hum www.coolfunpedia.blogspot.com Top 100 April Fool's Day Hoaxes Of All Time Top 100 April Fool's Day Hoaxes of All TimeAs judged by notoriety, creativity, and number of people duped On 1 April 1957, the respected BBC news show Panorama announced that thanks to a very mild winter and the virtual elimination of the dreaded spaghetti weevil, Swiss farmers were enjoying a bumper spaghetti crop. It accompanied this announcement with footage of Swiss peasants pulling strands of spaghetti down from trees.
Why the internet is awesome • Random interesting stuff • Entertainment • humour