18 Amazing Things You Most Likely Never Get To See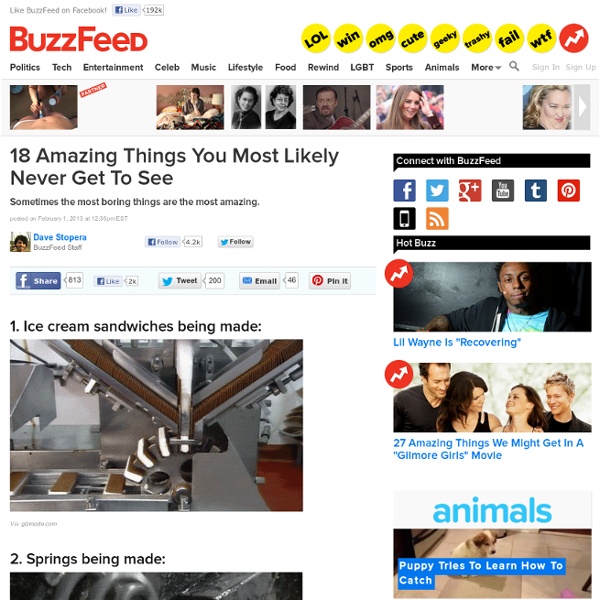 http://www.buzzfeed.com/daves4/amazing-things-you-never-get-to-see
Cosas • entertainment • Pointer • d_deeh
The Portal Two (Portal 2 Cocktails) Ingredients:... The Portal Two (Portal 2 cocktails) Ingredients:Blue CuracaoVodkaLemonade CointreauRum Orangina Small tumblers Directions: "This drink is, of course, designed to resemble the two coloured portals from the excellent sci-fi puzzle game. For the blue version, get a small tumbler and pour in 10ml of Blue Curacao, 10ml of vodka and top up with lemonade. For orange you'll need another tumbler, this time filled with 10ml of Cointreau, 10ml of rum and Orangina.
Your Guide to Never Feeling Tired Again Why do I need to register or sign in for WebMD to save? We will provide you with a dropdown of all your saved articles when you are registered and signed in. WebMD Feature from "Redbook" Magazine By Nancy Rones 22 ways to tackle life's biggest energy zappers. Every day, 2.2 million Americans complain of being tired. Rare Historical Photos A boxing match on board the USS Oregon in 1897. Albert Einstein looking fabulous. Here's his report card! Samurai taken between 1860 and 1880. The 30 Best Films of the Decade We're all in that humanistic mode of evaluating our lives – coming up on the end of the year and the last time a zero will be the third digit on our calendars. We're all (from Variety to Cat Fancy) also waxing expert on what films were the best of the best of the best of the past ten years. Which is why there is an unnavigable sea of opinion polluting the internet right now. Neil and I thought, 'If everyone else is doing it, why can't we?
Too beautiful to be real? 16 surreal landscapes found on Earth These bizarre locations may seem like a series of elaborate movie sets, but they are real destinations that you might want to see for yourself. Travertines, Pamukkale, Turkey Dragon's blood trees, Socotra, Yemen Rice terraces, Bali, Indonesia Cappadocia, Anatolia, Turkey 30 Day Drawing Challenge Last week I saw this pin on Pinterest and I instantly loved the idea. Starting May 1st, I'll be taking the challenge and posting a drawing per day here on my blog each afternoon. If you'd like to do it on your own, please please do! If you'd like to share your drawing on my blog, just email it to me by 12pm EST the day of. It doesn't matter if you start now and submit them later or sketch them throughout May. It's just a great way to encourage myself to sketch daily and maybe you need that encouragement too!
The Top 75 Pictures of the Year for 2013 Update: if you liked this post, you'll adore our latest post on the 38 Most Haunting Abandoned Places on Earth HERE. Following on from our very successful blog "100 of the Best Street Art Images of 2013″ (see HERE), we've widened the net and thanks to the guys over at Sifter, we bring you the Top 75 Pictures of 2013. All credit goes to the individual photographers and their inspiring visions of our beautiful planet. Lateral Thinking Puzzles - Preconceptions Lateral thinking puzzles that challenge your preconceptions. 1. You are driving down the road in your car on a wild, stormy night, when you pass by a bus stop and you see three people waiting for the bus: 1. 25 Mysteries That Have Scared The Creeps Out of Everyone 1. The Taos Hum www.coolfunpedia.blogspot.com
Top 100 April Fool's Day Hoaxes Of All Time Top 100 April Fool's Day Hoaxes of All TimeAs judged by notoriety, creativity, and number of people duped On 1 April 1957, the respected BBC news show Panorama announced that thanks to a very mild winter and the virtual elimination of the dreaded spaghetti weevil, Swiss farmers were enjoying a bumper spaghetti crop. It accompanied this announcement with footage of Swiss peasants pulling strands of spaghetti down from trees. These 20 Photos Are Going To Make You Cry. But You'll See Why It's Totally Worth It. These 20 Photos Are Going To Make You Cry. But You'll See Why It's Totally Worth It. By WA There's no denying that the world is full of cruel, evil people capable of things you probably couldn't even imagine.
20 Habits That'll Get You Fit for Summer Want to lose weight and get in shape? Here are 20 ways to get thereWe've all been there: Despite exercising and watching what you eat, the elastic in your workout shorts seems to be as tight as your hamstrings. "Ninety-five percent of the active people I work with want to lose some weight," says Cassie Dimmick, M.S., R.D., a sports dietitian and running coach in Springfield, Missouri. Getting lean requires the same trait that makes you get up at 5 a.m. for a workout: discipline. You need to be vigilant about your diet and consistent with exercise so that you maximize calorie burn, increase muscle mass, and decrease body fat.
27 Science Fictions That Became Science Facts In 2012 We may never have our flying cars, but the future is here. From creating fully functioning artificial leaves to hacking the human brain, science made a lot of breakthroughs this year. 1. Quadriplegic Uses Her Mind to Control Her Robotic Arm At the University of Pittsburgh, the neurobiology department worked with 52-year-old Jan Scheuermann over the course of 13 weeks to create a robotic arm controlled only by the power of Scheuermann's mind.