Aviary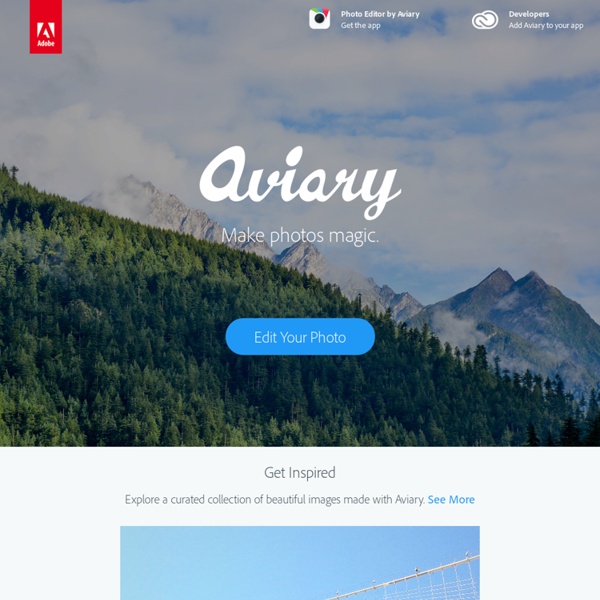 Outils en ligne pour créer ou mixer de la musique • Photo Editing • Montage photos • Editions de photos • Online bewerken
Soundation Professional Music Studio Soundation Studio has all the functionality of a professional desktop DAW including real time effects, virtual instruments, automation, recording and much more! And best of all - It's online, accessible through your browser. Incredible Sounds The studio has over 700 great sounding free loops and samples. But if you feel like that is not enough - just browse the sound shop. 4 Alternatives to Online Photo Editor Picnik We're bummed that Google, which bought awesome online photo editor Picnik, plans to shut it down. Picnik, a web-based service, helped out many a journalist and blogger who needed to make simple photo edits on deadline that didn't merit firing up Photoshop. (Silver lining: until it closes April 19, Picnik's premium services - which include cool special effects plus a ton of touch-up features - are now free for everyone.) Here are four sites to try when you need a quick online photo fix. Fotoflexer This site offers a similar web-based photo editor with much of the same options as Picnik, though nowhere near as snappy to load. Advanced features include blemish fix and some easy-to-use layer functions; the web interface is available in 22 languages.
ÉDITEUR PHOTOS EN LIGNE - Modifier vos photos, images et photos en ligne gratuitement Do you want to quickly edit or enhance your photo? You can do exactly that here, in your browser, for free. Upload your picture or photo or enter the URL of an image on the Internet.After uploading, you can resize, sharpen and/or rotate your photo. Free Online Photo Editor However these days flash and canvas photo editors rules the web, but at 2006 i made this full online photo editor only with PHP, GD and Javascript. it was a huge project for me at first days of learning php and javascript. anyway i developed this script between 2006 and 2007 with PHP and GD. as it only uses PHP, it can run on any shared host. this script don't need to imageick or anything else. all it needs is PHP4 or PHP5 with GD module enabled. if you run it over PHP5, the filters like Grayscale will be enable. download it just to get the idea how it works. if you started to work on something new like a new online photo editor tool or service, this may help you to figure out how things work. this photo editor have a tool to write text on images using TrueType Fonts and as i don't own the fonts, i removed the fonts from the zip file, but you have to put on your fonts into "inc" directory. anyway this is what it is.
Picasa 3: gratis download van Google Picasa downloaden Windows XP/Vista/7 Bedankt voor het downloaden Picasa downloaden Intel Mac OS X 10.5+ Bedankt voor het downloaden Gebruik Google+ Android 2.1+ / iOS 4+ Uw foto's organiseren, bewerken en delen Picasa 3.9 – Nu met delen en taggen via Google+ Picasa is momenteel niet beschikbaar voor uw besturingssysteem Turntubelist <p>TurnTubelist: Webmaster cuts faster. Cross-fade YouTube videos and create video playists.</p><p>Sorry, Flash must be present and JavaScript must be enabled for TurnTubelist to work...
Life After Picnik I have just about got over the shock that Picnik will be closing (or technically moving over to Google+ but losing a few bits) and I have managed to look at some other photo editing websites without feeling like a traitor. After all Picnik doesn't close until April 19th so there is still plenty of time. In the meantime there is a Brucie bonus, all features are now free, and *wipes brow* if you have paid for an upgrade you will get a full refund even if you only have 1 day left on your membership. I have read a couple of other posts about alternatives which I have played around with tried and tested for you. While doing this tough job, I also found a couple of other sites which I thought you might like to consider.
Essayez Pix-Easy, un logiciel FACILE et GRATUIT pour retoucher vos photos. Pix-Easy est une alternative idéale à tous ces logiciels sophistiqués de retouche d'images. Notre mission est de vous simplifier la tâche en mettant à votre disposition uniquement les outils dont vous aurez le plus besoin. Tout cela gratuitement ! Correction des yeux rouges Filtres artistiques Couleur et luminosité Rotation Redimensionnement Multi-formats (JPG, GIF, PNG, BMP, etc...) Licence : Gratuite Langues : Compatible : Windows XP / Vista / 7 Taille : 7 MB
Service en ligne de retouche photo gratuit avec impression photo et diaporamas flauntR flauntR is a free online suite of digital photoediting tools that provides a range of features that are typically only been available in expensive photoediting software. RIA Application build on Adobe Flex The FlauntR RIA (Rich Internet Application) application has been widely cited as an example of intuitive user interface design and use of cutting edge technology. The FlauntR interface engineered using Adobe Flex, Flash and J2EE technologies has been featured on Flex.org and the Yahoo Gallery among others. Social Network Integration and Facebook Application flauntR features extensive and indepth integrations with over 16 social networks and Web2.0 applications including Facebook, Bebo, Flickr, Picasa, Open Social among others.flauntR is available as an application on Facebook, Bebo and will also be integrating with a range of other sites.
Photographic/image manipulation • Fotomanipulation Online • Useful Stuff • Web Tools • Online Apps • Mind Mapping and Data Visualization • ressources pour les animations multimedia en bibli • Outils en ligne pour manipuler des images • Photo and Video Editing Tools • Editare foto & video • Photo • Photo Editor • Mao • Online Beeldbewerking • Creation • Retouche image online • Photo Editing Online & Photoshop • Graphisme • classroom tools • webtools • Photos • webtools • COMPUTER STUFF • Web 2.0 Tools • EDITORES • Photo Editing • IT tools • OnlineEditors • Editing • Webtools