Trovando - your search friend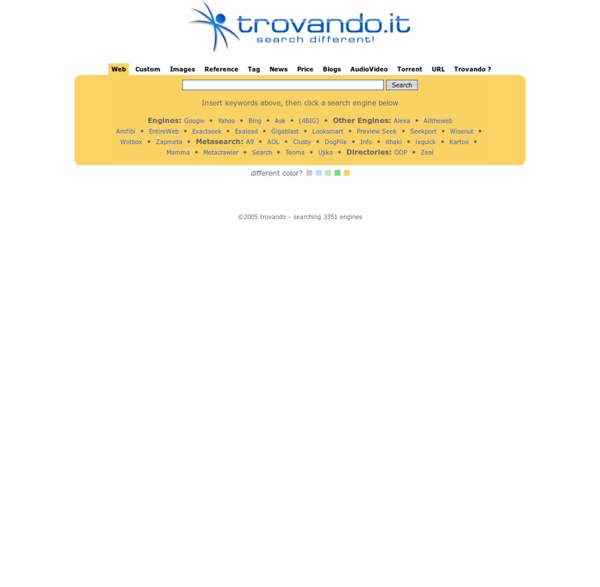 Advanced internet searching skills • Multi & Meta • Deep Web | Sites de recherche • more links... • search engines
ODP - Open Directory Project Soovle Internet Search Engines Search Engines Directory Internet search engines are categorized by topic in our searchable directory of general and specialty search engines. Also listed are resources and tools for exploring the deep web, performing advanced research, and for learning about using search engine tools and technology. Find topical search engines by category. Add Site Search Engine Tools & Technology What do you suggest? What Do You Suggest takes a seed from you (or gives you something random) then guides you on a journey through language and the collective lives of Google users. Using data from Google to make suggetions on where you might like to go next, What Do You Suggest is an experimental and interactive environment designed to explore how we use language and search on the internet. You can read more about the site on my blog. As part of this experiment, I'm recording some data about how people use the site and the paths they choose to explore. If you're interested in seeing what I find, subscribe to the RSS feed on sw'as or follow me on Twitter Other than that, feel free to just play around and see what you find and please get in touch if you have any comments.
How To Search On Google Like Elite Hackers | Ethical Hacking Tutorials Google is best search engine in the world. Actually people think that Google's popularity is because of its simple and fast searching interface but friends, its more popular because it has rich operators and query support that will make your searching experience even better. Most of us doesn't know which operators are supported by Google and if they know some of them, they doesn't know how actually these operators work and enrich our searching practice.
SimilarSiteSearch.com - The Best Place To Find Similar Websites Zuula Search OAIster [OCLC - Digital Collection Services] Access to OAIster A freely-accessible site for searching only OAIster records is available at http://oaister.worldcat.org/. Additionally, OAIster records are fully accessible through WorldCat.org, and will be included in WorldCat.org search results along with records from thousands of libraries worldwide. They will also continue to be available on the OCLC FirstSearch service to Base Package subscribers, providing another valuable access point for this rich database and a complement to other FirstSearch databases.
T