Submissive Loving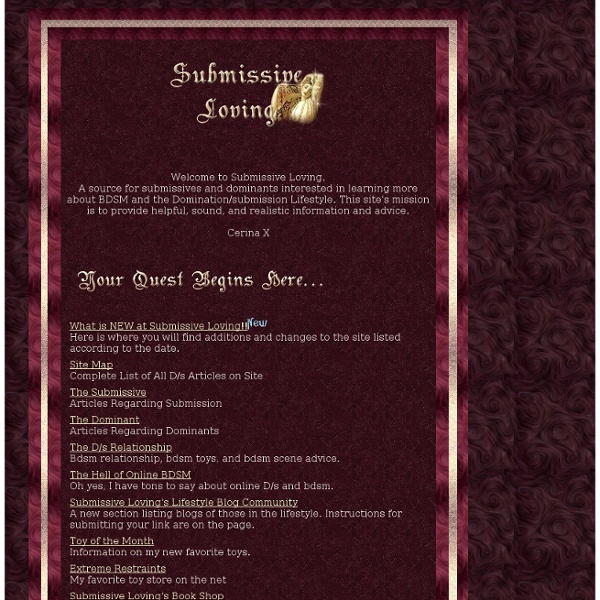 http://www.submissiveloving.com/index.html
Erotic Stories & Hot Blogs • D/s and Subs • pomo67 • Sub/slave info • Adams BDSM
So many swingers sites, so hard to find a good one… | Ask the swinger wife My name is Lola (this is not my photo, I prefer to be discreet). My husband and I have been swingers for many years. We felt the need to explore each others' hidden sexual fantasies and when we read about the swinging lifestyle, we realized that we could actually do that together, without ever thinking about cheating. SubsForDommes Disclaimer This is a handbook for people to learn more about a type of relationship known as Dominance and Submission. I do not pull punches or try to soften the language used. If you are easily offended, do not continue reading this Guide. I are writing this from the experiences of others and my own experiences. This is by no means an endorsement of this lifestyle. It is meant as a guide to those who seek a greater understanding, or who are interested, but don't know how to start.
Submissive's Sample Set of Positions for Memorization by Author Unknown | The Iron Gate Submissive's Sample Set of Positions for Memorization Author: Author Unknown Filed in: submission, training, positions For Submissives of any Gender. Intended for Consensual Fantasy Play Only. Slave Check List The process of becoming slave requires several things, including: 1. Learning complete obedience Kinbaku Bondage What is Kinbaku Kinbaku, like Shibari is a sexualised extension of Hojojutsu. Techniques once used for restraining prisoners have been subtly altered to address the line where pain becomes pleasure… where the intent for torture becomes a consensual element of BDSM. What is the meaning of 'Kinbaku' In Japan, Kinbaku is less commonly known as sokubaku, bakujojutsu, and senyojo jutsu, and it has been suggested that the differentiation in naming has parallels with the martial arts, where similar practices are referred to with terms that differ between various groups of practitioners. Whilst still studying a martial art there are different disciplines arising from different perspectives.
When things go wrong So there you are, ready to play with this guy that has been chatting you up for weeks. You get started and soon realize there is a problem. So what happens when things go wrong. Yes guys, I'm talking about when your playmate isn't getting hard. Did every man just wince? Slave Positions For purposes of expedience, not exclusion, this page is written from a Master / female slave perspective. The slave positions outlined here are common to many different protocols and would be applicable to both male or female slaves alike. Author John Norman did a good job in describing most of these positions in his Gor series of books, and those who practice Gorean protocols will be quick to recognize most of them. However this is not a page about Gorean positions specifically. It is because of the large number of Gorean enthusiasts that have shared information on the Internet about slave positions that the Gorean names for these positions have become well known, and as such, are in common usage outside of less open protocols.
Submissive Guide Store - Creating A Personal Protocol Product Description A workbook of practical exercises designed to take the reader step by step through the process of creating a personal protocol for use in structuring a power exchange relationship. This book has been nominated for a National Leather Association Geoff Mains Award for non-fiction books. Product Details Amazon Sales Rank: #842992 in Books Published on: 2008-03-03Original language: EnglishNumber of items: 1Dimensions: 7.86" h x 9.84" w x .14" l, .35 pounds Binding: Paperback40 pages Experience BDSM Slave Training In The Privacy Of Your Own Home
Websites • yuna6 • starchasertm • masterdragon