MathsWatch VLE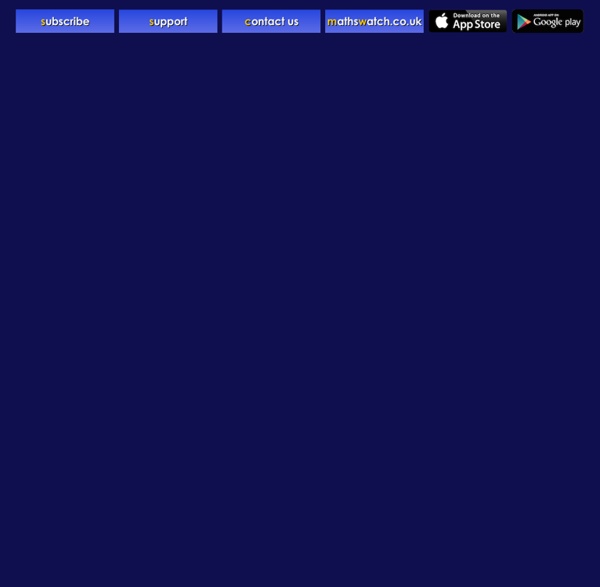 https://www.mathswatchvle.com/
BeaumontMaths • Beaumont Maths teacher resources • Additional Maths • Maths • Subscribed resources
Great Maths Teaching Ideas | Sharing great ideas and resources with maths teachers around the world Every now and again you have to go back to first principles and look at problems, systems, technologies from a blank canvas perspective. Life is full of trade-offs where you need to make a decision about where you lie on that particular spectrum. You can choose to pay more or less for posting a letter but the trade-off for paying less is second, rather than first class delivery. Trade-offs don't go away by optimising where you choose to lie on the spectrum. Choosing whether to post a letter first or second class post doesn't take away the trade-off that you get what you pay for.
Flash Maths Top rated maths activities Mean from Frequency Tables Algebraic Areas Compound Interest Calculator Change Problems Rotational Symmetry Mr Collins' (NQT) Mathematics Blog On Monday 4th Nov 2013 I delivered a 'numeracy across the curriculum' session for my school's ITTs and NQTs. I was only given 30 minutes for this as the other half of the hour session was delivered by one of my English colleagues on 'Literacy across the curriculum'. For the session, I used the following Prezi and included a number of ideas for getting numeracy into other subject's lessons.
Math Powerpoint Presentations- Free to download any powerpoint presentations on this site Powerpoint presentations for math - Free Math PowerPoint presentations and Math teacher resources for K-12 Keystage KS and post 16 A level lessonplans, and more. Use and alter these powerpoint presentations freely or any power point template used in this presentations site for other teachers. If you have any powerpoints then please consider submitting them for other teachers to download too. It's all about sharing and helping others. Need a free powerpoint viewer. Click here. nrich secondary teacher resources Current In the real world data sets can be large and messy. We have chosen a variety of contexts in which students can use their statistical skills to answer some interesting questions. Estimating Time live Stage: 3, 4 and 5 Challenge Level: How well can you estimate 10 seconds?
Math Mathematics instruction is a lengthy, incremental process that spans all grade levels. A-Plus Flashcard Maker. You can create math fact flashcards online. Customize your flashcards by type of number operation or even enter your own values to create individual flashcards. Fun 4 the Brain - Beyond the Facts Have fun while diving into some factoring and fractions! Greatest Common Factor Sketch lives in a wonderful world drawn on notebook paper. But, mean erasers are trying to erase his world. Math Games Award-Winning Elementary Reading & Math Program Our rich reading curriculum covers critical skills including phonemic awareness, phonics, sight words, vocabulary and reading comprehension. Our math curriculum integrates number and operations, measurement, geometry, algebra and problem solving skills with engaging real-world themes.
Maths • mozza • School • Maths