YouTube - Broadcast Yourself.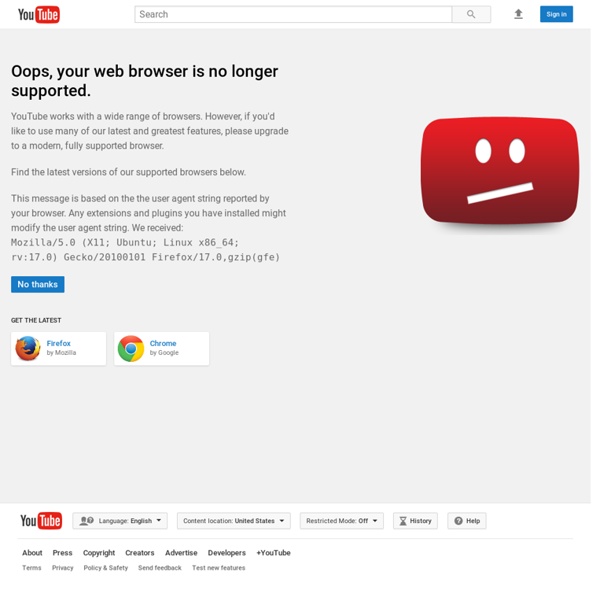 npenney01 • dom4447 • sadi543 • davidbeland • Start Pages
Google Drive PatrickJMT Gmail: Email from Google New features Meet the new inbox Microsoft Canada Gmail Nuove funzioni Indiegogo: An International Crowdfunding Platform to Raise Money The world's funding platform. About CERN At CERN, the European Organization for Nuclear Research, physicists and engineers are probing the fundamental structure of the universe. They use the world's largest and most complex scientific instruments to study the basic constituents of matter – the fundamental particles. The particles are made to collide together at close to the speed of light. The Oddment Emporium, 1890s: Jean-Marc Côté design for human wings. ... Fort McMoney Fort McMoney, a documentary game by David Dufresne. Take control of Fort McMurray, Canada, the third largest oil reserve in the world, and make your worldview triumph. A TOXA/ONF production in association with Arte and with the financial participation of the CMF. Experience innovative interactive documentaries, videos, and animations that thoughtfully explore relevant issues and unique Canadian perspectives.
The Raz Lab at the Westmount Science Camp In the summer of 2013, we teamed up with the Westmount Science Camp to offer Brain Training to all campers ages 4-11 who had signed up for a minimum of 4 weeks at the camp. On August 16, the Westmount Science Camp and its participants organized an Open House, held in Victoria Hall, Westmount. We presented our research and its benefits to parents and gave all kids the opportunity to play our games.
noaf • websites • Search/Entertainment