Pixiz - Free photo montage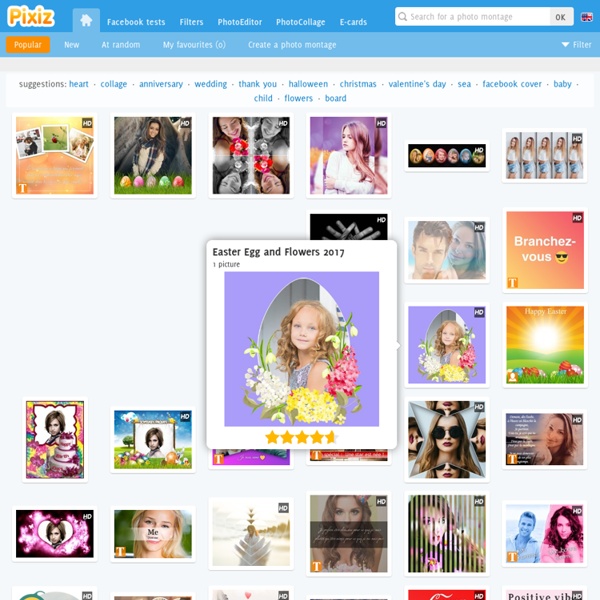 MOntages photos, effets, filtres • Montage photo • Montage Photo • photomontage • Photos
Scrapee.net (montage, effets, cadres) Scrapee.net vous permet de créer de très drôles photomontages. Vous pouvez également ajouter de très sympathiques cadres à vos photos grâce à notre outil de cadres de photo. Ici vous pouvez trouver beaucoup d'effets de photo qui sont sépia, noir et blanc, faire pivoter, bordures des photos, les affiches Recherché(Wanted), montage de photos (Museum), réalisation d'un effet de lac réaliste, des outils de coupure, etc. Nous avons aussi un très bon créateur de papier peint. Grâce à notre créateur de papier peint, vous pouvez créer des papiers peints très agréables pour votre bureau d'ordinateur. Après la création de votre drôle photo, vous pouvez la partager avec tous vos amis en utilisant des réseaux sociaux comme Orkut, MySpace, Hi5, etc.
Pho.to - Plate-forme de présentation et d'amélioration des photos en ligne. Top 13 des sites de montage photo fun et de retouche photo avec effet gratuit Fermer X Merci pour le partage ! Abonne-toi pour ne plus rien rater ! Je suis déjà fan, ne plus me montrer cette fenêtre L'actu en top Scrapee : photo montage Scrapee.net vous permet de créer de très drôles photomontages. Vous pouvez également ajouter de très sympathiques cadres à vos photos grâce à notre outil de cadres de photo. Ici vous pouvez trouver beaucoup d'effets de photo qui sont sépia, noir et blanc, faire pivoter, bordures des photos, les affiches Recherché(Wanted), montage de photos (Museum), réalisation d'un effet de lac réaliste, des outils de coupure, etc. FunFacer Effets, montages photos Effets photos Devolve me - Charles Darwin - The Open University To view our site properly you'll need Flash Player 9 or above and Javascript enabled in your browser. Ready to journey back in time? Use our fun tool to see yourself as you would have looked as an early human. When you've finished, why not share the results with a friend? Upload your photo and see yourself travel back through the evolutionary timeline... it's not an exact science but it is a lot of fun!
MesMontages. Montage photo gratuit. - Site de montages photos, montage pour blog, gif, avatars et smileys. Montage Spot Color Spot Color est une technique qui permet de faire ressortir une couleur de tes photos. Montage encadré Personnalise ta photo en y ajoutant des effets et un encadrement coloré sur mesure. Montage photo cadre Superpose un cadre coloré, simple, dégradé ou avec des glitters sur tes photos. Deefunia : fun photo To Create a funny photo, a calendar or create a frame for your photo. You first need to select a template displayed and then you will have to upload your photo from your computer. After that you will see your result shortly and you can also share it with friends. We have a widget for you to create funny photo directly from your homepage or blog. Start add it now and your homepage or blog will have something to play with. Click here to Add
Aviary AAnuMaking (montages, effets) Fun photo effects - funny photo editing Apply a lot of nice and fun photo effects to joke with your friends. AnyMaking free online photo editing software makes beautiful artworks from your everyday's pictures! Select any funny photo editing tool, upload your picture and that's it!
Photomontages • montage photos • dessin_image • Photomontage • sites ressources • Photo Customizations • Photobricole • photo enligne • POUR MONTAGES PHOTOS • montage • retouches photos • création bd, vidéo, montage, etc • Traitement photo • Montage • retouche photo • effects • retouches photos • École • Montage • Multimedia