Pixiz - Montage photo gratuit et cartes virtuelles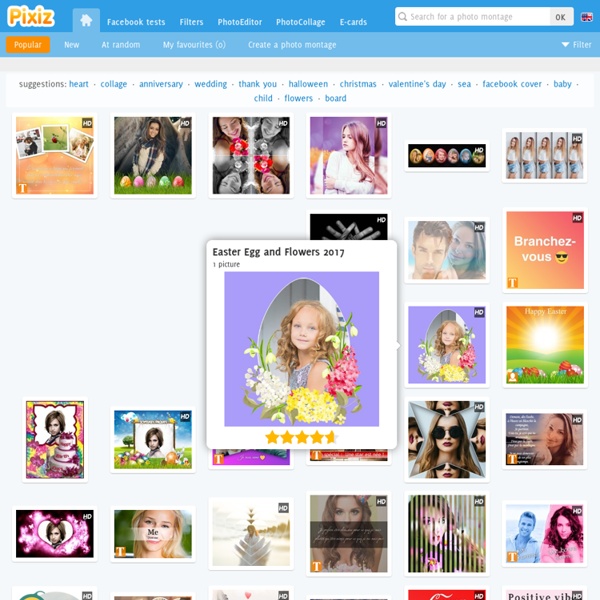 MOntages photos, effets, filtres • Montage photo • Montage Photo • montage photos • Photos
Pop Art Poster: Become a pop icon! First time here? Welcome! We have a lot of fun stuff to play with like ourMotivational Poster maker, Magazine Cover maker, Pop Art poster, and much more! Play as much as you like—everything is free. We also sell awesome custom-printed products. Devolve me - Charles Darwin To view our site properly you'll need Flash Player 9 or above and Javascript enabled in your browser. Ready to journey back in time? Use our fun tool to see yourself as you would have looked as an early human. When you've finished, why not share the results with a friend? Upload your photo and see yourself travel back through the evolutionary timeline... it's not an exact science but it is a lot of fun!
Top 13 des sites de montage photo fun et de retouche photo avec effet gratuit ✖ Fermer Un clic, c'est le début d'une histoire... Mais avec un autre clic sur "j'aime", ça pourrait devenir fort entre nous Je suis déjà fan, ne plus me montrer cette fenêtre L'actu en top Montage Photo Vous êtes dans la catégorie: Montage Photo Fil des billets - Fil des commentaires Explosion Cosmique avec Photoshop FunFacer diviser photos en plusieurs mx Image splitting is a technique most often used to slice a larger image into smaller parts to make it load faster. Online Image Splitter makes it easier to slice images and download the HTML tags for pasting the slices back together. It also provides options for optimizing the sliced images and quickly creating navigational bars with mouse-over effects. This navigation bar was created using Online Image Splitter by splitting a single image into three. A sliced image.
Pho.to - Plate-forme de présentation et d'amélioration des photos en ligne. MesMontages. Montage photo gratuit. - Site de montages photos, montage pour blog, gif, avatars et smileys. Montage Photo - Studio-Scrap Le montage photo, c'est quoi ? On entends ici par montage photo, la possibilité de créer une nouvelle image avec un ensemble de photo et des décorations. Vous pourrez ensuite aisément envoyer cette page en pièce jointe d'un mail, imprimer cette page sur votre imprimante personnelle, ou envoyer votre image à votre labo photo favori.
Loonapix PhotoShine PhotoShine est un gratuiciel édité par Pivget. Cet outil bien divertissant permet de faire des montages d'images pour améliorer vos photos et leur donner des apparences plus amusantes. Fonctionnalités Montage : les retouches photos et les montages sont facilités au maximum grâce à ce logiciel.
dessin_image • Photomontage • Photomontages • lauracousin • photo enligne • Photobricole • foto bewerking • PhotoFun • minou2014 • damiendeluca73