Gold Rush South Australia | find, mines, rewards, locations, South Australian Gold Rush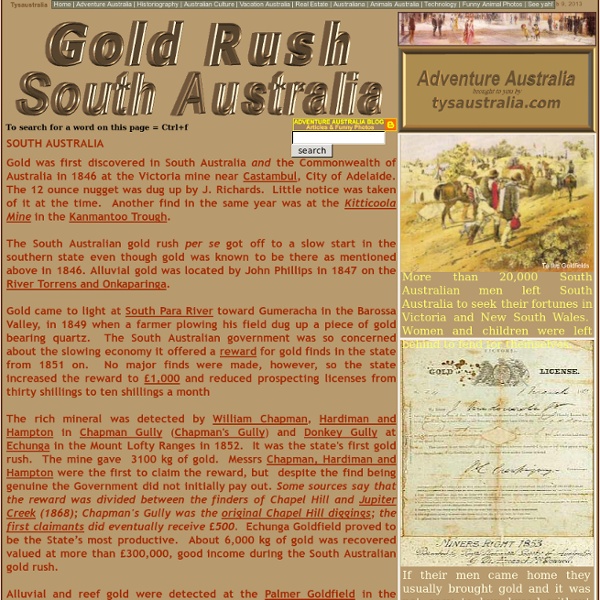 Gold was first discovered in South Australia and the Commonwealth of Australia in 1846 at the Victoria mine near Castambul, City of Adelaide. The 12 ounce nugget was dug up by J. Richards. Little notice was taken of it at the time. Another find in the same year was at the Kitticoola Mine in the Kanmantoo Trough. The South Australian gold rush per se got off to a slow start in the southern state even though gold was known to be there as mentioned above in 1846.
http://tysaustralia.com/goldrushsouthaustralia.html
Goldrush Australia • Gold Rush • Australian GoldRush • Gold Rush • goldrush
Australian Gold Rush: 1850 The bonanza in California was only the beginning. An Australian named Edward Hammond Hargraves, who had been there, was certain that the same geological features were to be found in his own country. Returning on the boat from California late in 1850, he predicted that he would find gold within a week. 'There's no gold in the country you're going to and if there is, that darned Queen of yours won't let you touch it,' a fellow passenger told him. 'There's as much gold in the country I'm going to as there is in California,' snapped Hargraves, 'and Her Gracious Majesty the Queen, God bless her, will appoint me one of her Gold Commissioners.' Hargraves was right.
Gold Rush Motor Inn - - Queenstown - Tasmania 7467, Australia - Good old fashion hospitality where service counts. At the Comfort Inn Gold Rush you'll be able to enjoy good old fashioned hospitality and friendly service with a smile at an affordable price. In your own spacious, heated ground floor unit you can enjoy all the comforts of home. We have 26 ground floor units including one disabled wheelchair access unit. Each unit is spacious and well appointed with ensuite and some are self-catering. The extras that make the stay comfortable are electric blankets, heater, direct dial STD/ISD phones, Internet access, tea/coffee making facilities, toasters, crockery, cutlery, irons, ironing boards, hairdryers, shampoo and soap, television and clock radios.
Chinese at the Australian Goldfields Chinese at the Australian Goldfields At the time that news about the Australian goldrush reached China in 1853, the country had been suffering from years of war and famine. In order to raise money for the fare to Australia, a man would take a loan from a local trader, agreeing to make regular repayments. His wife and children stayed behind, and worked for the trader if the man was unable to repay the money he had borrowed. To reach Melbourne, it was a journey of several months by ship in cramped conditions.
Gold rush Sailing to California at the beginning of the Gold Rush A gold rush is a period of feverish migration of workers to an area that has had a dramatic discovery of gold deposits. Major gold rushes took place in the 19th century in Australia, New Zealand, Brazil, Canada, South Africa, and the United States, while smaller gold rushes took place elsewhere. Australian gold rushes An Australian gold diggings circa 1855 After the California gold rush began in 1848, causing many people to leave Australia for California to look for gold there, the New South Wales government rethought its position, and sought approval from the Colonial Office in England to allow the exploitation of the mineral resources and also offered rewards for the finding of payable gold.[2] The first gold rush in Australia began in May 1851 after prospector Edward Hargraves claimed to have discovered payable gold near Bathurst, at a site he called Ophir.[3] Hargraves had been to the Californian goldfields and had learned new gold prospecting techniques such as panning and cradling. Hargraves was offered a reward by both the Colony of New South Wales and the Colony of Victoria. Before the end of the year, the gold rush had spread to many other parts of the state where gold had been found, not just to the west, but also to the south and north of Sydney.[4]
Gold Rush in Australia! The transportation of convicts to Australia was phased out between 1840 and 1868. By 1860, the continent of Australia had been divided into FIVE separate colonies (not officially states yet, mate but seperation away from New South Wales), each not seeing eye-to-eye and exhibiting more loyalty to London to each other. A major force within the colonies was the "squatocracy" – the rich officers and settlers a.k.a. opportunists who had followed the explorers into fertile hinterlands. They simply laid claim to or "squatted" upon enormous tracts of land, often 20,000 acres and more. Free for all, mate with lots of social tension. Development of Australia was at a steady but unspectacular rate.
Goldrush Ballooning, Fleurieu Peninsula, South Australia South Australia Fly with Adelaide's largest ballooning operation. We fly seven days a week, weather permitting. The warmer months are almost upon us, remember the warmer months are not ideal for ballooning. We ask that you phone the office with any questions about our flying in the hotter months. The Australian Gold Rush The Australian Gold Rush – DiggersState Library of NSW Many people associate the Gold Rush with California or the Klondike, but the Australian gold rush remains the world's richest. The discovery of Australian gold Isolated gold finds had been reported in New South Wales since the 1820s, but it was another thirty years before a fully-fledged gold rush would take its hold on the British penal colonies in Australia. The Australian gold rush JCF Johnson, A Game of Euchre, col. wood engraving, Australasian Sketcher Supplement [Melbourne], 25 December, 1876. Image courtesy of the : nla.pic-an8927787. The gold rushes of the nineteenth century and the lives of those who worked the goldfields - known as '' - are etched into our national .
1853 Gold Mining Licence | Australia's migration history timeline | NSW Migration Heritage Centre Era: 1840 - 1900Cultural background: Chinese, EnglishCollection: Powerhouse MuseumTheme:Gold Government Labour Movement Miners Riots Settlement Licence for gold mining, 1853. Courtesy of the Powerhouse Museum Collection Powerhouse Museum, Sydney, Australia.
Sovereign Hill Education - Research Notes Welcome to Sovereign Hill Education Victoria's 1850s goldrush heritage is alive, exciting and very hands-on at Sovereign Hill with creative, stimulating and interactive experiences for school students and kindergarten classes. Students experience Sovereign Hill indoors, outdoors, above-ground and below-ground, giving a tremendous variety for school excursions and ensuring an action-packed, fun day. National Museum of Australia - Australian gold rush The 1850s gold rush attracted many Chinese people to Australia in search of a fortune. In this scene, Chinese and European diggers methodically search for gold using various devices and techniques. When gold was discovered When gold was discovered in Australia, the volume of Chinese immigration significantly increased. The highest number of arrivals in any one year was 12,396 in 1856. In 1861, 38,258 people, or 3.3 per cent of the Australian population, had been born in China.
Gold Rush • Gold Rush • Gold Rush! • gold rush • goldrush • unnamed