DIY: Constellation Jar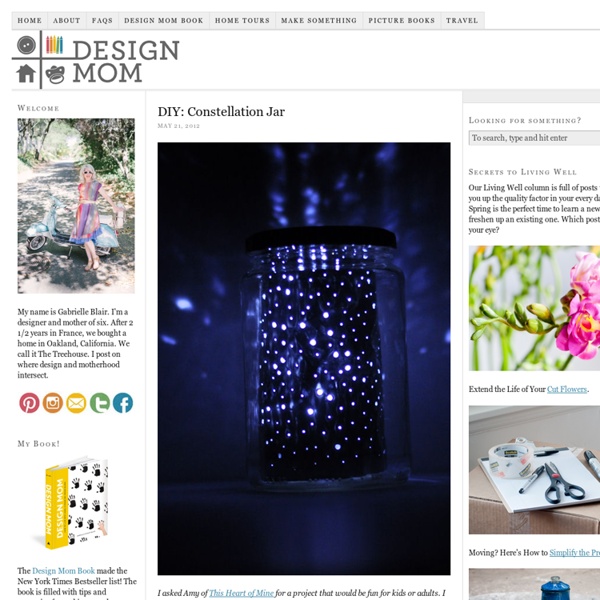 I asked Amy of This Heart of Mine for a project that would be fun for kids or adults.
http://www.designmom.com/2012/05/diy-constellation-jar/
woodwoman • Craft Ideas • FASHION • House • Odds and Ends
DIY Grapevine lighting balls ...What a BRIGHT idea ! | Lynne Knowlton New Here? Raise your hand if you'd like to receive weekly awesomeness from the blog. Yo, I thought you'd never ask. Christmas Ornament Round Up Karren Doll Tolliver, who previously shared photos of Munich store windows that had been decorated with huge quilled trees, sent along another nifty find. This time it's large and lovely quilled snowflakes she spotted at a Christmas market in Bamberg, outside a little shop called Mohren Haus. Karren tells me they were made in two sizes - seven and ten inches in diameter - and appeared to be rolled and glittered poster board.
ASOS Embroidered Fabric Bib Style Necklace August 13th, 2012 by aclazaro One of this season's hottest trends are bib style necklaces. DIY pallet table | a n n a • e v e r s - DIY Fashion blog This time I decided to go a little further and make a bigger DIY project. A sofa table for the center of my living room … But do not panic, it's super easy to do and will cost you very little …and use some recycled materials! First things first … You'll need this piece that many of you already know … the famous pallet. If you have a good smile you can get it free at a department store or a factory. · 4 bolt wheels. (you can buy them at a hardware store) but you can opt for metal wheels or old legs for a more vintage look.
Hawaiian Buzz Lightyear Papercraft Ages school-age Print the template on regular paper or cardstock and cut out the pieces. Make all folds along dashed lines. Build the parts one a a time by securing all tabs to their corresponding pieces in alphabetical order, using glue or double-sided tape. To build the gloves, fold each one in half along the dashed line and butterfly the tabs outward. Mason Jar Lights I saw them last summer for the first time. We were in a fairy-tale-like chocolate shop at the end of the world (or so it seemed) and these mason jar light fixtures were the best idea for making the shop even greater.
papirstjerne -slik lagar du den Då har eg prøvd meg på ein forklaring på korleis ein brettar desse stjernene. Video er nok det rette mediet når ein skal formidle slike forklaringar, men eg og bildene mine gjer eit forsøk. Turn Your T-Shirts Into Tote Bags - Brit & Co. - Style If you're still busy spring cleaning, we're guessing you've come across a lot of t-shirts that you can't quite get rid of but don't really need. Naturally, it"s time to repurpose!
DIY • ARTSCRAFTS • home • Artistic • Do It Yourself • melanierichardson