Constellation Jar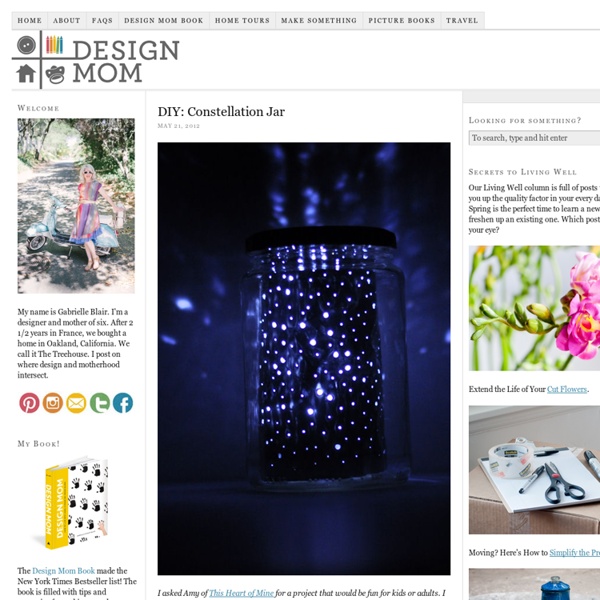 I asked Amy of This Heart of Mine for a project that would be fun for kids or adults. I love that she thought of star-gazing! We're so far into the countryside, that the stars here are outrageously bright. It's awesome! — Gabrielle Star gazing is one of my favorite things.
http://www.designmom.com/2012/05/diy-constellation-jar/
woodwoman • Craft Ideas • FASHION • House • Odds and Ends
DIY Grapevine lighting balls ...What a BRIGHT idea ! | Lynne Knowlton New Here? Sign up to be part of something great & receive a BIG present too. A free instantly downloadable book of EPIC photo ideas. Glowing Outdoor Orbs O.K. Get ready for it … this one's a doozy. Doozie? Doosey. It's a humdinger. It looks high end with a side of huge impact, ASOS Embroidered Fabric Bib Style Necklace August 13th, 2012 by aclazaro One of this season's hottest trends are bib style necklaces. You can turn an ordinary outfit into a fabulous/classy get up by simply adding an eye-popping bib style necklace. Bib style necklaces are commonly designed with different precious stones but this unique bib style makes bib style necklaces even more stunning. It is made of colored & metallic bead-embellished fabric with thick contrast satin ribbon for fastening. In order to maintain its appearance & condition, avoid contact with liquids or perfume when wearing them.
DIY pallet table | a n n a • e v e r s - DIY Fashion blog This time I decided to go a little further and make a bigger DIY project. A sofa table for the center of my living room … But do not panic, it's super easy to do and will cost you very little …and use some recycled materials! First things first … You'll need this piece that many of you already know … the famous pallet. If you have a good smile you can get it free at a department store or a factory. · 4 bolt wheels. (you can buy them at a hardware store) but you can opt for metal wheels or old legs for a more vintage look. Hawaiian Buzz Lightyear Papercraft Ages school-age Print the template on regular paper or cardstock and cut out the pieces. Make all folds along dashed lines. Build the parts one a a time by securing all tabs to their corresponding pieces in alphabetical order, using glue or double-sided tape. To build the gloves, fold each one in half along the dashed line and butterfly the tabs outward.
Mason Jar Lights I saw them last summer for the first time. We were in a fairy-tale-like chocolate shop at the end of the world (or so it seemed) and these mason jar light fixtures were the best idea for making the shop even greater. I snapped a quick photo and kept the memory alive until today when I found a DIY on how to make mason jar lights yourself! Take a stroll to Senseless Sophistication for an in-depth tutorial on how to make your own for as little as $5 as opposed to $40 - $200! I also found a cute DIY video by megruth, that will give you a few more crafty ideas for this vintage looking light pendant! Did you notice what's written on the jar on the photo?
52 Reasons | Redux This is one of the first crafts I'd ever posted online. I used to belong to a community called Craftster.org (waaaay back in the day). It's still around but I rarely remember to visit. However, it pops up on my radar about this time of year. Turn Your T-Shirts Into Tote Bags - Brit & Co. - Style If you're still busy spring cleaning, we're guessing you've come across a lot of t-shirts that you can't quite get rid of but don't really need. Naturally, it"s time to repurpose! Today we'll show you a ridiculously easy way to turn your t-shirts into eco-friendly reusable tote bags inspired by similar DIY projects found on Leethal and HonestlyWTF. The greatest thing about this project is that it's pretty likely you've got all the materials at home. All you need is an old t-shirt, scissors, and a safety pin. Simple, (almost) free, and super convenient.
Skapande • miasagittarius