Elevspel.se - Kunskapsspel för barn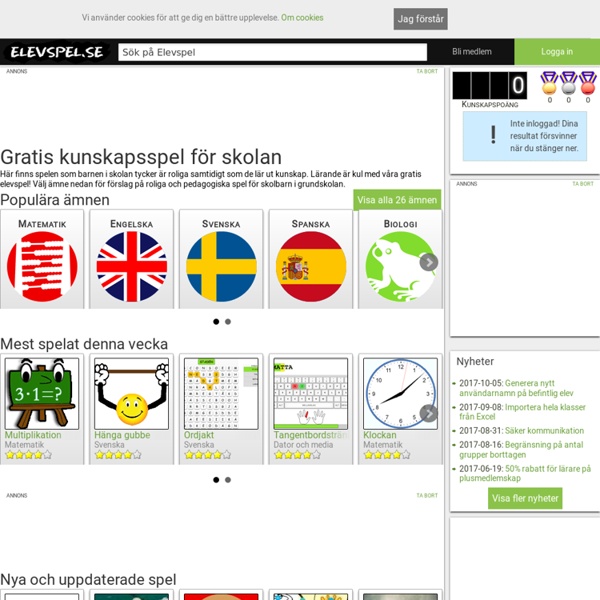 Digital teknik • online • Matematik • Matematik • IKT
Gratis Teknik för lärare: Skapa digitala portföljer eduClipper eduClipper, the popular bookmarking tool for teachers and students, has just released a great new feature. Students can now create digital portfolios on eduClipper. The new eduClipper portfolio tool allows students to create portfolios of things they have clipped (AKA bookmarked) online, things they have stored in their Google Drive accounts, content they've created on services like Prezi and Animoto, and files they have stored on their computers. eduClipper portfolios use the same visual interface that students and teachers use when bookmarking things in eduClipper. Students can re-arrange elements in their portfolios by simply dragging and dropping them into position on their portfolio canvasses. Watch the video below to see the eduClipper portfolio tools in action. Getting Started with eduClipper Presentation Portfolios from AdamBellow on Vimeo.
for Schools Customizable You can customize the content available in your school. All schools get access to all of the YouTube EDU content, but teachers and administrators can also create playlists of videos that are viewable only within their school's network. School-appropriate School admins and teachers can log in and watch any video, but students cannot log in and can only watch YouTube EDU videos plus videos their school has added. Swedish Maths Teaching Resources Where applicable, use the links to download Swedish versions of resources. Maths Resources in Swedish Shapes display banner (Ref: SB3725) Colourful printable banner for your (2D) 'Shapes' display. 3D shape posters (Ref: SB1199) A set of 7 A4-sized printable posters featuring common 3D shapes. Values to 6 bingo (Ref: SB7990) A set of bingo boards and matching cards with values from 1 to 6 represented in different ways.
Top 50 Maths mini plenaries ideas to use in an outstanding Maths lesson The current buzz word at the moment is "mini plenary", I am not going to take credit for these but below are my top 50 mini Maths plenary ideas that can be used throughout the lesson to assess learning, demonstrate progress and intervene where necessary. You can also check out an earlier blog on the top 99 ways to demonstrate progress during an Outstanding lesson observation! You can also check out 100 Ideas for Outstanding Lessons which is a great book to help deliver outstanding lessons!! List three things you have learned todayList three things your neighbour has learned today60 second challenge – sum upWrite the new words you have learned this lesson and what they mean in mathematics (also alternative meanings in other curriculum areas)Write three/five top tips for…The answer is … what is the question?
Seven Free Online Whiteboard Tools for Teachers and Students This afternoon through the Free Technology for Teachers Facebook page I received a request for some free whiteboard apps. All of the following seven tools can be used to draw and type on a whiteboard in your browser. With the exception of PixiClip all of these tools can be used collaboratively for brainstorming sessions.
Great ePortfolio Resources for Teachers July 28, 2014 With the massive uptake of web 2.0 technologies, the concept of portfolios has migrated to the cloud giving rise to what is now termed electronic portfolios or ePortfolios for short. An ePortfolio is similar in essence to the traditional pen and paper portfolio but with a set of added advantages. For instance , ePortfolios are accessible anywhere anytime with internet connection. Also ePortfolios allows for a wider inclusion of different multimedia items such as videos, podcasts, audio recordings, slides, text, images and many more. Why Use ePortfolios ? According to Cornell University, there are different learning purposes and benefits behind using ePortfolios. The Best Resources On "One-To-One" Laptop/Tablet Programs — Please Suggest More! Here's a link to my two-part Ed Week series on successfully implementing one-to-one programs I'll soon be covering a question in my Education Week Teacher column about one-to-one laptop/tablet programs, and thought it would be useful to readers (and to me!) to create a "Best" lists on the topic (Check out my nine-minute BAM! Radio Podcast on What Are the Real Benefits of a 1:1 Program? What Are the Biggest Challenges?
Guess My Rule Game This function machine game was created to give students practice in saying and writing the rule, given an input/output table. One student has the rule which the other student has to guess. The guesser records an input number in the table. The rule person must apply the rule and tell the output number. Student pairs repeat this until the guesser correctly identifies the rule by saying and writing it. Students then switch places and repeat the activity.
Geometry Playground Exhibition Geometry Playground will change the way you think about geometry. This traveling exhibition engages your hands, brain, and body in playful investigations of this most visible branch of math. Find out where and when you can visit Geometry Playground. Explore the exhibition through these three experience-based themes: Geometry Garden
15 Options for Creating Screen Capture Images and Videos - Including on Chromebooks For the next few days I'm taking some time off to relax, play with my dogs, and ski with friends. Rather than leave the blog dormant for a few days, I'm re-running some of the most popular posts of the year. TechSmith Snagit is a screen capture tool from the producers of the popular screencasting tools Jing and Camtasia. TechSmith Snagit is a Chrome app and extensions that allows you to capture all or part of screen then draw and write on your screen capture. The Snagit Chrome extension is what allows you to capture your screen.
8 Free and simple tools to create video tutorials for Teachers One of the important digital skills that the 21st century teachers should have is the ability to create video tutorials to share with students.I know some of you might freak out when it comes to putting your digital skills to the test thinking that you could never make it. I understand it because I know that the first thing that comes into your mind on hearing video tutorials are those sophisticated and pompous tutorials you see on Youtube from imedia companies and advertising corporations. Well, the kind of software used to create such tutorials cost a lot of money and requires specialits to work on them. For use in education, a tutorial can be just a simple video explaining a difficult concept or a methodical process that walk students through different steps and stages. There are several free tools to help you do that and you do not need any advanced technology skills to use them; all you need is a solid will and a committment to what you want to do.
Med eleverna • artiklar • feralt0410 • Länkar för barn • APPAR, IPAD, YOU TUBE OCH LÄNKAR • Webben i undervisningen 2013 • andreal • Diverse uppgifter • Matematik • Grammar • övningar • IKT • Inspiration Ipads F-5 • Svenska • spelsidor • Pyssel & Skoj • irvalgeirsdottir • pedagogiskt