Elevspel.se - Kunskapsspel för barn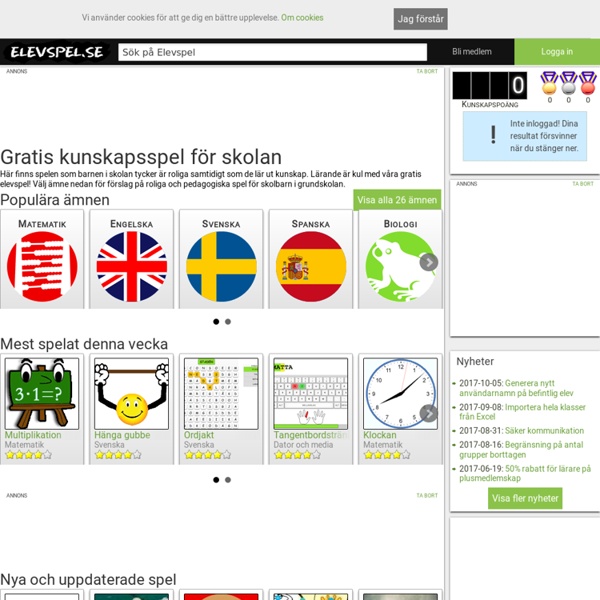 online • Matematik • IKT • feralt0410 • artiklar
for Schools Customizable You can customize the content available in your school. All schools get access to all of the YouTube EDU content, but teachers and administrators can also create playlists of videos that are viewable only within their school's network. School-appropriate School admins and teachers can log in and watch any video, but students cannot log in and can only watch YouTube EDU videos plus videos their school has added. Top 50 Maths mini plenaries ideas to use in an outstanding Maths lesson The current buzz word at the moment is "mini plenary", I am not going to take credit for these but below are my top 50 mini Maths plenary ideas that can be used throughout the lesson to assess learning, demonstrate progress and intervene where necessary. You can also check out an earlier blog on the top 99 ways to demonstrate progress during an Outstanding lesson observation! You can also check out 100 Ideas for Outstanding Lessons which is a great book to help deliver outstanding lessons!! List three things you have learned todayList three things your neighbour has learned today60 second challenge – sum upWrite the new words you have learned this lesson and what they mean in mathematics (also alternative meanings in other curriculum areas)Write three/five top tips for…The answer is … what is the question?
Seven Free Online Whiteboard Tools for Teachers and Students This afternoon through the Free Technology for Teachers Facebook page I received a request for some free whiteboard apps. All of the following seven tools can be used to draw and type on a whiteboard in your browser. With the exception of PixiClip all of these tools can be used collaboratively for brainstorming sessions.
Galaxy de l'origami étoiles When my 5 yo goddaughter and I meet up, we love to hand each other our little handmade somethings. She would shower me with sweet girly drawings, scribblings, love notes, masks or a surprise "masterpiece". Godma would usually make origami iconic symbols. Not long ago I made her a galaxy of stars, one of her favourite shapes. I have complied a list of what I had made to share with you the wonders of star origami. The Best Resources On "One-To-One" Laptop/Tablet Programs — Please Suggest More! Here's a link to my two-part Ed Week series on successfully implementing one-to-one programs I'll soon be covering a question in my Education Week Teacher column about one-to-one laptop/tablet programs, and thought it would be useful to readers (and to me!) to create a "Best" lists on the topic (Check out my nine-minute BAM! Radio Podcast on What Are the Real Benefits of a 1:1 Program? What Are the Biggest Challenges?
Geometry Playground Exhibition Geometry Playground will change the way you think about geometry. This traveling exhibition engages your hands, brain, and body in playful investigations of this most visible branch of math. Find out where and when you can visit Geometry Playground. Explore the exhibition through these three experience-based themes: Geometry Garden
15 Options for Creating Screen Capture Images and Videos - Including on Chromebooks For the next few days I'm taking some time off to relax, play with my dogs, and ski with friends. Rather than leave the blog dormant for a few days, I'm re-running some of the most popular posts of the year. TechSmith Snagit is a screen capture tool from the producers of the popular screencasting tools Jing and Camtasia. TechSmith Snagit is a Chrome app and extensions that allows you to capture all or part of screen then draw and write on your screen capture. The Snagit Chrome extension is what allows you to capture your screen.
How to make 3D paper ball ornaments I love 3D paper things. Love. And when I saw a little picture of what appeared to be paper balls in a CB2 catalog, I thought, "I am going to make those." Online Logo This is a simplified version of the programming language Logo. Use it to draw shapes by moving the turtle (arrow) around the screen using the following commands: fd (Forward) Example: fd 10 will move the turtle forward ten steps. Min 100 i topplista på webbsidor för åk7-9 Min 100 i topplista på webblänkar för förskolan-åk6 Matematik www.Nomp.se www.learningbox.com/Base10/BaseTen.html www.skolplus.se http://burkar.nu/ma/ma-lankar.html http://mathway.com/ http://coolmath-games.com/ www.arcademicskillbuilders.com/ http://schooltimegames.com/Mathematics.html http://ur.se/Ung/Amnen/Matematik/ www.solvare.net/ma/multiplikation.html www.sparklebox.co.uk/maths/calculations/ www.ixl.com/ http://realworldmath.org/Real_World_Math/RealWorldMath.org.html http://webbmagistern.se/ http://ncm.gu.se/mv_aktiviteter www.smarttutor.com/home/games/Tire_jump.swf www.ur.se/matte/ www.arstaskolan.se/index.php?option=com_hwdvideoshare&Itemid=186&task=categories www.multiplication.com/games www.lankskafferiet.org/v2/cgi-bin/subjects.cgi?node=10 Svenska/Språk http://storybird.com/ http://littlebirdtales.com/ www.Satsdelar.se http://stripgenerator.com/ http://writecomics.com/ www.Skolplus.se http://www.fritext.se/ http://papunet.net/spel/… I "Allmänt" PEPonline, lektioner på nätet:)
10 Awesome Web Tools Teachers should Be Using Educational Technology and Mobile Learning is back to you with another list of some great educational websites. We have meticulously handpicked this compilation and we want those of you who, because of their time constraints or any other reasons, could not keep up with the sweeping influx of the web tools to have a chance to get to know some useful tools to use both for their professional development and with their students as well. You can also check our archive for other compilations. Have a look at the list below and share with us your feedback
Länkar för barn • Webben i undervisningen 2013 • andreal • Matematik • Diverse uppgifter • Grammar • övningar • IKT • Inspiration Ipads F-5 • Svenska • spelsidor • asemannebratt • Diverse • Games • Blandade sidor med länkar och tips • kunskap och minne • Åk 4