Elevspel.se - Kunskapsspel för barn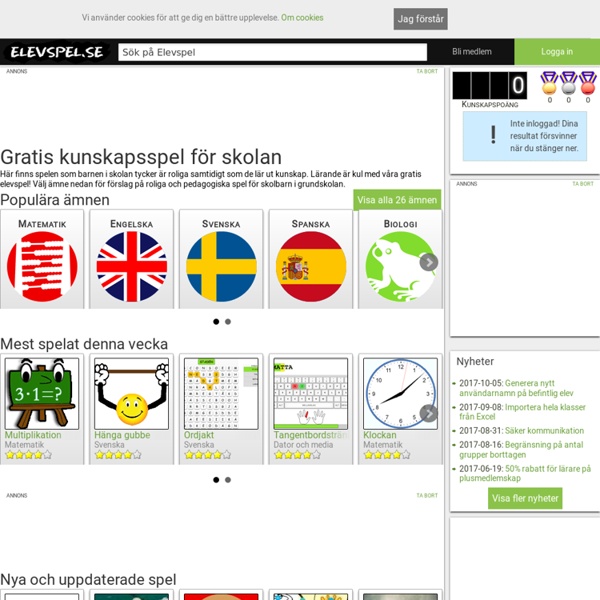 online • Matematik • IKT • Med eleverna • artiklar
for Schools Customizable You can customize the content available in your school. All schools get access to all of the YouTube EDU content, but teachers and administrators can also create playlists of videos that are viewable only within their school's network. School-appropriate School admins and teachers can log in and watch any video, but students cannot log in and can only watch YouTube EDU videos plus videos their school has added. Top 50 Maths mini plenaries ideas to use in an outstanding Maths lesson The current buzz word at the moment is "mini plenary", I am not going to take credit for these but below are my top 50 mini Maths plenary ideas that can be used throughout the lesson to assess learning, demonstrate progress and intervene where necessary. You can also check out an earlier blog on the top 99 ways to demonstrate progress during an Outstanding lesson observation! You can also check out 100 Ideas for Outstanding Lessons which is a great book to help deliver outstanding lessons!! List three things you have learned todayList three things your neighbour has learned today60 second challenge – sum upWrite the new words you have learned this lesson and what they mean in mathematics (also alternative meanings in other curriculum areas)Write three/five top tips for…The answer is … what is the question?
Seven Free Online Whiteboard Tools for Teachers and Students This afternoon through the Free Technology for Teachers Facebook page I received a request for some free whiteboard apps. All of the following seven tools can be used to draw and type on a whiteboard in your browser. With the exception of PixiClip all of these tools can be used collaboratively for brainstorming sessions.
Learn to Draw Animals Print and enjoy our Learn to Draw Animals pages for kids of all ages. Kids can use our step by step illustrations to discover how to draw all sorts of animals and build up their skills and confidence in the process...plus they are just good fun! You could build up a whole folder of these printable pages for rainy days - teachers might even want to laminate them and keep them ready as a time-filler or reward. And of course many of them tie into classroom themes, too. We have about 60 of these animal drawing pages in the pipeline so check back often for new additions! Free Clipart Downloads - Clip Art 011 TO DOWNLOAD: scroll to the link(s) below the image right-click (PC) / control-click (Mac) and select "Save Target as" or "Save Link as" Free Clipart Graphics Downloads Our free clip art graphics have multiple uses: add to your Microsoft clipart with our free downloads as GIF files or free vector graphics files.
The Best Resources On "One-To-One" Laptop/Tablet Programs — Please Suggest More! Here's a link to my two-part Ed Week series on successfully implementing one-to-one programs I'll soon be covering a question in my Education Week Teacher column about one-to-one laptop/tablet programs, and thought it would be useful to readers (and to me!) to create a "Best" lists on the topic (Check out my nine-minute BAM! Radio Podcast on What Are the Real Benefits of a 1:1 Program? What Are the Biggest Challenges?
Geometry Playground Exhibition Geometry Playground will change the way you think about geometry. This traveling exhibition engages your hands, brain, and body in playful investigations of this most visible branch of math. Find out where and when you can visit Geometry Playground. Explore the exhibition through these three experience-based themes: Geometry Garden
15 Options for Creating Screen Capture Images and Videos - Including on Chromebooks For the next few days I'm taking some time off to relax, play with my dogs, and ski with friends. Rather than leave the blog dormant for a few days, I'm re-running some of the most popular posts of the year. TechSmith Snagit is a screen capture tool from the producers of the popular screencasting tools Jing and Camtasia. TechSmith Snagit is a Chrome app and extensions that allows you to capture all or part of screen then draw and write on your screen capture. The Snagit Chrome extension is what allows you to capture your screen.
How to Draw About How to Draw: Learning how to draw is fun, but it can also help kids develop many important skills. These skills, eye-hand coordination, color concepts, picture and number comprehension, form the foundation for early learning success. Enjoy these free, printable how to draw pages! Use of our How to Draw pages: How to Get Kids to Slow Down with Their Work Advice from Real Teachers When it comes to encouraging kids to produce quality work, one of the biggest problems we face is getting kids to slow down and take their time. For some reason, students seem to feel there's some sort of prize for the one who finishes first, or maybe it's just that they want to rush through some assignments to get to other activities they think will be more fun. If this is something that you struggle with in your classroom, read on to learn 25 terrific tips from real teachers who have solved this problem.
Online Logo This is a simplified version of the programming language Logo. Use it to draw shapes by moving the turtle (arrow) around the screen using the following commands: fd (Forward) Example: fd 10 will move the turtle forward ten steps.
feralt0410 • Länkar för barn • Webben i undervisningen 2013 • APPAR, IPAD, YOU TUBE OCH LÄNKAR • andreal • Diverse uppgifter • Matematik • Grammar • övningar • IKT • Inspiration Ipads F-5 • Svenska • spelsidor • asemannebratt • Diverse • Games • Engelska • kunskap och minne