Forvo: o guia de pronúncias. Todas as palavras do mundo pronunciadas por falantes nativos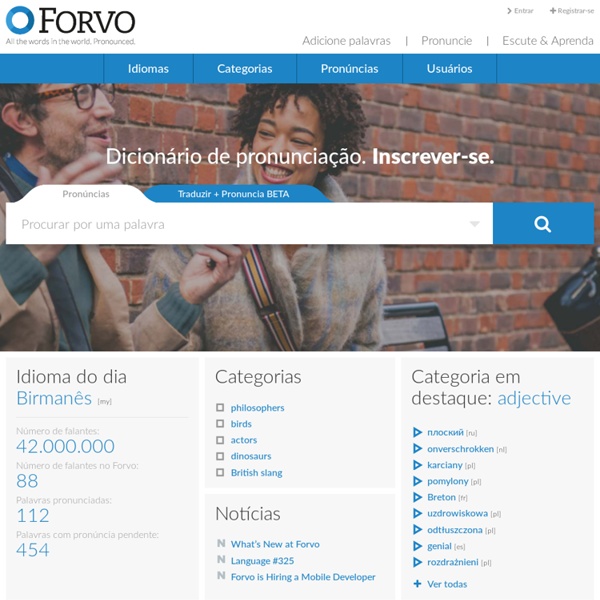 Sites úteis • Languages • ferramenta • translation english_portuguese tools • speaking
Como fazer root no celular ou tablet Android - Hexamob - How to root android phones and tablets Como fazer root no celular ou tablet Android? O que é o ROOT? O root para Android, também conhecido como "fazer root no seu celular ou tablet Android", é um processo que permite aos usuários de smartphones, tablets e outros dispositivos com Android a obter acesso root no seu dispositivo. Isso significa que os usuários poderão ter acesso com permissões de "superusuário" aos seus dispositivos com Android. O root é geralmente realizado com o objetivo de superar as limitações que as empresas de telefonia e os fabricantes de hardware atribuem a alguns dispositivos.
:: Online Free Verb Conjugation :: Verbomatic ! Top 10 Websites to Convert Text to Speech Online for Free Like to convert some text to speech in MP3 or other audio formats? Check out below top 10 websites, which will let you do that online for free, nothing to be installed. ABC2MP3 lets you convert up to 2,000 characters per time, there are 4 voices for your choice, the converted speech will be downloaded in MP3 format. Email address is required to receive the recording. Go to ABC2MP3 2. fortwährend : Portugiesisch » Deutsch Wie kann ich Übersetzungen in den Vokabeltrainer übernehmen? Sammeln Sie die Vokabeln, die Sie später lernen möchten, während Sie im Wörterbuch nachschlagen. Die gesammelten Vokabeln werden unter "Vokabelliste" angezeigt.
Select & Speak: An Easy To Use Text To Speech Extension [Chrome] Select and Speak is a handy extension for Google Chrome that allows users to listen to text from almost any website. The extension has a list of voices (accents) to choose from; you can choose any of the voices that you recognize the clearest and the easiest. To get started, simply install the extension and visit any website. Now, select the text you want it to read and then click on the Select and Speak icon to start listening to the text being read aloud. You can pause/stop the playback anytime by clicking on the pause button when the text is being read aloud.
Dicionário - tradução online - bab.la Oferecemos traduções em diferentes idiomas, desde expressões coloquiais e regionais até vocabulário técnico e específico. Nossos diferenciais incluem filtros de busca, sinônimos, pronúncia, frases de exemplo e muito mais. Escolha o dicionário na lista abaixo. Ajude-nos a melhorar os dicionários sugerindo novas traduções no final da página. Aprendeu alguma expressão em espanhol recentemente? English to French, Italian, German & Spanish Dictionary 55 Great Websites To Download Free Sound Effects | Tools Sound effects are used to emphasize artistic or other content of films, television shows, live performance, animation, video games, music, or other media. These trick of sound are mostly achieved by combining technology, ingenuity and creativity. Sound effects are important for digital media because an appropriate sound effect can easily resemble a real occurrence for a situation. We understand it's kind of fussy to record and process sound effects on one's own.
Direto RTP1 Horário de Emissão: 22:23 - 00:01 Duração: 01:38 Classificação: 10AP Desafio Total é o novo programa das noites de Sábado na RTP1! Neste programa conduzido por Sílvia Alberto e Marco Horácio, 8 celebridades vão aprender talentos diferentes todas as semanas para impressionar os telespectadores. Já os imaginou a fazer magia, breakdance e até cuspi...r fogo? Things to Think About Description Kids' Things to Think About provides 100 prompts to spark thinking for written responses and encourage conversations about ideas and issues for kids. Created by students and teachers in Michigan, it can be used in classrooms or with families by allowing children to explore the prompts and by using them to guide a discussion or lesson. -12 categories of questions including Friends, Family, School, Fun and Feelings.
Wax - [ Homepage ] Wax is a high performance and flexible video compositing and special effects software. The idea for Wax is to be very general purpose and flexible in video compositing and effects, so that you can compose your dream video sequence with ease everytime. Wax can create 2D & 3D special effects and can work in two modes - as a standalone application which would appeal for home users/beginners, and as a "plug-in" to video editors/NLEs which would be more useful for professional editors.
fileDigg Conversor do Acordo Ortográfico - Porto Editora Conversor Ortográfico O Conversor do Acordo Ortográfico da Porto Editora é uma ferramenta gratuita que possibilita a adaptação à nova ortografia, quer em português europeu quer em português do Brasil. O Conversor de texto converte palavras conforme a ortografia antiga para a nova grafia e resolve no mesmo instante qualquer dúvida ortográfica.
Languages • languages