Scribble Maps - Draw on google maps with scribblings and more!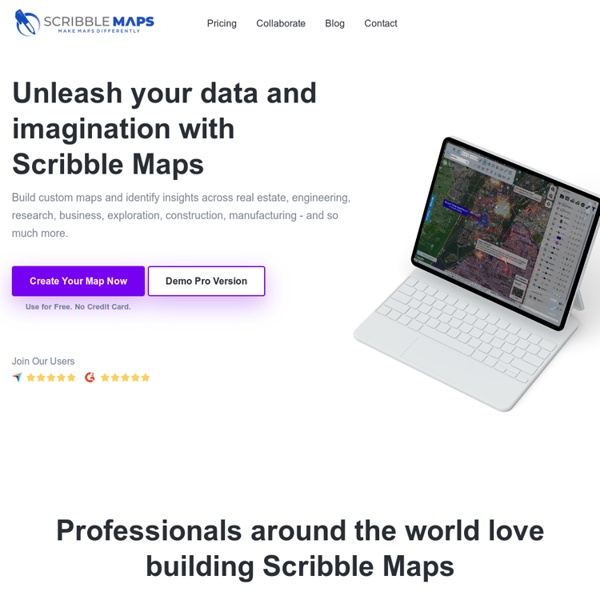 image edit • 101 Most Useful Websites • The 101 Most Useful Websites on the Internet • Map • Web 2.0 Classroom Tools
Scribble Maps - Create custom google maps with scribblings and more! Welcome to Scribble Maps 2.0! This is our new version of Scribble Maps which we are piloting. If you want to get to the old Scribble Maps, it can be found here. There are alot of new features you can check out including: Dynamic Map image generation (great for embedding on blogs) Settings found in bottom left. Lets you disable marker clustering and switch measurement style. 78. Formspring- Personal questions Be yourself. Be anonymous. Be anyone. Noteflight Your music, everywhere. Create music notation right in your browser and be part of the world's best music composition community. More... Noteflight® is an online music writing application that lets you create, view, print and hear professional quality music notation right in your web browser.
9 Excellent Free Map Creation Tools for Teachers and Students Web 2.0 technologies have made map creation an easy job for both teachers and students. It is no longer that hard task that requires a set of complicated skills . Now with just some few clicks you can get your map up and running. You might be probably thinking now about Google Maps and Google Earth. Well these are among my favourites too but they are not the only ones out there. There are , in fact, a wide variety of much more simpler and free tools that do not even require any registration to use them.
newspaper map We have indexed all newspapers and plotted their correct locations, in 39 countries. Might have missed some. And most newspapers in another 199 countries, a bunch of them not in their correct locations. Create Animated Presentations Online Animate your Presentations! Choose your PowToon access subscription that works best for you! Bring your presentations to life in a powerful way! 65. Example domains Certain domains are set aside, and nominally registered to "IANA", for specific policy or technical purposes. Example domains As described in RFC 2606, a number of domains such as example.com and example.org for documentation purposes. These domains may be used as illustrative examples in documents without prior coordination with us. They are not available for registration or transfer.
RSS Feed Search Engine Instant RSS Search engine will help you discover RSS feeds on the web around your favorite topics. You may use the tool to search RSS feeds for blogs, news websites, podcasts and more. It is instant search and hence the search results display as you type. You may use any of the Google search operators - like allintitle, inurl, etc. - for more accurate results. Best of the Summer - Map Creation Tools For the next few days my schedule is packed with travel and two conferences. At the same time, historically this week is when many readers return to the blog after taking a break during the summer. Therefore, for the next couple of days I'll be re-running the most popular posts since June 1st, 2012.
ChronoZoom ChronoZoom is an educational tool for teachers and students who want to put historical events in perspective. A great many resources have been created already in ChronoZoom for your enjoyment and enlightenment. Start Exploring Use ChronoZoom to get a perspective of the extensive scale of time and historical events relative to what happened around the world. Become an author yourself!
Atom Smasher's Error Message Generator Copy this link to send this page to a friend: http://atom.smasher.org/error/?icon=skull&title=&text=&b1=&b2=&b3= Do not link directly to the image! No Hot-Linking! The 101 Most Useful Websites 06 Apr 2014 The 101 Most Useful Websites on the Internet is a frequently updated list of lesser-known but wonderful websites and cool web apps. couch mode print story Here are some of the most useful websites on the internet that you may now know about. Web Screenshots - Take a Screen Capture Online This tool will help you capture a screenshot image of any public web page with a click. You don't need any software or browser extensions to capture the image of any web page. And it works with lengthy web pages too that extend below the fold. To get started, simply paste the URL of the web page in the input box and hit the "Screen Capture" button. You can capture a maximum of 10 screenshots per hour and captured images are cached to reduce server load. Internally, the tool renders the requested web page in a 1024x768 Webkit browser and saves the full page as a PNG image.
Tools • Technology Integration • google_earth_add_ons • Social Studies • charts & diagrams • Maps • Google Earth & maps • Maps • education general • Free Online Services • Geography & Mapping • World Geography Resources • Teaching Tools • Aplicaciones Web • Google • Kreativa sidor • curriculum resources • Science • מפה • Maps • GeoSpatial • Tech • ICT and Geography • Google • English • thought shot • Maps. • Kartor • Travel • bielfeldtk