FreeDNS - Free DNS - Dynamic DNS - Static DNS subdomain and domain hosting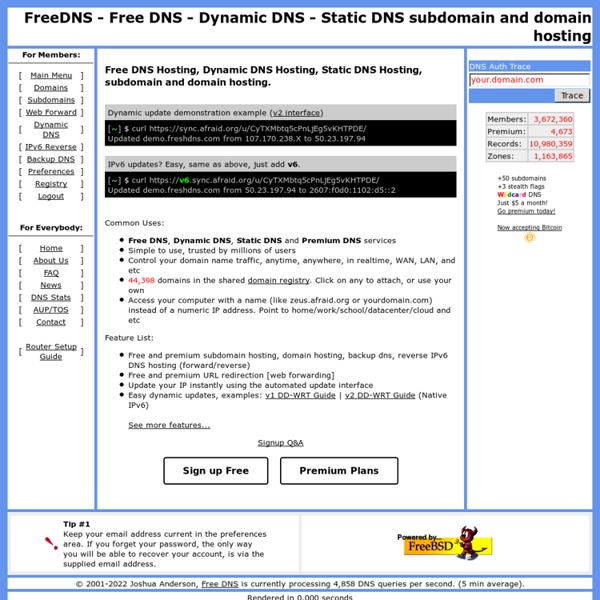 Geekdom • Réseau, SSH, VNC • NICE STUFF • Linux • registro.com.br
14 Best DIY Gadget Projects of 2011 Becoming a "maker" is a very green thing to do, and we love seeing fun, interesting and do-able projects to test out our builder instincts. This year, we've come across some fantastic projects by creative makers, from building your own solar-powered emergency radio to whipping up a solar oven with sun-tracking capabilities. Check out the top 14 projects from this year, and start making your to-do list. FreeNAS forum • View topic - Dynamic DNS Updates Not Working (freedns.afraid.org) I'm having a problem with the DynDNS server that I haven't found a solution to via searching. Basically, I'm using freedns.afraid.org but I can't get it to update my IP. I switched over to another domain I have with dyndns.org, put in a bad IP, set the server, and voila...it worked perfectly.
100+ awesome free and open source applications - Software - Seopher.com Posted on Tuesday 27th of September 2011 at 13:05 in SoftwareIt has always amazed me quite how many incredible, varied and useful applications are available for free on the Internet. Be it free, open source, web-based or merely passive trials - the number of top quality items on offer is huge. The purpose of this list is to help people realise that the free and open source software communities are expansive and generous.
How To Set Up WebDAV With Lighttpd On Debian Squeeze Version 1.0 Author: Falko Timme <ft [at] falkotimme [dot] com> Follow me on Twitter Last edited 03/26/2012 This guide explains how to set up WebDAV with lighttpd on a Debian Squeeze server. o Migrar seu Antigo DNS para o Registro.br Após a publicação do artigo Domínio .com.br para seu Blog Ficou Mais Simples, recebi alguns e-mails sugerindo um tutorial que mostrasse como migrar o DNS configurado no ZoneEdit (e outros serviços) para o Registro.br. É isso o que você verá neste artigo: se você possui um domínio .com.br, verá como fazer no Registro.br as configurações necessárias para o funcionamento do seu domínio e do seu e-mail personalizado no Google Apps. Introdução
ALL Star Wars Paper Snowflake Design Patterns Featured, Pop Culture — By BB Admin on December 15, 2011 5:33 pm Got some time on your hands and some scissors? Are you a Star Wars Fan-atic? Well, put that time and talent to good and practical use by creating your own Star Wars Snowflakes from paper cuts. Scroll to the bottom to see where you can download patterns for all of these Star Wars snowflake patterns. Don't wait for a disappointing snow where none of the snowflakes resemble George Lucas creations – Make your own snowflakes in the shape of your beloved Star Wars characters such as… Se connecter en SSH - Aide de l'Autre Net La connexion en SSH nécessite d'avoir au préalable activé la connexion sécurisée à votre compte. Pensez, lors de cette étape, à bien noter le nom d'hôte indiqué par le bureau virtuel (quelque chose ressemblant à slave1.vds.lautre.net). Connexion SSH sous Mac OS ou Linux Sous Linux, un client SSH est habituellement installé par la plupart des distributions. Si ça n'est pas le cas (si la commande SSH n'est pas disponible), il vous suffit d'installer le paquet nommé openssh ou quelque chose d'équivalent.
Current position of the ISS <div style="width: 22em; position: absolute; left: 50%; margin-left: -11em; color: red; background-color: white; border: 1px solid red; padding: 4px; font-family: sans-serif"> Your web browser needs to have JavaScript enabled in order for this application to display correctly. </div> What the astronauts see right now Map DataImagery ©2014 NASA, TerraMetrics
KLook: A Swiss Army Knife of media type viewers It is a joy to come across an application that works so well and combines the features and functionalities of several applications that it is difficult to not want to tell everybody about it. The application I am referring to, is called KLook. That is "look" prefixed with a "K." Seu domínio próprio sem o WWW Na série de artigos Mudando para seu domínio próprio, mostrei como você pode cadastrar um domínio próprio e direcioná-lo para seu blog. Este novo artigo, que complementa a série, mostra as configurações que você precisa fazer para que seu blog seja acessado também sem o "www" (por exemplo gerenciandoblog.com.br). Se você seguiu corretamente as instruções do artigo Mudando para seu domínio próprio – Parte 2, seu blog já é acessado através do endereço completo, ou seja, com o "www" (ainda no meu exemplo, www.gerenciandoblog.com.br).
The Best Science Fiction Books (According to Reddit) Recently, someone asked Reddit for a list of the best science fiction books of all time. Being a fan of sci-fi, and wanting to expand my own reading list, I thought it would be helpful to tally the results and preserve them here for future reference. I've also included selected quotes from the comments, as well as my own notes on the books I've already read. PS: All book images in this post are copyright Amazon, and were retrieved using my Big Book Search Engine. Fonctionnement du Système DNS sur Windows Server 2003 1.1 Introduction à la résolution de noms Pour pouvoir communiquer, chaque machine présente sur un réseau doit avoir un identifiant unique. Avec le protocole IP (Internet protocole), cet identifiant se présente sous la forme d'un nombre d'une longueur de 32 bits. On parle d'adresses IP. Cependant pour un utilisateur, il est impensable de retenir les adresses IP de chaque ordinateur. C'est pourquoi des mécanisme de résolution de noms ont été mis en place.
Techie • networkstuff • dns • Websites • Information • DNS WhoIs