FreeDNS - Free DNS - Dynamic DNS - Static DNS subdomain and domain hosting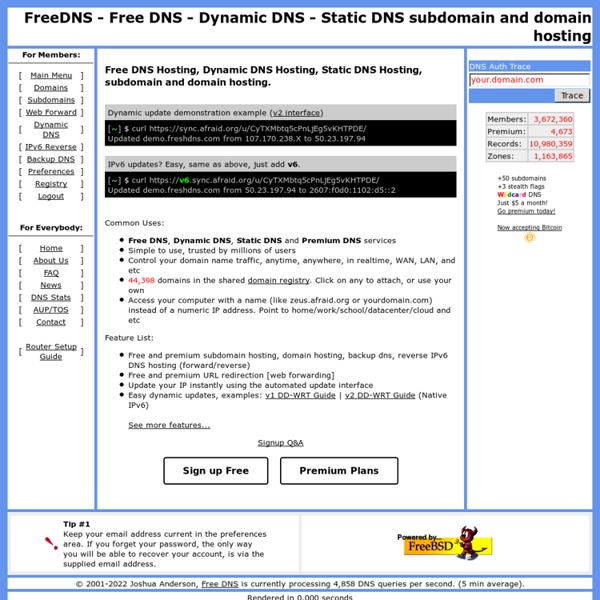 Réseau, SSH, VNC • NICE STUFF • Linux • registro.com.br • networkstuff
FreeNAS forum • View topic - Dynamic DNS Updates Not Working (freedns.afraid.org) I'm having a problem with the DynDNS server that I haven't found a solution to via searching. Basically, I'm using freedns.afraid.org but I can't get it to update my IP. I switched over to another domain I have with dyndns.org, put in a bad IP, set the server, and voila...it worked perfectly. .htaccess Tutorial - Part 1 Introduction In this tutorial you will find out about the .htaccess file and the power it has to improve your website. Although .htaccess is only a file, it can change settings on the servers and allow you to do many different things, the most popular being able to have your own custom 404 error pages. .htaccess isn't difficult to use and is really just made up of a few simple instructions in a text file. Will My Host Support It?
xmonad | the tiling window manager that rocks o Migrar seu Antigo DNS para o Registro.br Após a publicação do artigo Domínio .com.br para seu Blog Ficou Mais Simples, recebi alguns e-mails sugerindo um tutorial que mostrasse como migrar o DNS configurado no ZoneEdit (e outros serviços) para o Registro.br. É isso o que você verá neste artigo: se você possui um domínio .com.br, verá como fazer no Registro.br as configurações necessárias para o funcionamento do seu domínio e do seu e-mail personalizado no Google Apps. Introdução How to Subnet a Network : Learn-Networking.com A properly designed subnet can do wonders for the security and performance of a network. The main idea in subnetting is to divide a network into smaller pieces, which we call subnets. Actually implementing a subnet is typically more difficult than simply using the default subnet mask of 255.255.255.0.
Se connecter en SSH - Aide de l'Autre Net La connexion en SSH nécessite d'avoir au préalable activé la connexion sécurisée à votre compte. Pensez, lors de cette étape, à bien noter le nom d'hôte indiqué par le bureau virtuel (quelque chose ressemblant à slave1.vds.lautre.net). Connexion SSH sous Mac OS ou Linux Sous Linux, un client SSH est habituellement installé par la plupart des distributions. Si ça n'est pas le cas (si la commande SSH n'est pas disponible), il vous suffit d'installer le paquet nommé openssh ou quelque chose d'équivalent.
Cool gadgets for creative offices Each designer or agency office should be filled with creative and innovative gadgets that surprise our clients and stimulate the imagination. A gadget is a small tool such as a machine that has a particular function, but is often thought of as a novelty. Gadgets are sometimes referred to as gizmos. This will not make you a better designer, but looks are important, specially in front of your clients. Are you a good designer?
How To Set Up WebDAV With Lighttpd On Debian Squeeze Version 1.0 Author: Falko Timme <ft [at] falkotimme [dot] com> Follow me on Twitter Last edited 03/26/2012 This guide explains how to set up WebDAV with lighttpd on a Debian Squeeze server. Seu domínio próprio sem o WWW Antes de ir às instruções, dou os créditos do procedimento ao Alan Dantas, que respondeu esta questão no Fórum de Ajuda do Blogger. As alterações são pequenas e simples de serem feitas. 1º passo – Alterando o servidor de DNS
How to Crack a Wi-Fi Network's WEP Password with BackTrack You already know that if you want to lock down your Wi-Fi network, you should opt for WPA encryption because WEP is easy to crack. But did you know how easy? Take a look. Fonctionnement du Système DNS sur Windows Server 2003 1.1 Introduction à la résolution de noms Pour pouvoir communiquer, chaque machine présente sur un réseau doit avoir un identifiant unique. Avec le protocole IP (Internet protocole), cet identifiant se présente sous la forme d'un nombre d'une longueur de 32 bits. On parle d'adresses IP. Cependant pour un utilisateur, il est impensable de retenir les adresses IP de chaque ordinateur. C'est pourquoi des mécanisme de résolution de noms ont été mis en place.
Lorenzo Duran L'artista spagnolo Lorenzo Duran si avvale delle foglie come tela per le sue incisioni. Dopo il lavaggio e l'essiccazione, rimuove con precisione chirurgica ed estrema cura i segmenti in eccesso, usando una tecnica simile a quella del tradizionale paper cutting. Quest'ultimo passo è ovviamente il più difficile vista la fragilità del materiale scelto, il risultatò di questo processo è una serie di affascinanti disegni geometrici incredibilmente belli e dilicati. Grazie a Francesca per il suggerimento. via: illusion.scene360.com Autore: Mauro Caramella
dns • Websites • Information • DNS WhoIs