MykoWeb: Mushrooms, Fungi, Mycology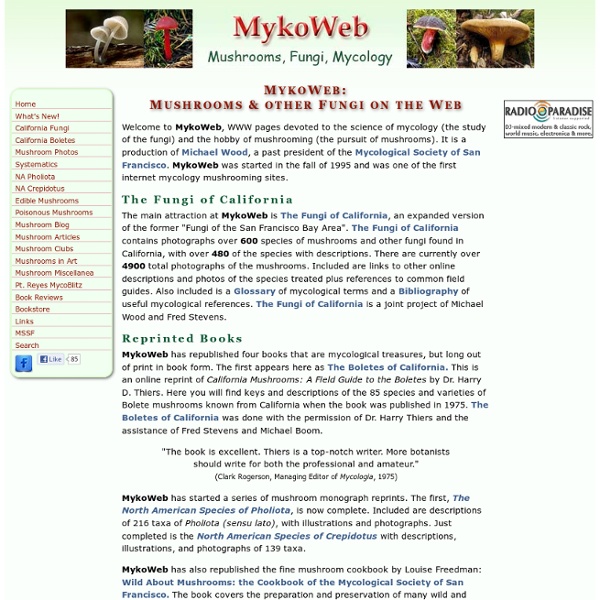 Welcome to MykoWeb , WWW pages devoted to the science of mycology (the study of the fungi) and the hobby of mushrooming (the pursuit of mushrooms). It is a production of Michael Wood , a past president of the Mycological Society of San Francisco . MykoWeb was started in the fall of 1995 and was one of the first internet mycology mushrooming sites.
Mushrooms • Mycology • Botany • Mycology • Botany
Everything Mushrooms Latest News Save the Date! Saturday April 6th: Everything Mushrooms Spring Open House, Workshop, and Dinner. March 8, 2013 We're excited to announce final details for our Spring Open House at Everything Mushrooms HQ! We are looking forward to a fun, casual, and informative afternoon of mushroomy nerdiness. Mycology Mushrooms are a kind of fungal reproductive structure Mycology (from the Greek μύκης, mukēs, meaning "fungus") is the branch of biology concerned with the study of fungi , including their genetic and biochemical properties, their taxonomy and their use to humans as a source for tinder , medicine (e.g., penicillin ), food (e.g., beer , wine , cheese , edible mushrooms ) and entheogens , as well as their dangers, such as poisoning or infection . From mycology arose the field of phytopathology , the study of plant diseases, and the two disciplines remain closely related because the vast majority of "plant" pathogens are fungi. A biologist who studies mycology is called a mycologist .
Flowers in Ultra-Violet The compilation of species will continue to be updated at irregular intervals. All species listed here have been documented, and links are added whenever I can find spare time for updating. These images are made for illustrative purposes, not as artistic statements per se. However, there are lots of food for thought in the convoluted ways Nature expresses itself, so for once the artist can step backand let the subjects speak for themselves. "Das Ding an Sich" to paraphrase Kant, or Eigenvalue of Nature. If you are unfamiliar with the botany, just select any species indicated as having a "strong" response to learn how this looks.
MSA site » Welcome The Mycological Society of America is a scientific society dedicated to advancing the science of mycology - the study of fungi of all kinds including mushrooms, molds, truffles, yeasts, lichens, plant pathogens, and medically important fungi. Our scholarly journal Mycologia is one of the top mycological serials worldwide. Our bimonthly newsletter Inoculum keeps members up to date on fungal news of all kinds. MSA members meet annually to exchange information about all aspects of fungi.
Drift Seeds and Drift Fruits I magine yourself floating helplessly on the open sea, thousands of miles from land, your destination at the mercy of the wind and currents. Perhaps eventually you may drift ashore on the coral sand beaches of a remote tropical island or distant continent. This is precisely what happens to countless thousands of tropical drift seeds and fruits, a remarkable flotilla of flowering plants that travel the oceans of the world.
Kalys - Agar Agar (10 x 2g) Sachets Add product to basket to view shipping cost. Mushroom A mushroom (or toadstool ) is the fleshy, spore -bearing fruiting body of a fungus , typically produced above ground on soil or on its food source. The standard for the name "mushroom" is the cultivated white button mushroom, Agaricus bisporus ; hence the word "mushroom" is most often applied to those fungi ( Basidiomycota , Agaricomycetes ) that have a stem ( stipe ), a cap ( pileus ), and gills (lamellae, sing. lamella ) or pores on the underside of the cap. "Mushroom" describes a variety of gilled fungi, with or without stems, and the term is used even more generally, to describe both the fleshy fruiting bodies of some Ascomycota and the woody or leathery fruiting bodies of some Basidiomycota , depending upon the context of the word.
Botany.com: Plant Encyclopedia to Identify Plants, Flowers, Trees & More Botany.com features an encyclopedia of plants and flowers to help our visitors learn how to identify indoor plants, also called houseplants, as well as outdoor plants. Our Plant Encyclopedia provides information about each plant or flower including a general description, methods and requirements of cultivation for each plant or flower, such as indoor or outdoor planting, soil and temperature requirements, pruning, and other important details such as, the means of propagation (seeds, cuttings, division, etc.), and the different varieties and hybrids of each plant or flower. Our easy to use directory of flowers and plants includes information on annuals, bulbs, cactus, succulents, fruit, grass, water plants, herbs, spices, houseplants, perennials, shrubs, bushes, trees, vegetables, vines, crawlers, wild flowers, pest control, plant diseases and a helpful plant & flower dictionary also called a Botanical Dictionary on Botany.com
Mushroom kits and mycology supplies, Mushbox makes it happen. It is always important to spend time learning about a hobby you are interested in. That includes mushroom growing and mycology, if you want to succeed in this hobby you need to read articles, forums and practice the knowledge to gain real life experience. Checkout the articles we have prepared below, this information should give you a simple base to start from and help you get growing the friendly fungi. You should also consider a friendly mushroom forum like Shroomtalk.com Mushrooms Substitutes: tempeh OR eggplant OR asparagus (Like mushrooms, this works well in a cream soup.) Fungus A fungus ( pron.: / ˈ f ʌ ŋ ɡ ə s / ; plural : fungi [ 3 ] or funguses [ 4 ] ) is a member of a large group of eukaryotic organisms that includes microorganisms such as yeasts and molds ( British English : moulds), as well as the more familiar mushrooms . These organisms are classified as a kingdom , Fungi , which is separate from plants , animals , and bacteria . One major difference is that fungal cells have cell walls that contain chitin , unlike the cell walls of plants, which contain cellulose . These and other differences show that the fungi form a single group of related organisms, named the Eumycota ( true fungi or Eumycetes ), that share a common ancestor (a monophyletic group ). This fungal group is distinct from the structurally similar myxomycetes (slime molds) and oomycetes (water molds).
Genes may travel from plant to plant to fuel evolution Feb. 16, 2012 — Evolutionary biologists at Brown University and the University of Sheffield have documented for the first time that plants swap genes from plant to plant to fuel their evolutionary development. The researchers found enzymes key to photosynthesis had been shared among plants with only a distant ancestral relationship. The genes were incorporated into the metabolic cycle of the recipient plant, aiding adaptation. Mycology Resources The WWW VL: Mycology Hello, myco-explorers. These pages are an internet relic. Updates ceased in 2005, when the phenomenal proliferation of internet resources made it impossible to keep up, and support for the search function became unavailable. This site had a solid 12 year run of exponential growth.
Pilze • Home & Garden • Mycological Fun • Unsorted • PLANTS