MykoWeb: Mushrooms, Fungi, Mycology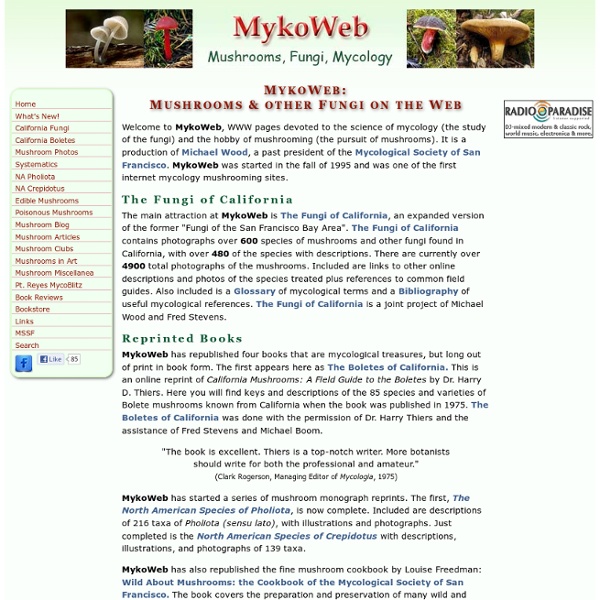 Welcome to MykoWeb, WWW pages devoted to the science of mycology (the study of the fungi) and the hobby of mushrooming (the pursuit of mushrooms). It is a production of Michael Wood, a past president of the Mycological Society of San Francisco. MykoWeb was started in the fall of 1995 and was one of the first internet mycology mushrooming sites. The Fungi of California The main attraction at MykoWeb is The Fungi of California, an expanded version of the former "Fungi of the San Francisco Bay Area". The Fungi of California contains photographs over 650 species of mushrooms and other fungi found in California, with over 490 of the species with descriptions.
Mushrooms • Mycology • arcturusxiv • Botany • Mycology
Everything Mushrooms Latest News It's a new year, we have new mushroom hats in stock and a spawn sale is in full swing!January 17, 2014It's a new year and time to hit the ground running! We're gearing up for a fantastic spring mushroom season, planning new cultivation projects, expanded availability of mushroom plug spawn, and hosting whole new workshop series. We're also excited to be exploring some new cultures this year, working with some interesting and seasonal varieties to spice up what's available in our Ready to Grow...A holiday flash sale on shiitake mushroom plugs and some yummy Polish Christmas Eve soup.December 6, 2013We prefer to sell our mushroom spawn as fresh as possible from our incubator.
Mycology Mushrooms are a kind of fungal reproductive structure From mycology arose the field of phytopathology, the study of plant diseases, and the two disciplines remain closely related because the vast majority of "plant" pathogens are fungi. A biologist specializing in mycology is called a mycologist. Historically, mycology was a branch of botany because, although fungi are evolutionarily more closely related to animals than to plants, this was not recognized until a few decades ago. Daily Grail Frontpage As we've mentioned recently, alternative history author Graham Hancock (Fingerprints of the Gods) has been traveling the globe, investigating a number of 'anomalous' megalithic sites that seem to push the date of the first human civilisations back many years, such as Gobekli Tepe in Turkey and Gunung Padang in Indonesia. Though Graham's new book about this topic isn't due till next year, interested readers will definitely want to check out a new feature article, about his research so far, that has just gone live on his website: "From Indonesia To Turkey New Archaeological Discoveries Uncover The Mysteries Of A Lost Civilisation". "Everything we've been taught about the origins of civilization may be wrong," says Danny Natawidjaja, PhD, senior geologist with the Research Centre for Geotechnology at the Indonesian Institute of Sciences.
Flowers in Ultra-Violet The compilation of species will continue to be updated at irregular intervals. All species listed here have been documented, and links are added whenever I can find spare time for updating. These images are made for illustrative purposes, not as artistic statements per se. However, there are lots of food for thought in the convoluted ways Nature expresses itself, so for once the artist can step backand let the subjects speak for themselves. "Das Ding an Sich" to paraphrase Kant, or Eigenvalue of Nature. If you are unfamiliar with the botany, just select any species indicated as having a "strong" response to learn how this looks.
mycology About this page Our systems have detected unusual traffic from your computer network. This page checks to see if it's really you sending the requests, and not a robot. Why did this happen? This page appears when Google automatically detects requests coming from your computer network which appear to be in violation of the Terms of Service. The block will expire shortly after those requests stop. Mushrooms Substitutes: tempeh OR eggplant OR asparagus (Like mushrooms, this works well in a cream soup.) Mushroom "Mushroom" describes a variety of gilled fungi, with or without stems, and the term is used even more generally, to describe both the fleshy fruiting bodies of some Ascomycota and the woody or leathery fruiting bodies of some Basidiomycota, depending upon the context of the word. Identification[edit] Morphological characteristics of the caps of mushrooms Identifying mushrooms requires a basic understanding of their macroscopic structure. Most are Basidiomycetes and gilled. Their spores, called basidiospores, are produced on the gills and fall in a fine rain of powder from under the caps as a result.
Welcome to the Edge of Darkness Welcome to the mystical fantasy world that is The Edge of Darkness. Within this ancient alternate reality lies a vast medieval realm know as Doraak, filled with adventure, danger and wonders beyond imagination. Almost every type of terrain conceivable can be found within Doraak's ever expanding boundaries..from the icy arctic wastelands to the mine-filled Tahrenian mountain ranges of the dwarves. Genes may travel from plant to plant to fuel evolution Evolutionary biologists at Brown University and the University of Sheffield have documented for the first time that plants swap genes from plant to plant to fuel their evolutionary development. The researchers found enzymes key to photosynthesis had been shared among plants with only a distant ancestral relationship. The genes were incorporated into the metabolic cycle of the recipient plant, aiding adaptation.
MSA site » Welcome The Mycological Society of America is a scientific society dedicated to advancing the science of mycology - the study of fungi of all kinds including mushrooms, molds, truffles, yeasts, lichens, plant pathogens, and medically important fungi. Our scholarly journal Mycologia is one of the top mycological serials worldwide. Our bimonthly newsletter Inoculum keeps members up to date on fungal news of all kinds. MSA members meet annually to exchange information about all aspects of fungi. Oyster Mushroom Cultivation | Mushroom Cultivation Mushroom is an exotic and nutritious source of vegetarian food. It has many varieties. Most of them are edible.
Fungus A group of all the fungi present in a particular area or geographic region is known as mycobiota (plural noun, no singular), e.g. "the mycobiota of Ireland".[5] Etymology The English word fungus is directly adopted from the Latin fungus (mushroom), used in the writings of Horace and Pliny.[6] This in turn is derived from the Greek word sphongos/σφογγος ("sponge"), which refers to the macroscopic structures and morphology of mushrooms and molds;[7] the root is also used in other languages, such as the German Schwamm ("sponge") and Schimmel ("mold").[8] The use of the word mycology, which is derived from the Greek mykes/μύκης (mushroom) and logos/λόγος (discourse),[9] to denote the scientific study of fungi is thought to have originated in 1836 with English naturalist Miles Joseph Berkeley's publication The English Flora of Sir James Edward Smith, Vol. 5.[7] Characteristics
PC and console games reviews, news and videos Have you heard about USgamer.net? It covers the best in video gaming from an American perspective. Click here to visit! x Sign in Create an account Login with Facebook
Pilze • Botany • Home & Garden • Mycological Fun • Unsorted • PLANTS