Effective Web 2.0 Tools for the Classroom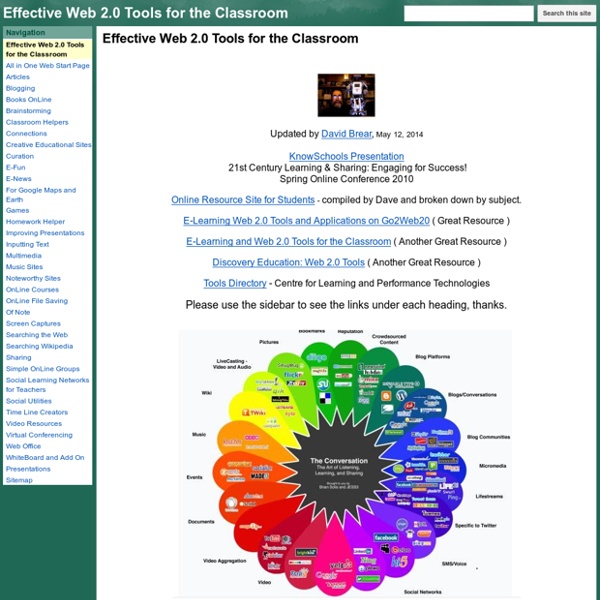 Updated by David Brear, December 5, 2012 KnowSchools Presentation 21st Century Learning & Sharing: Engaging for Success! Spring Online Conference 2010 Online Resource Site for Students - compiled by Dave and broken down by subject. E-Learning Web 2.0 Tools and Applications on Go2Web20 ( Great Resource ) E-Learning and Web 2.0 Tools for the Classroom ( Another Great Resource )
https://sites.google.com/site/educationalweb20tools/Home
Web 2.0 Directories • Errekurtsoak • Herramientas de diferentes áreas • COMPILATING • On the Web
20 Web 2.0 Sites NoSign Up This is a post I've been wanting to do for some quite some time but had to do some research to get the information I needed. A huge factor for schools in dealing w/ students and working online is CIPA/COPPA compliance. This is to ensure student safety as well as monitor/filter their online behavior. As Web 2.0 becomes more popular and Educational Technology online sites replace desktop software this has become more of an issue.
New Posted Resources 02/16/2012 Blogging About The Web 2.0 Connected Classroom A Blend Of Technology And Education Thursday, February 16, 2012 New Posted Resources 02/16/2012 Posted from Diigo. 15 Free Learning Tools You've Probably Never Heard Of SCITABLEScitable, created by NatureEducation, is an online collaborative space for science learning. Visitors to the site can browse or search through science articles and ebooks, ask experts science-related questions, build an online classroom, or even share their own content. Materials on the site are focused on the life sciences, but there are also numerous resources that can help learners start or accelerate a career in science.TVOSimilar to PBS, the Ontario-based television station offers many of the same educational resources and opportunities for learning. Even if you can't tune in live, you can take advantage of dozens of videos on topics like science, nature, business, tech, education, and culture.
50 sitios útiles que no sabías que existían | Tecnomundo 1.Screenr.com: Graba un video de la pantalla de tu PC y envíalo directamente a Youtube. 2. Goo.gl: Acorta direcciones de URL. The Best Web 2.0 Applications For Education In 2012 — So Far I usually just do a year-end list on Web 2.0 Applications For Education and many other topics, but it gets a little crazy having to review all of my zillion posts at once. So, to make it easier for me — and perhaps, to make it a little more useful to readers — I'm going to be publishing mid-year lists, too. These won't be ranked, unlike my year-end "The Best…" lists, and just because a site appears on a mid-year list doesn't guarantee it will be included in an end-of-the-year one. But, at least, I won't have to review all my year's posts in December… As usual, in order to make this list, a site had to be:
EdShelf 2.0 Tools edshelf Filter by Price Age Subject Platform Category Prezi Presentation Creators Dropbox File Sharing Evernote Note-Taking YouTube Teachers Video Content Cómo crear tu propia Khan Academy Salman Khan es el fundador de la Khan Academy, una organización educativa sin ánimo de lucro. En su página web puedes encontrar gratuitamente una colección de más de 2.700 microlecciones a través de videos tutoriales hospedados en YouTube. Khan Academy, junto con MITx, Uncollege de Stanford o YouTube para Escuelas, confirman una tendencia tecnológica interesante en Educación. Los profesores, cada vez más, graban sus clases y las cuelgan en la nube para que sean accesibles a estudiantes en cualquier momento y en cualquier lugar. Las ventajas son claras.
30 sitios recomendados con recursos vectoriales gratuitos La tecnología actual nos permite tener acceso a todo tipo de recursos, `pero a pesar de todo, todavía hay momentos en que la búsqueda de ciertos recursos en particular resultar difícil. Uno de esos problemas a los que se enfrenta un diseñador web o gráfico, es la falta de imágenes vectoriales de uso libres y gratuitas. Las imágenes vectoriales tienen la ventaja frente a otros formatos, de su gran flexibilidad, son imágenes sin una resolución fija, por lo que nos permite adaptarlas a cualquier dimensión, sin perder la calidad de las imágenes originales. Además estas imágenes vectoriales nos puede ahorrar mucho esfuerzo, sobre todo teniendo en cuenta que no todos podemos dibujar bien, o simplemente carecemos del talento en este campo. No sólo eso, a veces no tenemos el tiempo para realizar esos dibujos, po lo que este tipo de imágenes vectoriales nos pueden ayudar a ahorrar mucho tiempo.
Classroom tools • Web 2.0 Tools