Led Zeppelin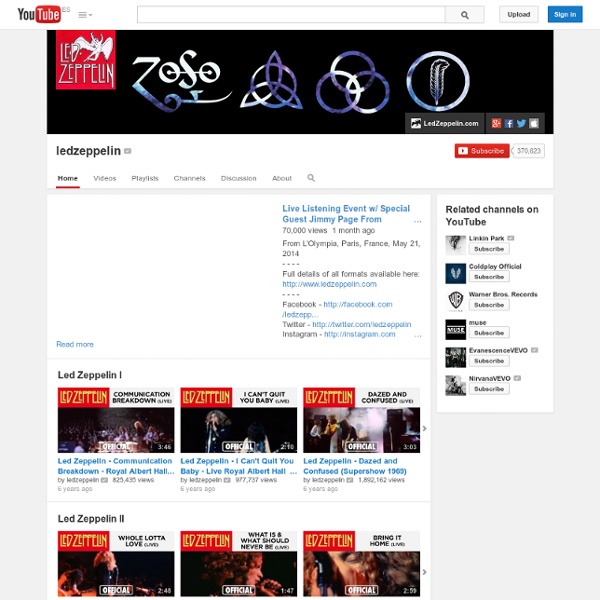 http://www.youtube.com/user/ledzeppelin
musician pearls • Led Zeppelin • Led Zeppelin • LED ZEPPELIN • Led Zeppelin's tracks
The Official Website of Uriah Heep We can announce the following statement from Frontiers Records : URIAH HEEP brand new studio album "Outsider" out in June on Frontiers ! New promo photo april 2014 Broadcast Yourself. Welcome to YouTube! The location filter shows you popular videos from the selected country or region on lists like Most Viewed and in search results.To change your location filter, please use the links in the footer at the bottom of the page. Click "OK" to accept this setting, or click "Cancel" to set your location filter to "Worldwide".
Led Zeppelin Un article de Wikipédia, l'encyclopédie libre. Led Zeppelin L'œuvre du groupe s'inspire de nombreuses sources et genres musicaux[1], avant tout le blues, le rock et le folk[2] mais également le rockabilly[3], le reggae[4], la soul et le funk[5], les musiques classique, celtique, indienne, arabe, pop, rock psychédélique, ou country, etc[6], autant de styles aussi bien repris sur leurs huit albums studio publiés de 1969 à 1979, qu'en concert. Le 10 décembre 2007, exceptionnellement Led Zeppelin s'est reformé avec Jason Bonham à la batterie, le fils de John, pour un concert caritatif à l'honneur d'Ahmet Ertegün, à l'Arena O2 de Londres, devant vingt mille spectateurs en provenance d'une cinquantaine de nations, tous sélectionnés par une loterie. Led Zeppelin - Official Website Roger Waters - The Wall Live Gelredome Gelredome Arnhem, NL Buy Tickets Buy Tickets Festival Site Festival Site Werchter, BE
Ozric Tentacles - Tour Dates, Music Downloads A campfire at the Stonehenge free festival in 1983 witnessed the birth of Ozric Tentacles. It was there that composer and band leader Ed Wynne (guitar & keyboards), and brother Roly Wynne (bass), who were performing in a group known at the time as 'Bolshem People', along with drummer Nick 'Tig' Van Gelder (Jamiroquai), stumbled upon keyboardist Joie Hinton. After a session of warming their bones and discussing imaginary breakfast cereals, the group went to perform an impromptu late jam session. Over the course of what became an epic six hour performance, an audience member inquired as to the name of the band.
Lenny Kravitz Music Official Website Fred Segal, the California retailer owned by Sandow, will next year launch its first designer collaboration with Kravitz Design called Fred Segal x Kravitz Design The offering will feature at least 10 unisex items spanning fashion accessories, clothing, travel accessories and a limited-edition motorcycle. Each item will be designed by Kravitz Design as envisioned by Lenny Kravitz.
ronanbrowne.com The official website of Amanda Fucking Palmer. Yes it is - Amanda Palmer
my music