Looplabs. logiciel gratuit de musique en ligne de mélange. créé par crashmedia.com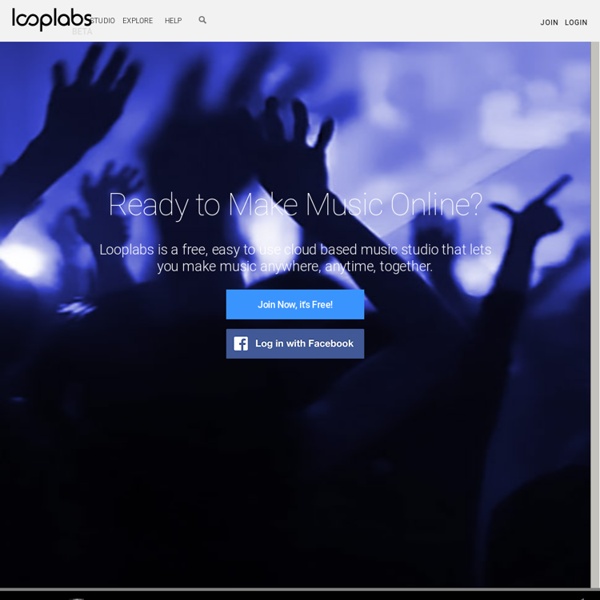 We're building something epic. Want to be one of the first to join the beta? We're building a music studio for the Internets. It's going to
Faire de la musique • faire de la musique en ligne • Music • MUSIC'N TECH • Music
Nudge Select 1 of 8 different Sound Patterns from the small Matrixes icons on the right. Use your mouse to draw notes on each 16 Step Matrix. Adjust the volume of the iNudge. Click MORE for advanced adjustment abilities. For each Pattern, adjust Volume, Mute, Clear, or set Audio Pan from Left to Right. Click on the Tempo numbers and click up or down to change the overall Tempo. Double bass drum pedal - Drum games - Online drum lessons On the App Store you'll find the version for iPad and iPhone of our virtual drum game. VirtualDrumming adds original features to every other Drums App, realistic animation, professional sounds and dynamic response. You can play a beautiful complete drum set, with double bass drum and double hi-hat.
Whole Wheat Cracker Streaming Playlist Mixtapes and MP3s. An Every Genre Music Blog. As slow as things are around here, due to time spent on other projects , still gotta holla at WWC every once in a while. Here's whats been on rotation around here. The new Jai Paul is fantastic. New Gambino always dope, especially if hes sampling Donkey Kong. Music Text Composition Generator ( A free online music utility) The P22 Music Text Composition Generator allows any text to be converted into a musical composition. This composition is displayed in musical notation and simultaneously generated as a midi file. 1.
Spotify New Music Releases Keep up to date with all the latest reviews, either as the reviews are added or the albums are added. Filter to Website and rating to discover new music. You can now use our brand new filtered reviews page to customise to a variety of websites and certain rating, this can be saved so you get recommendations straight from the websites you trust. Click the review to read.
Jouer - Créer / Mixer 3D - Amaze Project Amaze 3-D Mixer This is a Flash / ActionScript remake of the piece we originally produced at Amaze Limited 10 years ago. One of my favourite pieces of all time, it allows the user to play with sounds in three-dimensional space I made the geometry on the icons generative to save me time! Reload the page to change them! » Play Virtual Trumpet - Online Game — MostPlays Games Forum Upload Games Sign In Sign Up Action Dress Up Fighting Mario Mobile Naruto Puzzle Shooting Sonic Soundboards Strategy Racing Featured Trending Popular Newest AirScape My Irrational Fear of Unicorns Super Ubi Land Magí GRAV SUIT Skygear-01 Destroyer Project Blaze Zero 8 Bits Runner Dual Custody The Esfarelante Go Faster Sawbucks Pou Ice Cream Decoration Have fun with Pou in the kitchen preparing the most delicious ice cream. Choose from the many nice fruity decorations and surprise everybody with a delicious desert.
Songr Download free music directly from your desktop - no p2p, no ads, mp3s from 16 music search engines. Features:Download or listen to streaming music from 16 mp3 search engines Full album search Automatic conversion of results to direct links to listen with your favorite media player Audio extraction from YouTube videos Search by lyrics: Type some words and get the name of the song and an audio preview! Search by artist Download Songr 1.9.96 4 MB, XP sp3, Vista, 7, 8 Requires .NET Framework 3.5 No viruses, no spyware, no adware Zune.net The purpose of this Q&A is for Zune users to learn where to find information and support for their Zune products and services, and to learn how to take advantage of Xbox Music and Xbox Video. What's changing with the Zune Marketplace? Zune Marketplace no longer supports rental and purchase of content, or browsing movies and TV shows. Will this impact my ability to use my Zune Music Pass?
Paroles et traduction Robin Thicke : Blurred Lines Paroles et traduction de «Blurred Lines» Everybody get upTout le monde se lève Hey, hey, heyHey, hey, heyHey, hey, hey If you can't hear what I'm trying to sayIf you can't read from the same pageMaybe I'm going deaf, maybe I'm going blindMaybe I'm out of my mindSi tu n'arrives pas à entendre ce que j'essaye de direSi on n'est pas sur la même longueur d'ondePeut-être que je deviens sourd, peut-être que je deviens aveugleJe suis peut-être fou OK now he was close, tried to domesticate youBut you're an animal, baby it's in your natureJust let me liberate you (Hey, hey, hey)You don't need no papers (Hey, hey, hey)That man is not your makerOk bon il y était presque, il a essayé de te domestiquerMais t'es un animal, chérie c'est dans ta natureLaisse moi simplement te libérer (Hey, hey, hey)Pas besoin de papiers (Hey, hey, hey)Ce mec n'est pas ton maître
Play The Armonica To play the armonica below, click on a glass bowl. Like the real armonica, the tone will linger as you click on the next bowl, putting tones together to make a melody. Now try playing armonica music using a more familiar keyboard. Virtual Flute The Virtual Flute Well for the real flute addicts here's the virtual flute page. I will put several of my flutes on this page so you can play them and listen to them without having to buy them.
CD Art Display By Carlos Published: April 10, 2012 After a long time and some updates a new beta with a setup is ready. The main focus in this version was to fix some issues due updates made in both Amazon database and iTunes application. CD Art Display should work properly again. In addition, the new Skin Browser is still under development. Music Theory for Musicians and Normal People by Toby W. Rush This page includes links to each of the individual Music Theory pages I've created in PDF form.
music • Internet • dboy626 • music 1 • sonoriser les histoires • dj • musics • music • jawad • eyepencil • Victorinox • iraklikalandarishvili • music • software • drfrog • Animation • pcornel14 • ping.fm 12 • imanelamtirkate • Musica • Music Gear • Applicazioni • AUDIO • jenilburia • fun, games, hobbies • Audio Mixer • Outils en ligne pour créer ou mixer de la musique • Outils en ligne pour créer de la musique • création musique • creation musicale