Ash maurya — Practice Trumps Theory: Lean Startup + Customer Development + Bootstrap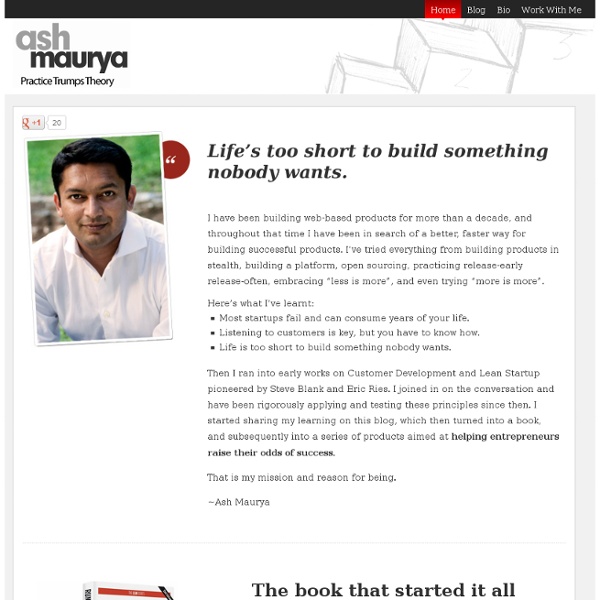 Interesting websites • lean • Def Entr • projet • Blogs
Instapaper Of all forms of literature, however, the essay is the one which least calls for the use of long words. The principle which controls it is simply that it should give pleasure; the desire which impels us when we take it from the shelf is simply to receive pleasure. Everything in an essay must be subdued to that end. Lessons Learned Guest post by Lisa Regan, writer for The Lean Startup Conference. Our fall webcast series concluded on a high note with three extraordinary conversations about the origins and implications of Lean Startup. If you missed these when they went out live, we encourage you to watch them now, as they lay a strong foundation for The Lean Startup Conference, December 9 -11 in San Francisco—less than two weeks from today. You can also listen to any of the webcasts, which, at the suggestion of a webcast attendee, we've turned into podcasts you can stream or download (from iTunes or SoundCloud).
The Entrepreneur's Guide to Customer Development | Learn how to do Customer Development, an essential part of the Lean Startup® framework. The Entrepreneur's Guide to Customer Development | The Entrepreneur's Guide to Customer Development "The Entrepreneur's Guide is an easy read. It is written in a conversational tone, doesn't take itself too seriously, and avoids extraneous fluff." — Eric Ries, creator of The Lean Startup® framework, author of The Lean Startup "Fantastic book. Melds perfectly with design, UX & UI."
How To Build a Web Startup – Lean LaunchPad Edition If you're an experienced coder and user interface designer you think nothing is easier than diving into Ruby on Rails, Node.js and Balsamiq and throwing together a web site. (Heck, in Silicon Valley even the waiters can do it.) But for the rest of us mortals whose eyes glaze over at the buzzwords, the questions are, "How do I get my great idea on the web? 10 способов провалить стартап и 14 советов как этого избежать - Стартап: Настольная книга основателя Боб Дорф — успешный серийный предприниматель и один из авторов книги "Стартап: настольная книга основателя". На встрече Боб поделится своими наблюдениями о причинах провалов стартапов и перечислит 10 типичных ошибок, которые совершает большинство технологических проектов. Также Боб расскажет о манифесте развития потребителя и перечислит 14 основных его правил. ВНИМАНИЕ — конкурс на лучшие вопросы Бобу.Среди авторов лучших вопросов будут разыгранно 5 книг "Стартап: Настольная книга основателя" с автографом Боба. Задавайте вопросы в комментариях ниже.
TED: Ideas worth spreading Gabby Giffords and Mark Kelly Be passionate. Be courageous. Be your best. On January 8, 2011, Congresswoman Gabby Giffords was shot in the head while meeting constituents in her home town of Tucson, Arizona. Lean Launch Lab "As an Entrepreneur In Residence at Trinity Ventures, my job is to invent and evaluate business ideas. There's no tool out there today that is anywhere near as helpful as LLL for systematically assessing the hypotheses underlying a potential business." David Weekly, Founder, PBWorks, HackerDojo, Mexican.VC "LLL provides the unique mix of business model canvas and blog functionality that allows for better management of information and BOD's. hugely helpful as we teach startups how to manage their resources." Dillon McDonald, Partner, Greenstart Accelerator "We're looking forward to testing LeanLaunchLab with a handful of our early stage portfolio companies."
Je teste mon marché avant de développer un produit ou un service « ebusinessAE Les nouveaux entrepreneurs et particulièrement ceux qui se lancent avec un produit technologique innovant sont systématiquement confrontés au même dilemme : Développer le produit jusqu'à sa version prototype puis trouver un client partenaire pour le tester en projet pilote ? ou partir de maquettes et le tester rapidement auprès d'un panel de clientèle cible pour mieux cerner le besoin ? J'ai l'intime conviction d'avoir aujourd'hui assez de recul et de retour d'expérience avec de jeunes entrepreneurs et des startups en tout genre pour porter un regard objectif sur la question. Startup Tools Startup Tools 1. Startup Tools Click Here 2. Бизнес-идеи | Блог Михаила Иванова В бизнес-школе по курсу "Предпринимательство" перед нами стоит задача проработать и представить бизнес-план. Обычно идеи новых проектов и бизнесов возникают из-за неудовлетворенности текущим положением. Как студент бизнес-школы я не очень доволен тем, что кейсы и technical notes в аудио-формате не доступны. Соответственно, ключевая идея нашего проекта — создать базу данных наиболее используемых кейсов и technical notes в аудио-формате. Цифровой формат позволяет снизить до минимума стоимость дистрибуции и хранения, а так же обеспечивает возможность продажи по всему миру.
Product Management