Ash Maurya — Practice Trumps Theory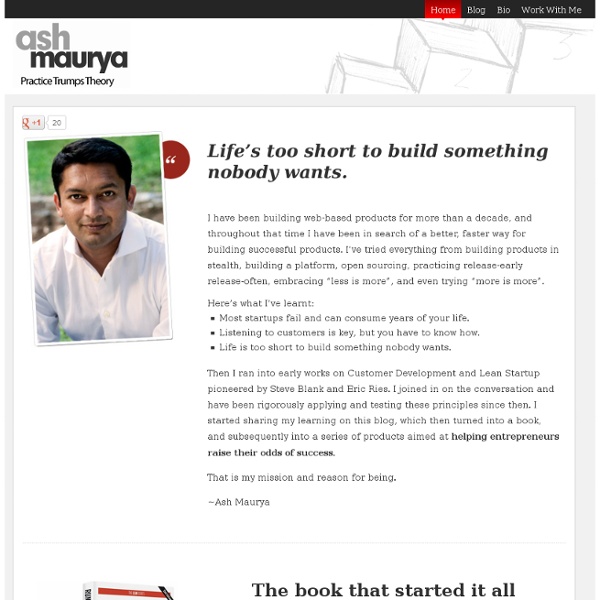 Interesting websites • lean • Def Entr • projet • Blogs
Printing Facebook | Print A Poster Of Your Facebook Friends "Keep away from people who try to belittle your ambitions. Small people always do that, but the really great make you feel that you, too, can become great." — Mark Twain We are growing and are looking for the right people to join us in our quest. We would love to connect with Web Engineers and Designers, but we'll always have our doors open to smart people willing to learn. With way more work than we can handle, there is plenty of opportunity to sieze power. Our main office is in the SOMA neighborhood of San Francisco and we're glad to have you drop by, or meet anywhere for coffee, beer, or whatever else.
The Lean Startup | The Movement That Is Transforming How New Products Are Built And Launched The Entrepreneur's Guide to Customer Development | Learn how to do Customer Development, an essential part of the Lean Startup® framework. The Entrepreneur's Guide to Customer Development | The Entrepreneur's Guide to Customer Development "The Entrepreneur's Guide is an easy read. It is written in a conversational tone, doesn't take itself too seriously, and avoids extraneous fluff." — Eric Ries, creator of The Lean Startup® framework, author of The Lean Startup "The Entrepreneur's Guide to Customer Development has transformed the UCSB Eco-Entrepreneurship program. It teaches our students critical startup concepts and key questions to ask through the customer discovery process." How To Build a Web Startup – Lean LaunchPad Edition If you're an experienced coder and user interface designer you think nothing is easier than diving into Ruby on Rails, Node.js and Balsamiq and throwing together a web site. (Heck, in Silicon Valley even the waiters can do it.) But for the rest of us mortals whose eyes glaze over at the buzzwords, the questions are, "How do I get my great idea on the web?
10 способов провалить стартап и 14 советов как этого избежать - Стартап: Настольная книга основателя Боб Дорф — успешный серийный предприниматель и один из авторов книги "Стартап: настольная книга основателя". Instapaper Of all forms of literature, however, the essay is the one which least calls for the use of long words. The principle which controls it is simply that it should give pleasure; the desire which impels us when we take it from the shelf is simply to receive pleasure. Everything in an essay must be subdued to that end. Lessons Learned Guest post by Lisa Regan, writer for The Lean Startup Conference. Our fall webcast series concluded on a high note with three extraordinary conversations about the origins and implications of Lean Startup. If you missed these when they went out live, we encourage you to watch them now, as they lay a strong foundation for The Lean Startup Conference, December 9 -11 in San Francisco—less than two weeks from today. You can also listen to any of the webcasts, which, at the suggestion of a webcast attendee, we've turned into podcasts you can stream or download (from iTunes or SoundCloud).
Je teste mon marché avant de développer un produit ou un service « ebusinessAE Publié: 04/19/2012 dans Non classé Tags:Meilleurs billets du web Startup Tools Startup Tools 1. Startup Tools Click Here 2. Бизнес-идеи | Блог Михаила Иванова В бизнес-школе по курсу "Предпринимательство" перед нами стоит задача проработать и представить бизнес-план.
Product Management