Roms Up - UPloads roms for you!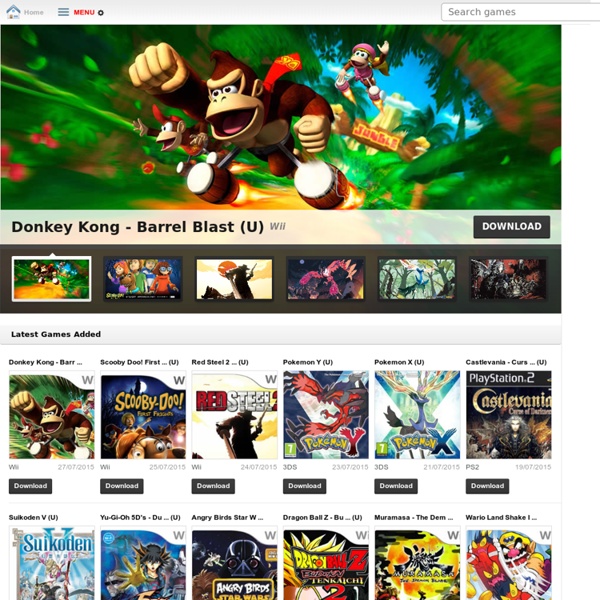 DS • Roms • Gaming • game download
Emuladores e Roms: Nintendo 64, DS, Snes, GBA, PS2, PS1.. Rox Download s Lair: The Vault The Vault contains every game ever released in the US for the Nintendo, Super Nintendo, Genesis, Nintendo 64, Game Boy, Game Boy Color, and Game Boy Advance. Each game has detailed information, screen shots, codes, user submitted ratings and reviews, and more! Nothing beats the feel of a real controller in your hand, so now you can purchase games and consoles here at Vimm's Lair and have them shipped right to your door! Hundreds of used NES and SNES games are currently available, and all proceeds go towards the continued maintenance of Vimm's Lair. Need help? Don't know what to do? edge|emulation Download Gameboy Advance roms, isos, games | Viewing page 1 of 29 | Rom Hustler Nintendo unveiled the GameBoy Advance on August 24th 2000 at Spaceworld in Tokyo, Japan after talks of the console going back to a year before. It was released to the public on March 21st 2001 for a price of 9800 yen. Nintendo felt it was time to upgrade the capabilities of their GameBoy console after over a decade on the market and many changes in appearance, size and a colour screen (GameBoy Color). The GameBoy Advance is what Nintendo wanted to achieve with Project Atlantis (a 32-bit colour handheld that was backwards compatible). It is almost the exact same size as the GameBoy Color, but held lengthwise with the buttons at the sides and the screen in the middle. It features all the same buttons as the other GameBoys except for two extras on top (shoulder buttons).
NDS ROMs • Nintendo DS Roms » R4 DS Games ROMNation.NET Kongregate