World Subways at Scale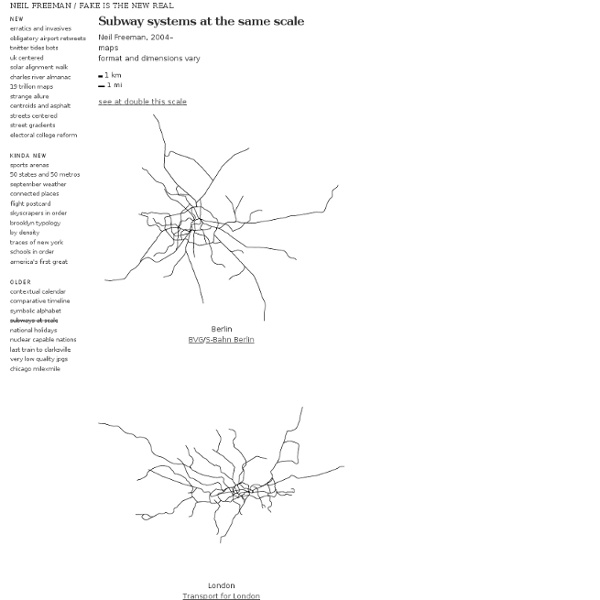 http://fakeisthenewreal.org/subway/
Maps • cartographie • Nieuws • SIG • Other
Table of Contents -- Library of Congress Geography and Maps: An Illustrated Guide Credits for the print version of this guide: This publication was made possible by generous support from the James Madison Council, a national, private-sector advisory council dedicated to helping the Library of Congress share its unique resources with the nation and the world. From the Geography and Map Division, Ralph E. Ehrenberg, Gary L. 13 of the Year's Best Infographics [Slideshow] | Co.Design Nearly every day over the past year we've brought you our Infographic of the Day--the best designed, most interesting chart out there (that we saw!), chosen from a brimming sea of thousands. And among the hundreds that have made the cut, several have stood out. Some are remarkable simply for their design; others because of what they say about the world we live in. And still others are notable because they point to trends in how data will soon inform, enhance and impact our lives.
Perú21 Ce que votre projection favorite dit de vous Cela vient de l'excellent Webcomic xkcd (merci Arthur). C'est en anglais, c'est vraiment drôle et très intelligent. J'ai traduit le texte à la fin du billet, avec l'aide précieuse de Bertrand qui a d'ailleurs mis sur son blog SIG974 une version graphique en français. Et pour les ignares qui comme moi ne connaissaient pas la projection Waterman Butterfly, jetez donc un coup d'œil ici. MERCATOR Vous n'êtes pas vraiment un spécialiste de cartographie. VAN DER GRINTEN Vous n'êtes pas une personne compliquée. Binary - it's digitalicious! How binary works: The binary number system (aka base 2) represents values using two symbols, typically 0 and 1. Computers call these bits. A bit is either off (0) or on (1).
Google Maps Transparencies Imagery ©2014 TerraMetrics Terms of Use Report a map error Incredilby Detailed Map Shows Race, Segregation Across America In Beautiful Color (PHOTOS) Segregation as pointillism? Using data gleaned from the 2010 U.S. Census, Dustin Cable at the University of Virginia's Weldon Cooper Center for Public Service has created what might be the most comprehensive color-coded map of racial segregation in America. Made up of 308,745,538 colored dots representing five major ethnic groups, Cable's map is vivid, highly detailed and oddly beautiful. While it isn't the first map to show racial segregation, nor is it the first to map each citizen in the U.S. -- it is the first to do both, according to Wired. For the purposes of his map, Cable chose blue dots to represent white people, green dots for African-Americans, red dots for Asians and orange dots for Latinos.
WebGeoGommette Exclusive excerpt from The Walking Dead novel Here's an exclusive excerpt from The Walking Dead: The Road to Woodbury, which is the sequel to The Walking Dead: Rise of The Governor by Robert Kirkman and Jay Bonansinga. The zombie plague unleashes its horrors on the suburbs of Atlanta without warning, pitting the living against the dead. Caught in the mass exodus, Lilly Caul struggles to survive in a series of ragtag encampments and improvised shelters. But the Walkers are multiplying. Dogged by their feral hunger for flesh and crippled by fear, Lilly relies on the protection of good Samaritans by seeking refuge in a walled-in town once known as Woodbury, Georgia.