Editor de imagenes pixlr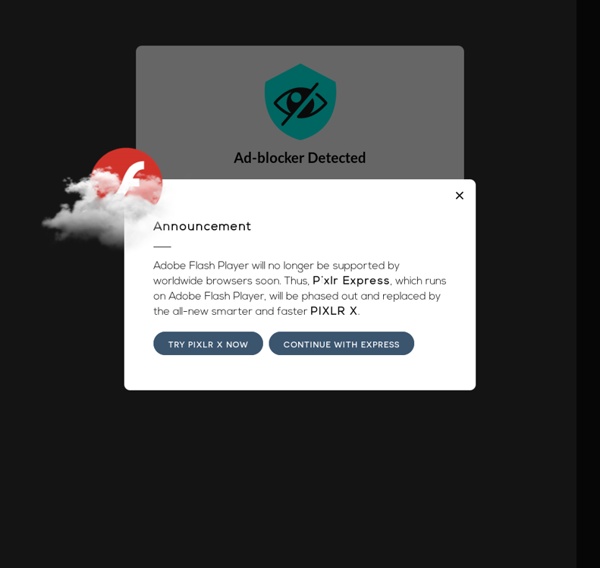 Editor de Imagenes • Online Fun Picture Tools • Photo Editing • PHOTO EDITORS • Edition de photo en ligne
Editor de fotos y efectos fotográficos en línea, editar imágenes con BeFunky Photo Editor Need to crop, resize, or add a frame to your photo? We've got your back. Adjust the color, brightness, contrast, saturation, or sharpness? Welcome to BeFunky. Image Mosaic Generator This exclusive free web application is brand new. Unforunately it is only available from December 2008 to February 2009, so make sure you tell your friends about it now! :) All images used in the construction of images mosaics are fetched from Flickr and copyright of their respective owners. The Image Mosaic Generator was created by Peter, you can contact the author by sending an email. give photos an old, retro / vintage look. Free and online I realize that I havn't said anything for a long time. I have been struggeling with lots of stuff and have been back and forth about doing anything on Cheapstamatic at all. The spreading of smartphones and tablets and free apps in these had me wondering if my web based app is worth developing further. But since I see that people continue using it I figured that there is a need for it. I have during this year made a lot of tries in remaking the application. I have had a lot of different ideas that hasn't panned out.
Deefunia| Fun photo Making site To Create a funny photo, a calendar or create a frame for your photo. You first need to select a template displayed and then you will have to upload your photo from your computer. After that you will see your result shortly and you can also share it with friends. We have a widget for you to create funny photo directly from your homepage or blog. Start add it now and your homepage or blog will have something to play with. Click here to Add PICTURE TO ASCII CONVERT - PICASCII What's the interest to convert a picture to text or html version ? It's firstly fun :) the picture will look different when you will change size... It's simple to copy and paste the code of a "virtual picture", into your blog. Remember it's ALWAYS TEXT, HTML :) that represents a picture. Exactly, the picture sequence will be converted into ASCII codes. This code was created to represent text in computer with 128 characters.
Editor imagenes - Borra objetos en fotografías Remove any unwanted elements Aside from the information we truly want to see on our photographs, there are also many not so crucial for composition if not worse. These are camera date stamps, watermarks placed by various websites, and other objects we don't want to be on a picture. After all, if you gonna hang a photo on a wall, you want it to look eye-catching not due to various visual wreckage on it.
AnyMaking - Photo editing online, Free photo edit and Fun photo effects Fun photo effects - funny photo editing Apply a lot of nice and fun photo effects to joke with your friends. AnyMaking free online photo editing software makes beautiful artworks from your everyday's pictures! Select any funny photo editing tool, upload your picture and that's it! Phixr - Online Photo Editor Hide this box Phixr is a free online photo editor, a tool for editing your photos in your web browser. It has all the basic and advanced photo editing features, plus some fun ones, like adding text or clipart, adding speech-bubbles, and many more. Phixr offers hundreds of filters, effects and other unique features. Web photo editing made really easy! Phixr is ideal for camera phones (like the iPhone) or the iPad: Upload your photo directly or per e-mail, edit it, and send it on its way to friends, family or one of the many photo sharing sites.
Webcam Effects & Live Web Cam Fun. Play Games & Take Pictures Online For Free Please try back in a few minutes (server will auto fix). Visit www.FotoTrix.com for photo fun. Visit www.SillyWebCam.com for webcam fun. Visit www.TXT2PIC.com for text to image fun. Visit www.SeekFreak.com to search the internet. Google Similar Images Today, we're happy to announce that Similar Images is graduating from Google Labs and becoming a permanent feature in Google Images. You can try it out by clicking on "Find similar images" below the most popular images in our search results. For example, if you search for jaguar, you can use the "Find similar images" link to find more pictures of the car or the animal.
Editor imagenes Change the aspect ratio of a photo You have a landscape photo, but need a square crop for your Facebook profile. Or, you have a portrait photo, and want a nice 4:3 landscape crop for your latest presentation slides. Croppola will find a well-balanced part with the desired aspect ratio within your picture - quickly and painlessly. Enhance your holiday pictures or snapshots You took snapshots of your kids playing on the beach, and want to improve the framing. Body Switcher, Put Your Face On Another Body In A Funny Scene Left is a face template for you to download. When browsing the bodies & you select a thumbnail, uploading an edited template will allow the default body pages to have your face in the proper spot (may require fine tuning, but no drag & drop editor needed). Make a new layer (Photoshop or free software GIMP) over the template & get a good quality digital photograph of yourself with a similar face position (looking forward). Now roughly cut out your head (you can go outside the lines, but not inside) & then paste it in a new layer (hide the other layer with your original photo).
iPiccy iPiccy makes your photo awesome with many easy to use photo tools. Edit pictures, apply beautiful photo effects, add text and even paint! Enjoy free photo editing online and show your creativity with iPiccy editor! <div style="width:690px; text-align:center; padding:5px; border:2px solid #E01D01; background-color:#FFF2D5; font-size:20px; margin:10px auto">Please, <a style="font-size:20px;" href="http://enable-javascript.com/" target="_blank" >enable JavaScript</a> to use iPiccy</div> The best free online picture editor. GIFPAL - Make GIF animations online with webcam and images
Graphic & vIDEO Web Apps • Art and ICT • lauracousin • Freebies&Tuts • POUR MONTAGES PHOTOS • benner • Outils • Online Image Editors • Pics and Text • Graphisme • plvaxelaire • Mastering our web • Images • TOOLS • google DRIVE • ♥ site de modification de foto ♥ • edvard92 • Image Editing • christicoplin • Image Editor • feyaannika • brem • Images • andreavazquez • fotografia e intenvención de imágen • emmacallaghan • Outils création • Web Design Tools • Logiciel • Pixlr