Online image editor pixlr free - fix photos direct in your browser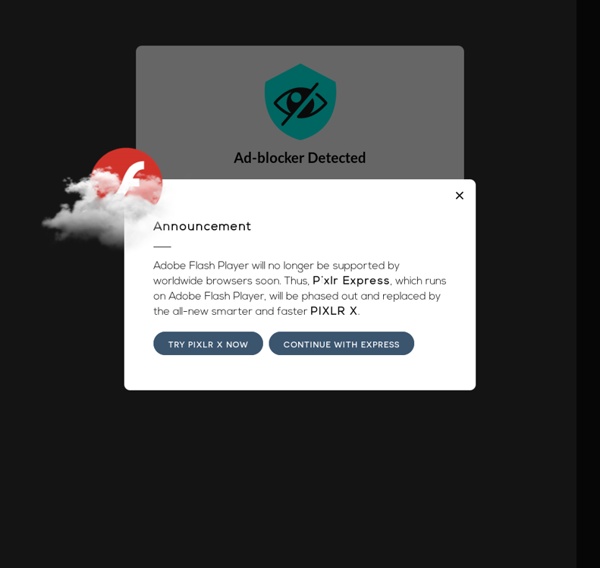 Editor de Imagenes • Photo Editing • PHOTO EDITORS • Edition de photo en ligne • Graphic & vIDEO Web Apps
Editor express Photoshop Check out the latest and greatest Editor options below. From party pics to vacation shots to family candids, you have lots of good digital photos. Why not use Photoshop Express Editor to make them look amazing? give photos an old, retro / vintage look. Free and online I have finally found a way to get more power to Cheapstamatic - a personal web server which is scalable to the future needs of Cheapstamatic. As I mentioned before the limitiations of the server have been the main reason why I havn't been able to develop the functions further.
GIFPAL - Make GIF animations online with webcam and images Make GIF animations using webcam and images Free GIF animator online with great features Drawing tools for drawing and adding text Add effects in your animated GIFs Adjust animation speed and frames delay Ideal for stop motion animations Manage and edit frames in timeline Create GIFs for Tumblr and other blogs in minutes Get started now! Grabber - extension Firefox et Chrome To extend the pixlr experience we have created the Pixlr Grabber extension for both Firefox and Chrome. Grabber 2.0.3 for Firefox Grabber for Firefox let you right click on any image in a webpage and load it into pixlr for editing. The firefox add-on also lets you capture the whole or parts of the browser content (Print screen). Download Grabber for Firefox
Skitch - Annotate, edit and share your screenshots and images...fast. Herramientas Editores rápidos de imágenes Phixr - Online Photo Editor Hide this box Phixr is a free online photo editor , a tool for editing your photos in your web browser . It has all the basic and advanced photo editing features, plus some fun ones, like adding text or clipart, adding speech-bubbles, and many more. Phixr offers hundreds of filters, effects and other unique features. Web photo editing made really easy! You don't even need to register - just click on "Get started" and you're in. Deefunia| Fun photo Making site To Create a funny photo, a calendar or create a frame for your photo. You first need to select a template displayed and then you will have to upload your photo from your computer. After that you will see your result shortly and you can also share it with friends. We have a widget for you to create funny photo directly from your homepage or blog. Start add it now and your homepage or blog will have something to play with. Click here to Add
12 Sites To Create Slideshows We often go on vacations with family to take some time out of our hectic schedule and have fun with our family. Mostly every time, we click pictures so that we can remember our golden vacations whenever we feel like. It feels great to look at old pictures when we had so much fun in our life. Boy, this is what we feel at the time of clicking pictures that we gonna look at them in the future.
Skitch Editar imagenes szoter is easy to use, free, online image annotation tool. Webcam Effects & Live Web Cam Fun. Play Games & Take Pictures Online For Free TAKE A PHOTO, VIRTUAL PHOTOBOOTH: Fake Magazine Covers (put your face on 500 popular magazine covers) Silly Scenes (templates that put you in a different time or place, 100 layouts) World's Best Award ( 250 parody award certificates to put your video in) Greeting Cards (personalized text message, over 200 styles, email soon) Your Face On Another Body ( 400 funny body scenes, use webcam) Borders (borders and edges to spruce up a webcam, 50 templates) Frames (museum/gallery quality mirror frames, 25 overlays) Hairstyles: Women's short , medium , long , wedding , funky , up , mens or extras Photo Shoot (take & save a plain JPG picture, NO effects applied) Photo Booth Strip BETA (classic 4 panels)
tiltshiftmaker.com - Transform your photos into tilt-shift style miniatures Tilt-shift miniature style photos are pictures of real-life scenes that are manipulated to look like model photographs. Now you can easily transform your existing photos into tilt-shift style miniatures using tiltshiftmaker.com. To start, simply upload a photo using the form on the left, or click on one of the Demo buttons below, or click on "Read more" to learn more about the tilt-shift photography technique. Click on one of the images above to see our photo gallery of sample pictures made using TiltShiftMaker. CircuitLab | sketch, simulate, and share your circuits For Students & Educators
Képszerkesztők • Freebies&Tuts • Outils • POUR MONTAGES PHOTOS • Online Image Editors • Art and ICT • Pics and Text • Graphisme • google DRIVE • edvard92 • TOOLS • Image Editing • feyaannika • Images • andreavazquez • Web Design Tools • Logiciel • benner • Outils création • Pixlr • usefull2 • Blog sims 3 et photos! • OUTILS • Art & DT • Cosas miias Jeje • joepearl • Necessities • Messages visuels • ELEMENTAIRES • andrewjacobsld