Editor de imagenes pixlr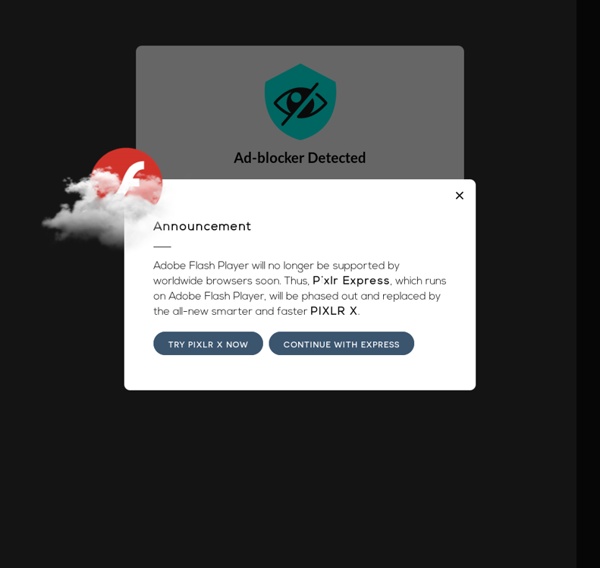 Editor de Imagenes • Photo Editing • Online Fun Picture Tools • PHOTO EDITORS • Edition de photo en ligne
Editar imagenes szoter is easy to use, free, online image annotation tool. It makes expressing Your ideas and thoughts easy. It can be used to share Your ideas with friends, highlight important parts of images or even to create readable bug reports. You can use szoter, to manipulate images loaded from Your harddrive or downloaded directly from internet. Want more... annotate images captured with Your webcam or simply, take a screenshot of Your desktop.
give photos an old, retro / vintage look. Free and online I realize that I havn't said anything for a long time. I have been struggeling with lots of stuff and have been back and forth about doing anything on Cheapstamatic at all. The spreading of smartphones and tablets and free apps in these had me wondering if my web based app is worth developing further. But since I see that people continue using it I figured that there is a need for it. I have during this year made a lot of tries in remaking the application. I have had a lot of different ideas that hasn't panned out.
Free Flash Animation Tool – Vectorian Giotto | Free Flash Animation Software Features We created Giotto for designers, not coders Giotto is the free Flash animation package made for you to design, not to code. GIFPAL - Make GIF animations online with webcam and images 12 Sites To Create Slideshows We often go on vacations with family to take some time out of our hectic schedule and have fun with our family. Mostly every time, we click pictures so that we can remember our golden vacations whenever we feel like. It feels great to look at old pictures when we had so much fun in our life. Boy, this is what we feel at the time of clicking pictures that we gonna look at them in the future. But, seriously there are hundreds and thousands of pictures we have in our computers that has never been open in the years. This is due to because most of them are actually same with different angles and after some time you feel bored looking at the same pictures again.
Herramientas multiple formatos documentos - imagenes Online Sci2ools Sci2ools is a free online document processor and image converter toolbox. Sci2ools offers the following services: The service enables you to load files from your computer or from URL. The service is totally free, you do not even need to register or leave your email. Uploaded and generated result files will be deleted daily. Phixr - Online Photo Editor Image Mosaic Generator This exclusive free web application is brand new. Unforunately it is only available from December 2008 to February 2009, so make sure you tell your friends about it now! :) All images used in the construction of images mosaics are fetched from Flickr and copyright of their respective owners. The Image Mosaic Generator was created by Peter, you can contact the author by sending an email.
Deefunia| Fun photo Making site recherche d'images similaires Que ce soit pour des mèmes (à tendance lol), des caricatures, des plagiats, ou tout simplement pour partager de belles photos, le web regorge d'images dupliquées. Voici 4 outils vous permettant, à partir d'une photo présente sur votre ordinateur, de rechercher sur le web des images similaires. Précisons que les 4 outils (plus deux bonus) passent par le téléchargement de photos depuis votre ordinateur (ou directement depuis un serveur via un lien hypertexte). Il ne s'agit pas d'outils allant chercher des images similaires dans une banque d'images, comme Xcavator, Pixolu ou Tiltomo (recherche sur Flickr), ou encore Chromatik pour la recherche d'image par tonalités de couleurs… Il existe de très nombreux outils de ce type, mais ce n'est donc pas le sujet ici. A noter qu'il s'agit de service en ligne, et non pas à installer sur votre ordinateur (il en existe quelques-uns).
Editor de fotos y efectos fotográficos en línea, editar imágenes con BeFunky iPiccy Food Cheese Burger Props/Addons To Your Photos, Photo Layer Add-Ons Visitor # Users: HOW TO: Click on the photograph (above) near the location for prop to appear (imagine the prop image as a rectangle, the mouse click will represent the top left corner) to fill the X & Y cooridinates for the placement of props. You can also manually change the X & Y values (larger number for X makes prop move further from left edge, larger Y number makes the prop move further down). Rotating is done with values, negative numbers rotate counter-clockwise and positive numbers go clockwise (you will have to readjust X & Y values manually as rotating offsets eveything). Choose from more props (near bottom). When you save your image you will be able to add another prop along with the current prop (multiple effect additions, unlimited amount of saves but all saves overwrite each other but you can download each step and reupload a previous step) or you may revert back to your original uploaded photograph.
Webcam Effects & Live Web Cam Fun. Play Games & Take Pictures Online For Free
lauracousin • Graphic & vIDEO Web Apps • Art and ICT • fotografia e intenvención de imágen • Freebies&Tuts • POUR MONTAGES PHOTOS • benner • Online Image Editors • Outils • Pics and Text • Graphisme • Images • ♥ site de modification de foto ♥ • plvaxelaire • Edit • Mastering our web • TOOLS • EditoresImagem • christicoplin • Image Editor • edvard92 • Image Editing • google DRIVE • Messages visuels • feyaannika • Aplicación online • Pyssel • Grafika