Wallet - how it works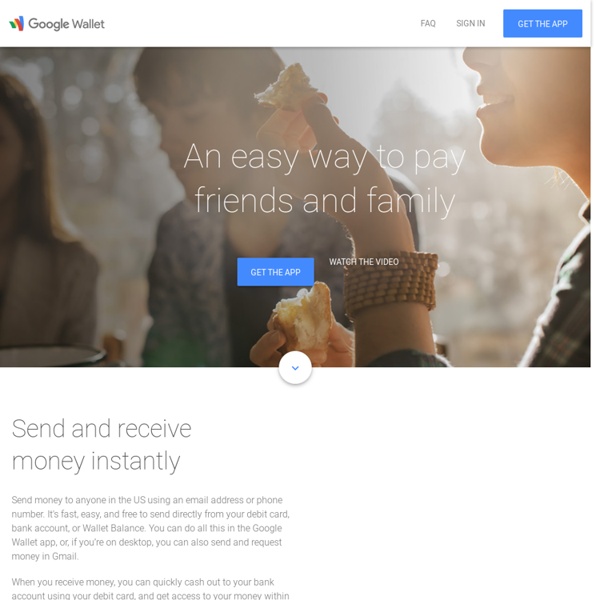 Mobile BM • Economie • Google • IoT • Google Wallet - launching
PayPass Encryption technology and MasterCard Zero Liability† protection on your contactless-enabled Credit, Debit or Prepaid MasterCard card make using contactless at checkout as safe as swiping. And contactless has built-in safeguards to help prevent unwanted purchases: It never leaves your hands at checkout It must be extremely close to the reader to work It only bills you once – even if you tap twice by mistake Encryption is just one of many security technologies MasterCard uses to help prevent and detect fraud.
Paypal De l'argent pour chaque instant. Professionnel ? Ouvrez un compte Pro En pause. Cliquez pour reprendre.Pause Matt Cutts: Gadgets, Google, and SEO Okay, I'm calling it: if you're using guest blogging as a way to gain links in 2014, you should probably stop. Why? Because over time it's become a more and more spammy practice, and if you're doing a lot of guest blogging then you're hanging out with really bad company. Back in the day, guest blogging used to be a respectable thing, much like getting a coveted, respected author to write the introduction of your book. It's not that way any more.
Near field communication An NFC enabled parking meter label used by the city of San Francisco for payment and phone reminders of time remaining. Developed by Cellotape/Tap4Mor. Near field communication (NFC) is a set of standards for smartphones and similar devices to establish radio communication with each other by touching them together or bringing them into proximity, usually no more than a few inches. Google Reveals Mobile Payment System [Live Blog] At Google's media event Thursday in New York City, the company unveiled Google Wallet, its mobile payment system, as well as more details about Google Offers. Mashable was at the event for the announcements. Here is a recap of what happened. 11:52 a.m. The event is about to get started. Press and partners are here and we're all anticipating Google's not so-secret NFC and contactless payment plans.
TAGPAY TAGPAYTM is a secure and convenient mobile payment service offered by Tagattitude. TAGPAY is the complete mobile payment solution available on 100% of mobile phones. With TAGPAY, clients can make purchases on the web or with participating merchants using their mobile phone. Les scops Ce n'est pas parce que dans une Scop les salariés associés vont devenir propriétaires de l'entreprise que celle-ci n'a pas besoin d'un dirigeant. Comme toute entreprise, quelqu'un doit décider et assumer les décisions. Ne cherchez pas pour autant quelqu'un qui vous ressemble, qui aurait toutes les qualités qui ont fait de vous l'entrepreneur que vous êtes devenu. Il suffit qu'un salarié, sans doute déjà un cadre dirigeant, ait démontré à vos yeux, et à ceux des autres salariés, des qualités d'écoute, de pédagogie, et d'une certaine autorité pour que les principes d'une Scop fassent le reste. Ce qui manquera à l'homme ou la femme que vous aurez choisi et aura accepté de relever le défi, le management participatif de la Scop et la volonté collective de réussir y pourvoiront.
Press Center: Zeitgeist zeit·geist | Pronunciation: 'tsIt-"gIst, 'zIt | Function: noun | Etymology: German, from Zeit (time) + Geist (spirit) | Date: 1884 | Meaning: the general intellectual, moral, and cultural climate of an era. "Zeitgeist" means "the spirit of the times", and Google reveals this spirit through the aggregation of millions of search queries we receive every day. We have several tools that give insight into global, regional, past and present search trends. These tools are available for you to play with, explore, and learn from. Use them for everything from business research to trivia answers.
Tag Unleashes NFC Technology in Your Smartphone Earlier this week we announced the availability of BlackBerry® OS 7.1 for BlackBerry smartphones – a software update that includes exciting enhancements and app updates, including the introduction of BlackBerry® Tag. I was waiting on the edge of my seat for this announcement, because I have been dying to talk about it with you! I'm a Senior Product Manager at Research In Motion® (RIM®) working on this exciting technology. I think that BlackBerry Tag will make Near Field Communication (NFC) a very real part of BlackBerry users' daily lives…and it works like magic! Check out the video below for a demonstration of a few of the features that BlackBerry Tag will enable, and read on for all of the details.
Google Unveils Wallet And Offers: An Open Platform For Mobile Payments We're here at Google's massive New York City HQ (they own an entire block) for what Google was calling a "partner event" but everyone knew was really an "NFC event". Sure enough, Stephanie Tilenius, Google's VP of Commerce, has taken the stage to announce Google Wallet and Google Offers. Right off the bat, Tilenius wanted to make it clear that this would be an open platform. She invited "payment networks, carriers, and banks to join us in creating tomorrow's shopping experience". And some of those partners are already on board. Citi, Mastercard, FirstData, and Sprint are the initial partners.
Galaxie Google • Payment Type • @Google URL • IT • monica_romero • money