Free Fourth Grade Worksheets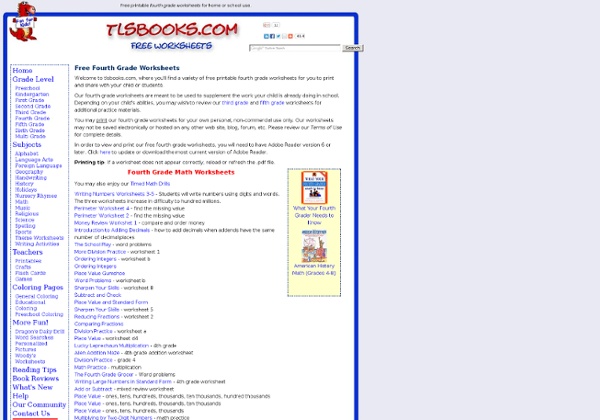 The fourth grade worksheets found here are meant to be used to supplement the work your child is already doing in school. Depending on your child's abilities, you may wish to review these third grade and fifth grade worksheets for additional practice materials. You may print any of these fourth grade worksheets for your own personal, non-commercial use only. These worksheets may not be saved electronically or hosted on any other web site, blog, forum, etc. Please review our Terms of Use for complete details. In order to view and print these worksheets you will need to have Adobe Reader version 6 or later.
http://www.tlsbooks.com/fourthgradeworksheets.htm
Reading Comprehension Worksheets • Helpful Websites (Used Weekly) • Maths • worksheets • Worksheets
Reading Comprehension Worksheets Students read the passages and answer the questions that follow to check reading comprehension. Passages are a mixture of fiction, non-fiction, and biography. Worksheets designed for students at a fourth grade reading level. Most of our reading comprehension lessons align to the Common Core Standards Initiative. To see the common core connections, select the apple core (
4th Grade Rainbow Rockets - Transition Words and Phrases Sequence: again, also, and, and then, besides, finally, first...second...third, furthermore, last, moreover, next, still, too, the next step, this takes us to Time: Fifth and Sixth Grade Runaway Math Puzzles - Make and print your own Runaway Math Puzzles - Theme Unit Runaway Math Puzzles Second grade runaway math puzzles Third grade runaway math puzzles Fourth grade runaway math puzzles Fifth and sixth grade runaway math puzzles Runaway math puzzles with fractions Create a custom Runaway Math Puzzle Create a custom runaway math puzzle Create a custom runaway math puzzle with missing equations Create a custom runaway math puzzle where everything is missing Removing Two Numbers from Equations - No Fractions Addition and Subtraction Puzzles All of the equations are each missing at least one number (easy; most are automatic) Large puzzle with three missing equations Ten missing pieces Fifteen missing pieces Three of the equations are each missing at least two numbers All of the equations are each missing at least two numbers (difficult) All of the equations are each missing at least two numbers (larger puzzle; even more difficult!) Everything missing except for operators (very challenging; as some may say "good luck!")
Common Core Language Arts 4 Today Workbook - Workbooks & Teacher Supplies | Carson-Dellosa Publishing Common Core Language Arts 4 Today Workbook Grade 5 / Ages 10-11 96 pages From$6.99 ESL worksheets, English grammar printables, ESL handouts | ESLPDF.com Welcome to ESLPDF.com, part of the LearnEnglishFeelGood.com family of websites. Think of us as your one-stop source for English grammar and vocabulary worksheets. Our content was created by people with many years of teaching experience, so you know that you'll get teaching materials that adhere to high-quality standards. Whether you're a student looking to practice English on your own, or a teacher looking for free worksheets for your ESL class, we have what you need! Our free resources can also be used for homeschooling, and by literacy tutors who teach English/ESL to adults. All of the worksheets are in PDF format and are arranged by category (verb tenses, articles, prepositions, etc.)
Cause-Effect The Adventures of Pinocchio "Wait a minute and I'll come right back," answered the old fellow, thinking he had to deal with one of those boys who loves to roam around at night ringing people's bells while they are peacefully asleep. After a minute or two, the same voice cried: Measurement Worksheets Welcome to the measurement worksheets page at Math-Drills.com where you can measure up, measure down or measure all around! This page includes Measurement worksheets for length, area, angles, volume, capacity, mass, time and temperature in Metric, U.S. and Imperial units. Measurement concepts and skills give students the ability to perform tasks related to everyday life. Length, area, volume, capacity, mass, time and temperature are measurement concepts that people are exposed to everyday.
Additions Bingo Cards These cards are about Additions. This list shows basic addition equations. These include words like 1023 + 2546 = __, 14 + 6 = __, 199 + 24 = __, 299 + 13 = __, and 598 + 105 = __. Topic worksheets | http://englishlanguage.org.nz/ Giving feedback Picture scenarios for giving feedback in different situations: requests for personal opinions, for a phone survey, on a course form, online feedback (skype). With ideas for oral responses, jumbled sentences, true/false, gap-filled activities etc. Volunteering in a charity shopPicture sequence story about applying and being interviewed for a job.
English for Kids - Anglomaniacy Welcome to anglomaniacy.pl, a site for kids who are learning English as a foreign or second language. Young ESL students will find here lots of online activities and hundreds of printable worksheets that can help them with their English. This is also a resource site for parents and teachers of young ESL learners. We offer tons of free, ready-to-print teaching materials including flashcards, quizzes, games, song lyrics as well as a big collection of useful links to other ESL/EFL websites. Drawing Conclusions This drawing conclusions worksheet guides your third grader through reading comprehension. Understanding what you read is one thing, but what if an author doesn't tell you everything you need to know? Using story details to draw conclusions is an important part of comprehension, and helps hone critical thinking skills. Help your third grader practice this skill by completing five brief stories with a logical ending.
Point of View Worksheets Identifying the narrator's view point is an essential reading skill that is often assessed on standardized tests. It's recommend that you discuss the narrative perspective of each text that you introduce to your students, but if your students need rapid improvement at identifying the narrator's view point, then you'll want to use these worksheets. These drill style worksheets will give your students ample practice in identifying the narrative perspective of texts. Point of View Worksheet - Students read the passages and determine the narrative perspective based on clues in the passages. Then they should explain how they were able to identify the narrator's point of view.
lnoonan • Maths • Tools and Resources • education • Lesson Planning • ambrower