Programmer under oath admits computers rig elections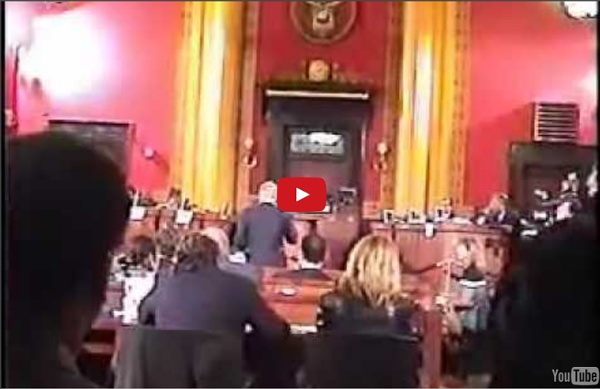 http://www.youtube.com/watch?v=1thcO_olHas
1% • Governments Watch • Con/911 • Politics
The Drone Makers And Their Friends In Washington Audio Aired 7/5/12 Drone makers are the rising stars in the defense industry. Some of the most successful companies making these controversial unmanned vehicles are located in Southern California and elsewhere around the west. Democracy Index The Economist Intelligence Unit Democracy index map for 2012, with greener colours representing more democratic countries. Full democracies: Flawed democracies: The Critics of 9/11 Truth: Do They Have A Case? by Paul Craig Roberts by Paul Craig Roberts Recently by Paul Craig Roberts: In America the Rule of Law Is Vacated The short answer to the question in the title is no. The 9/11 truth critics have nothing but ad hominem arguments. Let's examine the case against the truthers presented by Ted Rall, Ann Barnhardt, and Alexander Cockburn. But first let's define who the truthers are.
The Raw Story | 'Karl Rove's IT guru' Mike Connell dies in plane crash 'Karl Rove's IT guru' Mike Connell dies in plane crash UPDATE AT THIS LINK: GOP consultant killed in plane crash was warned of sabotage A top level Republican IT consultant who was set to testify in a case alleging GOP election tampering in Ohio died in a plane crash late Friday night. The Mystery of the Masons « PARALLAX By Tai Carmen So far as I am acquainted with the principles and doctrines of Freemasonry , I conceive it to be founded in benevolence and to be exercised for the good of mankind . ~ George Washington What do Benjamin Franklin, George Washington, Mark Twain, Volatire, Oscar Wilde, Buzz Aldrin, Nat King Cole, Aleister Crowley, Winston Churchill, Duke Ellington, John Wayne, Mozart, and Isaac Newton all have in common?
25 Scary Facts About Government Brainwashing Although there are a lot of unfounded myths and conspiracy theories about brainwashing, it is still considered to be a very serious and scary mind control technique. As a student, you're used to analyzing problems from all angles and making your own deductions, independent of what anyone else tells you. But what if things didn't always work that way? Here are 25 scary and surprising facts about brainwashing. Theory and Systems
The "Dancing Israelis" FBI Report - Debunked Introduction Transcripts from the official report Section1 Section2 Police report So When will Dick Cheney be charged with Espionage? His Crime was the Same as Snowden's The US government charged Edward Snowden with theft of government property and espionage on Friday. Snowden hasn't to our knowledge committed treason in any ordinary sense of the term. He hasn't handed over government secrets to a foreign government. His leaks are being considered a form of domestic spying. He is the 7th leaker to be so charged by the Obama administration. All previous presidents together only used the charge 3 times. Ten Companies Profiting Most from War The business of war is profitable. In 2011, the 100 largest contractors sold $410 billion in arms and military services. Just 10 of those companies sold over $208 billion. Based on a list of the top 100 arms-producing and military services companies in 2011 compiled by the Stockholm International Peace Research Institute, 24/7 Wall St. reviewed the 10 companies with the most military sales worldwide in 2011. Click here to see the companies profiting most from war
Goldman Sachs, le trait d'union entre Mario Draghi, Mario Monti et Lucas Papadémos Le Monde.fr | • Mis à jour le | Par Marc Roche Qu'ont en commun Mario Draghi, Mario Monti et Lucas Papadémos ? Le nouveau président de la Banque centrale européenne, le président désigné du conseil italien et le nouveau premier ministre grec appartiennent à des degrés divers au "gouvernement Sachs" européen. La banque d'affaires américaine a en effet tissé en Europe un réseau d'influence unique sédimenté depuis des lustres grâce à un maillage serré, souterrain comme public. A tout concours, il faut une hiérarchie.
The Coincidence Theorist's Guide to 9/11 I posted an earlier version of this last week at Democratic Underground. I've added a number of more entries, and links for all. Happy coincidenting! Pentagon admits it has no photo evidence of Bin Laden's death (Includes interview) Pentagon officials recently disclosed to the Associated Press (AP) that they could not find any photo or video evidence to confirm that Al Qaeda leader Osama Bin Laden was killed in the Navy Seal raid in Pakistan a year ago. AP has submitted more than 20 requests for information surrounding the raid on Bin Laden's Abbottabad compound to the U.S. Government under the Freedom of Information Act (FOIA). In response to the request for visual evidence of Bin Laden's death, the Pentagon stated that it could not find any pictures or video footage of the raid itself or of Bin Laden's dead body. It also told AP it could not locate any images of Bin Laden's body that were taken on the U.S.S. Carl Vinson, the Navy aircraft carrier that reportedly lowered him into the sea after his death.
Putin, George Bush Sr., Saudi King Abdullah and Venezuela's Chavez all reported ill during same week; Big oil involved December 3, 2012 Last week there were a flurry of reports, all officially denied, that George Bush Sr., President Vladimir Putin of Russia, King Abdullah of Saudi Arabia and President Cesar Chavez of Venezuela were all suffering from serious health problems. Bush: Suing the States Alec Loorz, a 16 year old member of the iMatter campaign and founder of Kids vs Global Warming has "filed a lawsuit against the United States of America, for allowing money to be more powerful than the survival of my generation, and for making decisions that threaten our right to a safe and healthy planet." "Today, I and other fellow young people are sueing [sic] the government, for handing over our future to unjust fossil fuel industries, and ignoring the right of our children to inherit the planet that has sustained all of civilization." "The government has a legal responsibility to protect the future for our children. So we are demanding that they recognize the atmosphere as a commons that needs to be preserved, and commit to a plan to reduce emissions to a safe level."